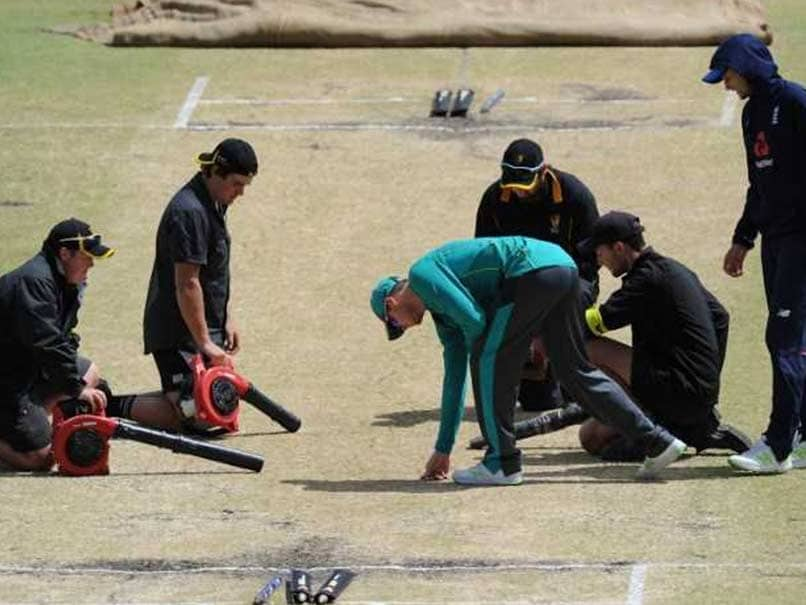 WACA ground staff were seen working furiously with leaf blowers to try to dry out the wet pitch.
© AFP
Rain could yet have the last say and give England a helping hand as the start of the final day of the third Ashes Test at the WACA Ground in Perth on Monday was delayed due to a wet pitch. Australia, who need just six more wickets to win the match and regain the Ashes, will be hoping the weather will clear out in time for their march towards victory. According to Australian media reports, more rain is expected to hit Perth but the worst of it looks over. Rain has been playing hide and seek since the start of the fifth day and despite no showers taking place currently, a damp pitch has left the hosts frustrated.
Showers had caused play to be abandoned early on the fourth day and they continued through to Monday morning, forcing a scheduled early resumption to be cancelled.
Complicating matters further was a damp spot on the pitch, just outside the popping crease at the southern end, with WACA ground staff working furiously with leaf blowers to try to dry it out.
It was unclear how the water got through the covers onto the pitch, although there was some suggestion it happened when strong winds lifted them up.
Match officials were confident the problem would be resolved once the rain stopped, but no time had been set for the resumption.
(With AFP Inputs)