Story Progress
Back to home
Ashes 2017: Adelaide Wicket, Under Lights, Will Be Fastest In Australia, Says Darren Lehmann
Lehmann said the Australian selectors were still on the lookout for an all-rounder of quality to ease the load on the rest of the attack while also making substantial middle order runs.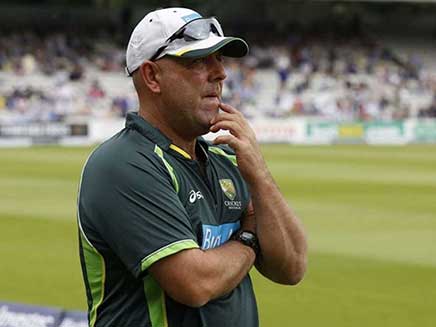 Darren Lehmann became Australia's coach in 2013.
© AFP
Highlights
Australia are 1-0 up in Ashes

The second Test will be held in Adelaide

Adelaide wicket becomes fast at night, said Lehmann
Australia's cricket team coach Darren Lehmann on Tuesday said the Adelaide Oval, which will host the second Ashes Test against England, would be the fastest pitch in the country under lights. "It's a fascinating Test match, there's a lot of talk about it'll seam and it'll swing," Lehmann said on Tuesday as the teams travelled from Brisbane to Adelaide. "The ball stays pretty good, but you can make runs if you play well as per normal. And it does quicken up at night -- probably the fastest wicket around Australia at night, so that's going to be interesting, how it plays," Lehmann was quoted by espncricinfo.
Saying that the Aussies will attack England's middle and lower order, Lehmann also pointed out that short deliveries will work to the hosts' advantage as grounds here are bigger than in England.
"(Bowling short) certainly hasn't changed from four years ago. It's a bit different in Australia than England where grounds are smaller and you can't really get away with it, on bigger grounds you can.
"So that's one for us that we see as an advantage. They did it quite a lot to us as well, it's a ploy a lot of people do now. At the back end when the wicket quickened up and we could go after them a bit harder was helpful. That's the blueprint, it's no secret we're going to attack their middle and lower order like that.
Lehmann, who became the coach in 2013, said they learned a lot about their opponents after the first Test at the Gabba which Australia won by 10 wickets.
"We back-ended the first Test really well, but they played really well in the first innings and we learned a lot about them as a side. Nothing we didn't already know but it just confirmed a lot of things along the way," he said. "(We saw) more of their plans, how they want to tackle us -- which was good for us."
Lehmann hinted the pacers comprising Mitchell Starc, Josh Hazlewood or Pat Cummins might not be rested for the second rubber as their exertions in the second innings of the first Test were comparatively less owing to England getting skittled out for 195.
Nevertheless, Lehmann said the Australian selectors were still on the lookout for an all-rounder of quality to ease the load on the rest of the attack while also making substantial middle order runs.
He was happy to hear that Mitchell Marsh is soon to resume competitive bowling after shoulder surgery, while Marcus Stoinis is also thought to be in the calculations.
"You'd always like one. At the moment some of the all-rounders aren't knocking down the door like they should be. If you look at the past, when we had Shane Warne bowling at one end, you didn't have an all-rounder but you had Steve and Mark Waugh who took (150) Test wickets, so there's an all-rounder in itself," Lehmann said. "They're just handy when you have that long second innings more so than not, and if you get an injury during the game. At the moment it's ok, but you certainly look at it."
The coach was all praise for spinner Nathan Lyon who returned match figures of 5/79.
Promoted
"He kept us in the game day one, he was fantastic. He's just grown with confidence and success breeds that," Lehman said. "For him he's actually come out of his shell a lot as well, he wants the ball day in, day out, a bit like (Shane) Warne did when he played. He's not as confident as Warne was, but he's just really starting to lead and help the bowlers out, which is great.
"He obviously had to change a few things. It was more when he went away from Australia to the subcontinent he changed a few things, he did that and had success. So he started to believe he could change when he needs to, which is important."
Topics mentioned in this article