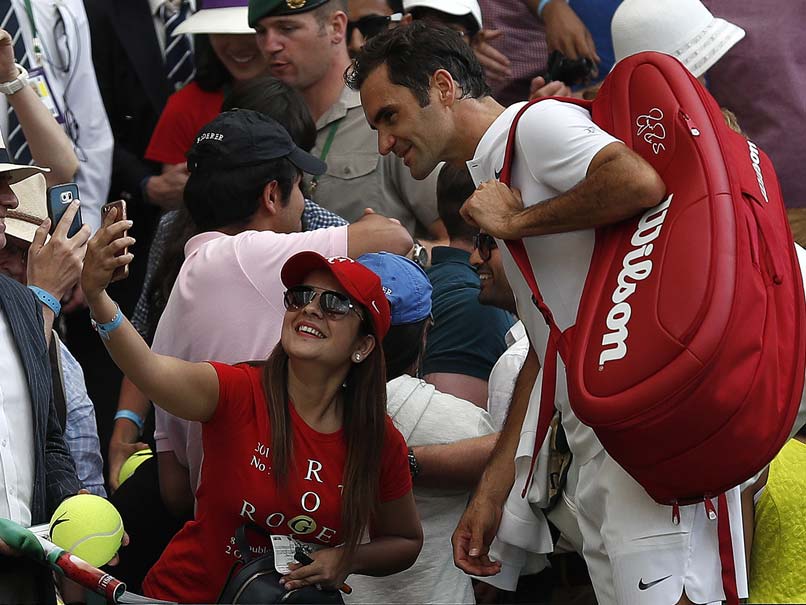 Roger Federer reached his 50th Grand Slam quarter-final.
© AFP
Tennis heavyweights Roger Federer and Andy Murray made their way to the Wimbledon quarter-finals by winning their respective matches in the fourth round on Monday. Third seed Federer reached his 50th Grand Slam quarter-final and 15th at Wimbledon with a 6-4, 6-2, 6-4 win over Grigor Dimitrov, while defending champion Murray eased past France's Benoit Paire 7-6 (7/1), 6-4, 6-4  in straight sets. Murray had an easy run on Paire, who was trying to make the last eight for the first time at a tournament he once described as greatly "displeasing" him.
 
Seven-time Wimbledon champion Federer will face Canada's Milos Raonic, who defeated Alexander Zverev in the fourth round, for a place in the semi-finals. Raonic defeated Federer in the semi-finals at Wimbledon in 2016.
 
Federer, 35, is also the second oldest man to make the quarter-finals at Wimbledon behind Ken Rosewall who was 39 when he reached the last-eight in 1971.
 
"I'm thrilled to be back in the quarters again," said Federer who took his record over Dimitrov to 6-0.
 
"It's very special to be in a 15th quarter-final here."
 
Murray will face Sam Querrey, who he leads 7-1 in career meetings, for a place in the semi-finals.
 
"I thought I played well. Maybe a couple of sloppy service games in the first set but that was by far the best I'd hit the ball so far in the tournament. So I'm really pleased with that," said Murray.

 
Only Roger Federer and Jimmy Connors (11 each) have reached more consecutive Wimbledon quarter-finals than Murray.
 
The 30-year-old Murray's progress is particularly noteworthy as he came into the tournament nursing a hip injury.
 
"Two weeks ago I was resting, I was also a little bit concerned. When you're having issues a few days before a big event, it's frustrating," said Murray who has now made the last-eight in 24 of his last 26 appearances at the majors.
 
"I've managed it well and I think I've played some good stuff. That was the best I've played so far in the tournament. I'm doing well so hopefully I keep it up," he said.
 
Murray's win meant that with Johanna Konta also making the last-eight in the women's tournament, it is the first time since 1973 that Britain has two players in the quarter-finals.