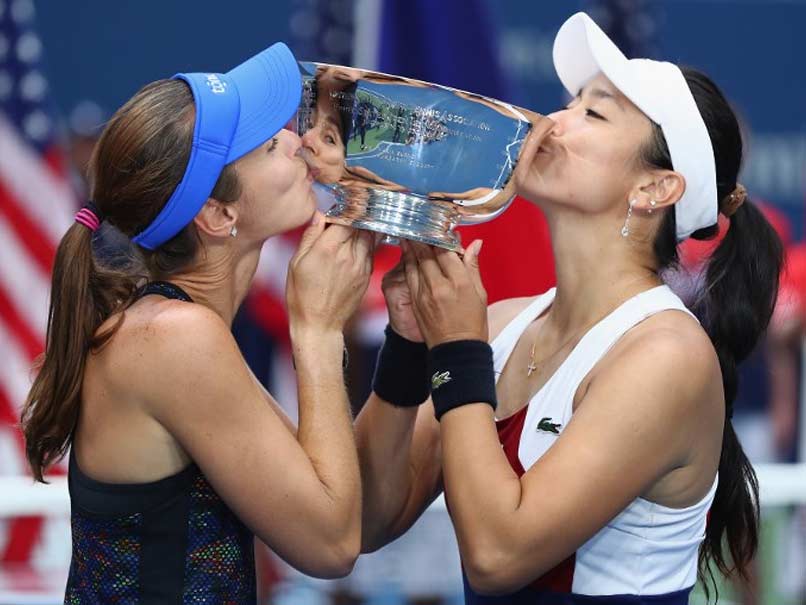 Martina Hingis and Chan Yung-Jan kiss the championship trophy after winning the US Open title.
© AFP
Swiss star Martina Hingis captured her second US Open doubles title in as many days, partnering with Taiwan's Chan Yung-Jan to win the women's doubles crown Sunday. Hingis, who shared the mixed doubles title on Saturday with Britain's Jamie Murray, won her 13th Grand Slam women's doubles title and Chan took her first as they defeated Czechs Lucie Hradecka and Katerina Siniakova 6-3, 6-2.
"It's like a real dream come true, like living my dream," Chan said.
The champions, who shared a USD 675,000 top prize, made only two unforced errors in the match while the Czech duo made 18.
For Hingis, it was a 25th career Grand Slam title overall and her third of the year.
She won the 1997 US and Australian Open and Wimbledon singles titles and the 1998 and 1999 Australian Open singles crowns as well as seven mixed doubles titles, including this year's Wimbledon and US Open mixed titles.
"It was an amazing feeling to play here in the singles final," Hingis said of her 1997 Arthur Ashe Stadium finals debut.
"Coming back 20 years later, it has been a wonderful journey."