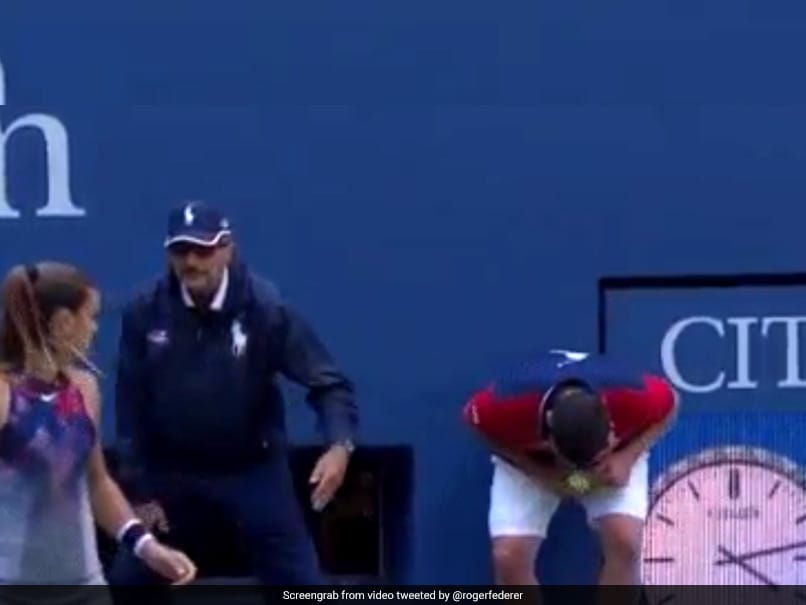 A ball boy was struck by a Venus Williams serve during the US Open.
© Twitter
Venus Williams gave the public the mother of all silent treatments Friday at the US Open regarding the news of her sister Serena giving birth to a baby girl. US ninth seed Venus, a seven-time Grand Slam champion and two-time US Open winner, downed 95th-ranked Maria Sakkari 6-3, 6-4 to reach the round of 16 on the New York hardcourts. The achievement was somewhat overshadowed by the much-awaited birth of her younger sister Serena's baby, one anticipated since she revealed her pregnancy on social media in April. But Venus, who lost to her pregnant sister in the Australian Open final last January, wasn't partaking in the joy in public, starting from the first question she faced in a post-match news conference about her emotions when she heard the news.
"I'm definitely available to answer questions about tennis," Venus said. "That's all right now."
Another highlight during Venus' match was her powerful serve that left a ball boy in quite a bit of pain. Funnily, Roger Federer decided make the boy famous on social media by sharing a gif of the incident.
?????? ?????? ?? pic.twitter.com/6fYgmDFj8z

— Roger Federer (@rogerfederer) September 2, 2017
The Swiss maestro's fans and followers indulged in some banter as well.
???? pic.twitter.com/a4C3ORWBdR

— Dana????#19 (@girl_tango) September 2, 2017
You know how it felt ?? pic.twitter.com/AjIt7G58FJ

— OneMatchAtATime #3 (@Lola_RF19) September 2, 2017
Remember this, Roger? ??https://t.co/VDQ3k483ro

— RF19?? (@VolleyMePlease) September 2, 2017
When Venus took the podium after the match, a moderator reinforced her desire not to talk about the baby, saying "Tennis questions, please," and later, "Let's keep it tennis focused."
After a few sporty inquiries, another attempt at baby comments asked whether the infant has a two-handed backhand or enough depth on her forehand yet.
"Oh, my gosh," Venus said. "That's hilarious."
Venus did reveal she spoke with Serena before the match, although giving away none of the conversation details.
"We always talk. She's always encouraging me, from every step of the way, every match, always," Venus said.
"I talked to her before this match, too. She didn't have any specific advice about this match but more motivational."
Venus said sometimes their exchanges are done by text, but noted, "We don't use a lot of emojies at all. We actually use the English language."
Asked about the birth reports just before she walked onto the court before the match, Venus, the oldest woman in the US Open at age 37, said, "Obviously I'm super excited. Words can't describe it."
After the match, an on-court interviewer notedly ignored the subject in questions until ending her remarks by congratulating the Williams family on a wonderful day.
Asked later if it was hard for her to focus on the match, Venus said, "I'm a real professional, because I have been doing this for a long time, so when the first ball starts, it's a ton of excitement."
(With inputs from AFP)