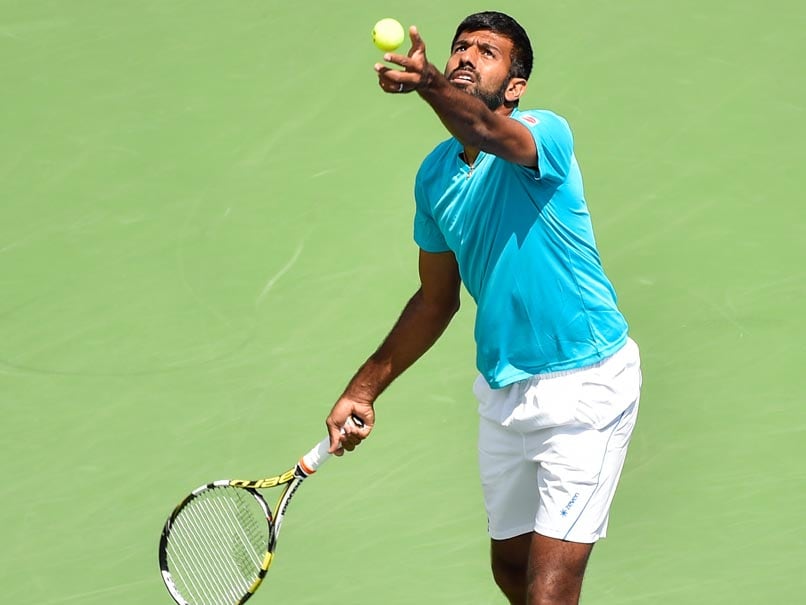 Rohan Bopanna of India serves during a doubles match in this file image
© AFP
Rohan Bopanna and Jeevan Nedunchezhiyan began the defence of their title by knocking out Leander Paes and Purav Raja at the Tata Open Maharashtra on Tuesday. The left-hander from Chennai, the youngest of all four at 29, came out firing on all cylinders as they beat their unseeded rivals 6-3 6-2 to progress to the quarterfinals. Jeevan, now ranked 102, stood out with his well- calculated lobs and precise strokeplay, making a huge difference to the outcome of the match. In the second set he lost only one point on his serve. In contrast, Raja could not hold his serve even once in the entire match while Paes did his bit but that was never enough.
The pressure was straightaway on Paes-Raja pair as the latter dropped serve in the fourth game. However, they got the break back when Bopanna served in the next. Paes netted the backhand on the first chance and Bopanna served well on the second but Raja found an overhead volley winner on the deciding point to nail the break.
Raja played some excellent dropped shots even as Jeevan impressed with his superb precision. He also served his game at love in the seventh. Raja's serve came under pressure again with Jeevan creating chances from nowhere. Eventually, he dropped serve with a double fault on the deciding point.
That loss of serve cost them dear as Bopanna came out and served out the set despite going down 15-40. He served extremely well to save two break chances as Raja sent his forehand long on the deciding point.
It was a good start to second set for Paes and Raja with former serving at love but Raja dropped serve again in the third. Jeevan showed amazing control and hardly gave an inch. Trailing 1-3, Paes too dropped his serve in the fifth and from there only a miracle would have saved them and it never happened. Aptly, Jeevan served out the match when Bopanna hit a backhand winner at 40-15. Raja was defending a lot of points here, being a finalist in Chennai last year while Paes had lost in the first round with Andre Sa.
(With PTI Inputs)