Story Progress
Back to home
Tata Open: Kevin Anderson Prevails Over Mikhail Kukushkin, Marin Cilic Outclasses Herbert
Top seed Marin Cilic from Croatia outplayed Pierre-Hugues Herbert while Kevin Anderson survived a mighty scare from Mikhail Kukushkin.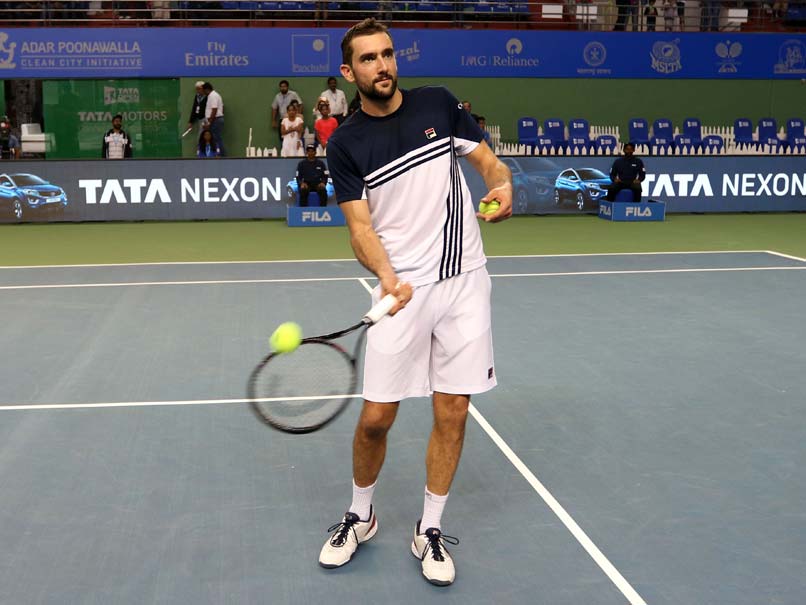 Marin Cilic hardly broke a sweat as he outclassed eighth seed Frenchman Pierre-Hugues Herbert.
© NDTV
Highlights
Marin Cilic outclasses Frenchman Pierre-Hugues Herbert

Kevin Anderson survives scare

Kevin Anderson beat Mikhail Kukushkin
Marin Cilic and Kevin Anderson, the two Grand Slam finalists last year, brightened prospects of a summit showdown by reaching the semifinals of the Tata Open Maharashtra with contrasting wins on Thursday night. Top seed Cilic from Croatia outplayed eighth seed Frenchman Pierre-Hugues Herbert 6-3, 6-2 in 64 minutes while Anderson survived a mighty scare from a dogged Mikhail Kukushkin before edging him 6-7(3), 6-4, 6-2. The US Open finalist from South Africa had to strategise and re-strategise against the Kazak in an intense quarterfinal, which lasted two hours and 30 minutes.
His big serve, with which he fired 24 aces, was put to test by the Kazakh, but eventually, the tall South African found a way to win.
Up against Kukushkin, a great retriever, Anderson had to rely on serve and volley midway into the match and the strategy did work. He also used the drop shots to good effect.
"He is one of the best returners in the world. You hope to hit aces and get some free points but you have to be ready for balls to come back against him. He was staying back at the baseline, so I served and volleyed and executed nicely. He has great defence so used a few drop shots as well," Anderson said after the match.
Anderson recently hired a new coach in Brad Stine, who also helped former world number one Jim Courier in the mid-90s.
"I had great results with Neville Godwin, reached top-10. With Brad, it will be new perspective."
It was the third meeting between the two players and after the latest win, Anderson led 2-1.
Kukushkin was a picture of determination and perseverance as he returned almost everything, refusing to be intimidated by the six-feet-eight-inch Anderson.
The South African came out blasting big serves but Kukushkin's anticipation was so spot on that he got himself positioned nicely to return everything.
Initially, the South African hardly lost a point on his serve but as the match wore on, it was Kukushkin who started to dominate. His consistency with returns had Anderson gasping. His was not a big serve like Anderson's but his returns made a huge difference.
Anderson saved a breakpoint in the fifth game after double faulting at 30-30 and so did Kukushkin in the next game. Kukushkin served extremely well on the first break chance to make it deuce but Anderson found a solid backhand winner to earn second but could not convert.
Kukushkin was still not dominating but trying very hard to stay in the game as his execution was not proper. Both of them continued to test each other and soon the South African got the break to take a 5-3 lead.
However, Kukushkin with his excellent court coverage found a way to get the break back, converting his fourth chance in the ninth game and saved a set point in the next to make it 5-5.
From a set point down, the Kazakh forced a tie-breaker in which he raced to a 5-1 lead as Anderson struggled to contain his unforced errors. Again Kukushkin's brilliant positioning and court coverage helped him return everything.
Anderson saved two set points but netted a backhand on the third as Kukushkin pumped his fist in the air to celebrate.
His confidence level going up, Kukushkin's serve also got better as the match progressed. Neither of the two players faced a beak point in the first six games.
Anderson found a service return winner in the seventh to earn his first break chance but Kukushkin saved that with a deep serve and blasted an easy winner on return in open court.
The South African had another chance when the Kazakh hit a forehand long but squandered the chance with a similar shot. Eventually, Anderson got the break when Kukushkin netted a backhand.
Kukushkin kept pushing himself but was broken in the third game and was unable to convert two chances in the fourth to fall behind 1-4 in the decider.
From there, it was easy for the world number 14 to close out the match in his favour.
Promoted
Cilic will now take on the very impressive Frenchman Gilles Simon, who ended the run of Spanish qualifier Ricardo Ojeda Lara with a 6-2, 6-3 win.
The 89th-ranked Simon had knocked out defending champion Roberto Bautista Agut in the second round and maintained his rhythm by winning 89 percent points.
Topics mentioned in this article