Paris: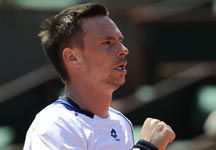 It seems Robin Soderling has found his form again at just the right moment.
After winning only one match in his last three tournaments, the 25-year-Swede had an easy ride on the French Open red clay on Sunday, defeating Frenchman Laurent Recouderc 6-0, 6-2, 6-3 to cruise into the second round.
The 5th-seeded Soderling, who lost to Roger Federer in last year's final, lost only five points in the first set and won the first nine games Sunday.
"It was a good start," Soderling said. "It's always nice to have a quick match in the early rounds. I got to hit a few balls. We had a few rallies, so it was a good match."
Soderling made his name last year in Paris when he defeated four-time defending champion Rafael Nadal in the fourth round en route to his first Grand Slam final.
Returning to the site of his greatest achievement, Soderling says he doesn't feel the pressure.
"It's nice. I don't think about it too much," said Soderling. "That was all last year. I have to start over again. Focus on every match. But of course it's always nice to come back to a place where you did well last year. Gives you good feelings."
Soderling reached the final in Barcelona last month before losing in the third round at Rome. He then lost his opening matches at Madrid and Nice.
"I think after Barcelona I was a bit tired," said the big-serving Soderling. "I played many matches in the States, in Indian Wells and in Miami (on hard court). Then Barcelona after that, Davis Cup was also tough. I was a little bit tired in Rome and I think I played pretty well in Madrid. I lost to a guy who played well."
Soderling could be defending champion Roger Federer's quarterfinal opponent this year, in what would be a rematch of the 2009 final.
"Of course I know that I can do well this year, as well, but it's not sure," Soderling said. "There are so many good players out there. You have to play well in every match and you also need a bit of luck."
Recouderc, who called a trainer while trailing 5-2 in the second set to receive treatment for a blister problem on his right hand, understood the reasons why Soderling took the tennis world by surprise last year.
"When he starts well, when he is into the game and that you give him a lot of short balls, he is like a machine," Recouderc said, adding that he wouldn't be surprised to see Soderling doing well again this year.
"But he can also get angry very quickly," Recouderc said. "That's what I was betting on today."
According to fellow Swede Mats Wilander, who won the French Open three times in the 1980s, Soderling is now ready to take another step in his tennis career.
"He's ready to win a Grand Slam," Wilander told the French Open website. "He's grown up at lot."