Story Progress
Back to home
Roger Federer to Start His Band Named 'Backhand Boys'?
Roger Federer and other tennis stars had fun with the song 'Hard to Say I'm Sorry' by American rock group Chicago.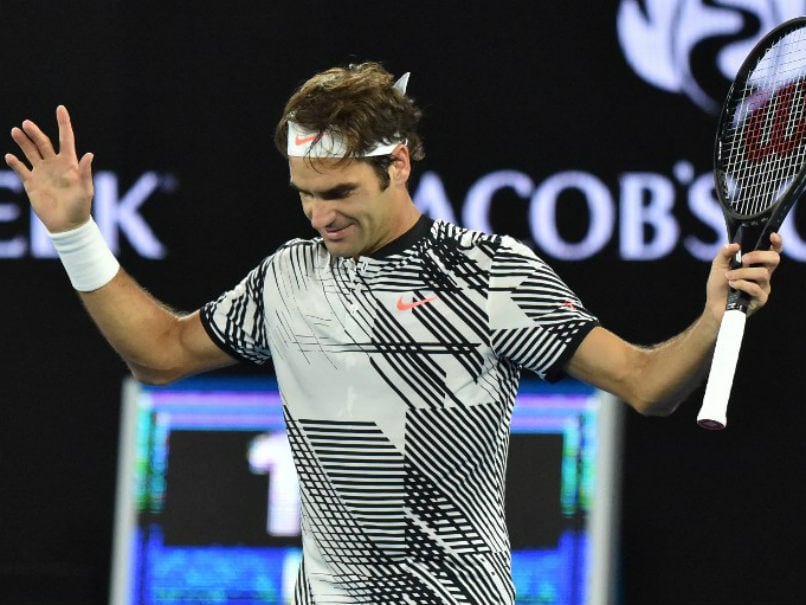 Roger Federer is having fun these days with other tennis stars in Indian Wells.
© AFP
Highlights
Roger Federer is an 18-time Grand Slam winner

He is a former World No.1

He won the Australian Open earlier in the year
Roger Federer is always up to some fun and this time he has draggd in Novak Djokovic, Tommy Haas and Grigor Dimitrov in it. Indian Wells tennis fans were denied a chance to see Federer in action on Friday but were treated instead to the Swiss great's dubious talents in the music department. After Australian Nick Kyrgios pulled out of his scheduled quarter-final against Federer in the first ATP Masters tournament of the year, Federer turned out for a light-hearted on-court question and answer session to entertain spectators.
It included the showing of an updated video featuring Federer, Tommy Haas and Grigor Dimitrov belting out Chicago's "Hard to Say I'm Sorry" -- accompanied by Grammy Award-winning Canadian musician David Foster on piano with a cameo from Novak Djokovic thrown in.
No seriously, we're actually starting a boyband: The one handed #BackhandBoys @GrigorDimitrov @TommyHaas13 @officialdfoster @DjokerNole pic.twitter.com/DtTSu39KIM

— Roger Federer (@rogerfederer) March 17, 2017
The video is a more polished performance than the group's first effort at the number, which Federer unveiled during the Australian Open in January.
However, Federer acknowledged the One-handed Backhand Boys probably still shouldn't give up their day jobs.
"So bad, yet so good," was his assessment, and when asked if the Backhand Boys themselves might one day feature at the Grammys, he replied: "I don't think so."
Working two jobs is rough. One handed #BackhandBoys pic.twitter.com/vCxS2yWpHh

— Grigor Dimitrov (@GrigorDimitrov) March 17, 2017
Promoted
(With inputs from AFP)
Topics mentioned in this article