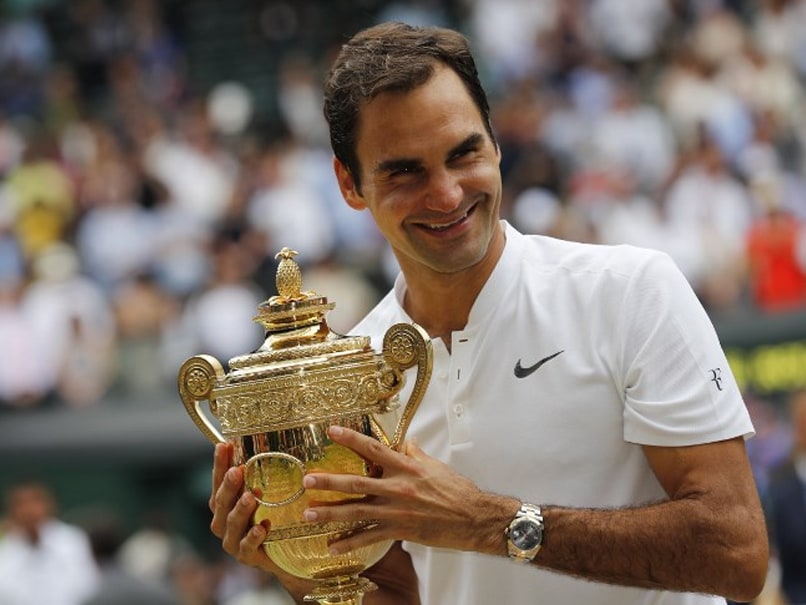 Roger Federer beat Marin Cilic in straight sets at win his eighth Wimbledon title.
© AFP
Roger Federer, who won Wimbledon at 21, 22, 23, 24, 25, 27 and 30, won it again Sunday at 35, further cramming his name into a men's tennis record book in which it appears almost as rampantly as it would in a biography. With his 6-3, 6-1, 6-4 passage through the sporadically scary but diminished Croatian, Marin Cilic, Federer not only surpassed all other male Wimbledon champions with his eight titles. At 35 years, 342 days old, he became the oldest Wimbledon champion in the Open Era.
Even all that wouldn't cover the milestones, as it seldom does with Federer. He also extended his Grand Slam title total to 19 to arrange an arrival in New York in late August with a stunning yet realistic chance at 20, which would have seemed farfetched only six months ago.
Back in mid-January, Federer had just come off a six-month hiatus in deference to a left knee that kept yelling for attention on court while he tried to plot strategic points. With that knee rested, Federer up and won the Australian Open from a No. 17 seed, and set off on a year he has called "a fairy tale."
That tale spun itself even flusher on Sunday against an opponent whose recent intersections with Federer suggested trouble could have lurked. Cilic routed Federer in the 2014 U.S. Open semifinals and cornered him with a two-set deficit plus three match points in the 2016 Wimbledon quarterfinals. On both those occasions, Cilic leapt out ahead. On this one, he did not.
He almost did, finding the final's first break point as Federer served at 1-2 early on, but he took a 96-mph second serve and backhanded it promptly into the net. Almost right from there, the 2014 U.S. Open champion ranked No. 6 in the world began to descend into an unforeseeable state where he barely could seem to direct a ball into play. By the start of the third set, he had a medical timeout as a trainer attended to his left foot.
When Federer had stormed ahead 6-3, Cilic banged his racket onto his chair. When Federer led 6-3, 3-0, trainers first visited Cilic, who appeared to sob in his chair and put a towel over his head that stayed there even for a few seconds after the chair umpire said, "Time." The nine-game path from that break point at 1-2 to that towel had been strewn with staccato points, old-style Wimbledon tennis played on baselines that looked like they had held two weeks of rugby, and a big bouquet of Cilic errors.
Federer connoisseurs on Centre Court got a limited ration of the usual treats, while never having to worry for a player so preferred around the world that he seems to belong to bountiful nationalities.
There was a dandy point in Cilic's service game at 2-2 and love-15 in the first set, when both players wound up near the net, Cilic played a cunning backhand cross to the doubles line, and Federer retrieved that to direct it into the open court to rousing applause. There was a Federer backhand drop shot that seemed to yearn for a string quartet at courtside. It fluttered neatly just over the net and sat down. There was a point at 3-5, at 30-all, on which Federer nailed two backhands that seemed so rocket-launched that the crowd gasped in an attempt to comprehend. The second one blasted by Cilic for the point and left the audience in wonder.
Mostly, though, there was a strong matchup descending into deflation until it ascended into a jubilation so often seen this century, that of a Swiss maestro with 19 such occasions in a sport where people dream of doing it just once.
(c) 2017, The Washington Post