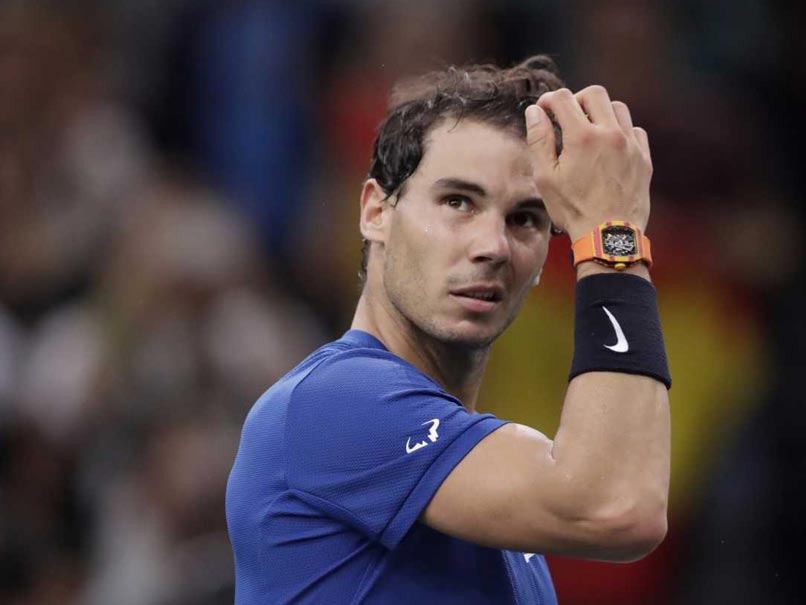 Rafael Nadal pulled out of the Paris Masters last week with a knee problem.
© AFP
Rafael Nadal said on Friday he "hopes" to be ready for his opening match at the ATP Finals but admitted he has not been training at 100 per cent after an injury scare. The 16-time Grand Slam champion pulled out of the Paris Masters last week with a knee problem, sparking fears that he would miss the season-ending finale in London. When asked whether his knee would be ready for his first match against Belgium's David Goffin on Monday, the Spaniard told a pre-tournament press conference "I'll try my best," but admitted he had been wary during practice in recent days.
"I hope. And if I didn't believe I can be ready, for me, I wouldn't be here," added the world number one. "I'm working every day, practising well and just trying to be ready for the action."
He said it was impossible to predict whether his knee would be close to its best by the time of next week's final, adding that he was focusing on each day.
"You cannot predict what's going to happen," he said. "You work every day without thinking too much about what's going to happen."
Nadal insisted he had made no schedule demands on the organisers to gain additional time to recuperate from his injury.
"I didn't have any request. I didn't ask anything," he said.
The Spaniard, who has never won the ATP Finals, said it was satisfying to be back in London for the year-end event after he missed out last year.
Nadal faces Goffin on Monday evening in the last of the first batch of matches. Two groups of four players play in a round-robin format before semi-finals and a final.
Nadal is guaranteed to end the year as world number one, irrespective of his performance at the finals, which begin on Sunday and end on November 19.
On the prospect of playing Federer in the final, Nadal said: "It would be great to finish the year playing against him again."