Story Progress
Back to home
Focussing On Singles Way To Go For Indian Players: Leander Paes And Mahesh Bhupathi
Tennis legends Leander Paes and Mahesh Bhupathi are not in favour of more Indians choosing doubles over singles, saying the highest accolades in the sport go to individual performers.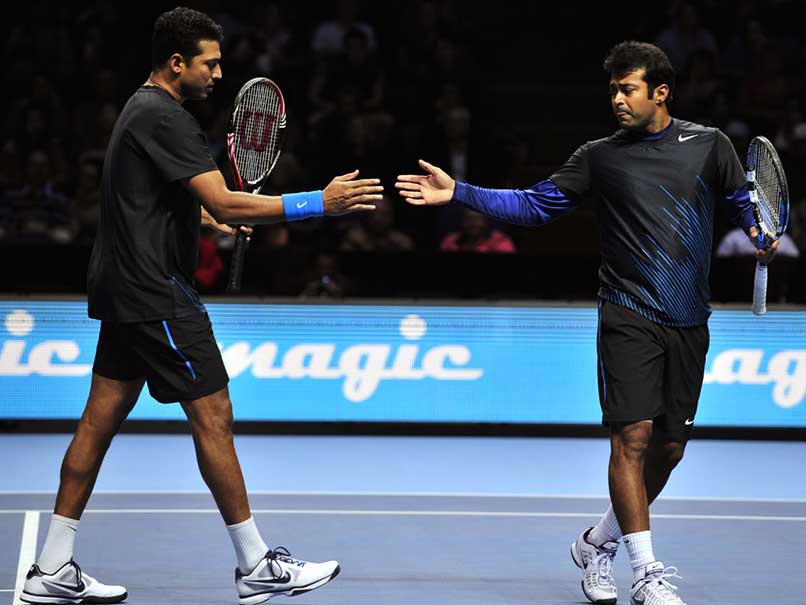 Leander Paes and Mahesh Bhupathi once had a very successful doubles partnership.
© AFP
Tennis legends Leander Paes and Mahesh Bhupathi are not in favour of more Indians choosing doubles over singles, saying the highest accolades in the sport go to individual performers. "No, why would we do that?" Bhupathi told PTI when asked if Indians should focus more on doubles. "We have not had a quarterfinalist in a Grand Slam of the singles since Ramesh Krishnan (in mid-1980s). I think that is where we should focus," he said, adding, "The bar has been set very high by us (in doubles). If you are going to try and beat that, it is going to take a few decades." "You have got to look at all different disciplines on its own, whether it is singles or doubles or mixed doubles -- it is all a part of tennis. (But) focussing on singles is the way to go because that is where the highest accolades are," added Paes on the sidelines of an US Polo Association event in Mumbai on Friday.
Paes highlighted the rise of this year's Wimbledon champion, Spain's Carlos Alcaraz — who also became the world No. 1 in a rapid ascend at the age of 20 — even as Indian players are forced to deal with basic issues.
"When you look at preparing youngsters for that (singles), it is very hard. You look at the Alcarazes of the world -- he is 20-years-old right now and he is already the No. 1. Our kids at 18-19 are still trying to come out of the juniors (level) to decide whether they are going to go to college or going pro -- it is a different world," the tennis legend with a total of 18 grand slam titles in men's doubles and mixed doubles said.
Paes said the country will have to be realistic with its aspirations.
"That is where realism has to come in to see the level of support, the level of encouragement, the level of training and the level of dollars that is invested in to nurture talent. It is all relative," he said.
Bhupathi said it is wrong to assume that it is going to be a tough time ahead for Indian singles players.
"It is subjective," he said. "Till two years ago, Carlos Alcaraz was... last year he won a championship at the beginning of the year and this year he is No. 1 in the world. So, I do not think it is a fair statement to make," said Bhupathi when asked if any Indian player will be able to play singles at the highest level.
"Anybody can come out of anywhere. There are a couple of 14-15 year old (Indians) who are making waves in the world," he said.
Paes said the overall growth of tennis in India had shown improvement but it would take time for the country to produce a singles champion.
"The sport as a whole has grown so much in India and you see badminton and shooting doing so well, even javelin — a sport that India is not really known for — doing so well. Hence all the other sports are picking up so well," he said.
"The Tokyo Olympics was a clear showcase that seven medals in one Olympics is the best we have ever done. Coming back to tennis, people got so used to us winning Grand Slams — 30 Grand Slams amongst us here — I think it will take a little bit of time before we produce a singles champion. But at the same time, we have got to be very realistic as well," Paes added.
However, Bhupathi said there was no ready solution to solve the problem.
"If we had a solution we would have already done it, no? I mean, we are tennis players, not tennis creators," he said.
On his part, Paes, named the brand ambassador of the clothing brand along with Bhupathi, said, tapping talent in rural areas would be crucial.
"When you look at Indian sports, there are quite a few people who are doing it brilliantly. Neeraj Chopra is training in Scandinavia and has got a great javelin coach — honing his skills there and bringing it here," Paes said.
"You look at our cricketers, trained here and playing in so many events. And, that is why cricket is churning (out) so many athletes. Today, you have almost 3-4 national cricket teams? It is incredible. You have the U-19 team as world champions. You have India A and B, I am sure you can have C and D," he said.
Paes continued, "It is just a matter of perseverance, coming out every day and creating opportunities for the youngsters to excel.
"I personally believe a lot of our talent is untapped in sport because they are in rural areas — they do not get a chance to come to Mumbai, Delhi, Kolkata, Chennai, Hyderabad or Bangalore where the academies are. They are still out in areas where they are still playing gully cricket or gully football," he added.
(Except for the headline, this story has not been edited by NDTV staff and is published from a syndicated feed.)
Topics mentioned in this article