Paris: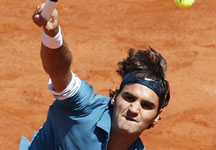 Miffed by a line call in his first match as defending French Open champion, Roger Federer quickly regrouped to win the opening set two points later, then went on to beat Peter Luczak of Australia 6-4, 6-1, 6-2 Monday.
The top-ranked Federer committed only 11 unforced errors, lost just 14 of 64 points on his serve and faced only one break point.
This is only the second time in nine years that Federer arrived in Paris without a title during the clay season. But the 16-time Grand Slam champion showed no signs of vulnerability against Luczak, who fell to 0-4 in French Open matches.
Although Federer won at Roland Garros a year ago to complete a career Grand Slam, the role of favorite again goes to four-time champion Rafael Nadal. They could meet in the final.
In women's play, third-seeded Caroline Wozniacki of Denmark eased past Alla Kudryavtseva of Russia 6-0, 6-3, and No. 11 Li Na defeated Kristina Mladenovic 7-5, 6-3.
With warm temperatures on a second successive cloudless day in Paris, Federer lost his cool for only a moment. Speaking to the chair umpire in French and wagging his index finger, he disputed a line call on a Luczak serve, then waved his arms in disgust as he walked back to the baseline.
A double-fault by Luczak moments later ended the first set.
On one point Federer started behind the baseline, sprinted to chase down a drop shot near the net post, slid into his forehand and flicked it from ankle level crosscourt for a winner. He ended a long rally with a sliced backhand that carried so much spin it bounced back toward the net for another winner, and he raised a finger to acknowledge the cheers.
Then, on match point, Federer leaned into a backhand and pulled it at an improbable angle for one last winner, prompting a final "Ahhhhh" from the crowd.
No. 17 John Isner of the United States lost only 10 points on his serve, never faced a break point and beat Andrey Golubev 6-4, 6-3, 6-2.
Wozniacki has played the most tennis of anyone on the women's tour since the start of last year, and she looked sharp against Kudryavtseva, committing only nine unforced errors and missing just 11 first serves. Kudryavtseva lost the first seven games, then won two in a row, but she was unable to stay with Wozniacki in long rallies.
Wozniacki has been bothered by a sore right ankle since mid-April, and the injury forced her to retire from a match in Warsaw last Thursday, but she said it has much improved since.
"It feels pretty good today, actually," she said. "I've had good support in the tape, so I was really happy about that."
Kudryavtseva changed rackets before the final point, but it was too late. Wozniacki closed out the victory with a service winner, then blew kisses to the crowd.
She said she's glad to be one of the highest-seeded players.
"You get to play on the big courts, nice crowd. It's just a great thing," Wozniacki said. "It means that you have done so well throughout the year and you've done so many good results. I'm just happy when I go on court."
The women's draw is considered wide open, with Wozniacki among the title contenders. The 19-year-old Dane was the runner-up at last year's U.S. Open and has a 29-12 career record in Grand Slam tournaments.