Story Progress
Back to home
Zimbabwe vs India: ICC T20 World Cup 2022 Live Cricket Score, Live Score Of Today's Match on NDTV Sports
Live Updates of Today Match between Zimbabwe vs India from Melbourne Cricket Ground (MCG), Melbourne. Check commentary and full scoreboard of the match.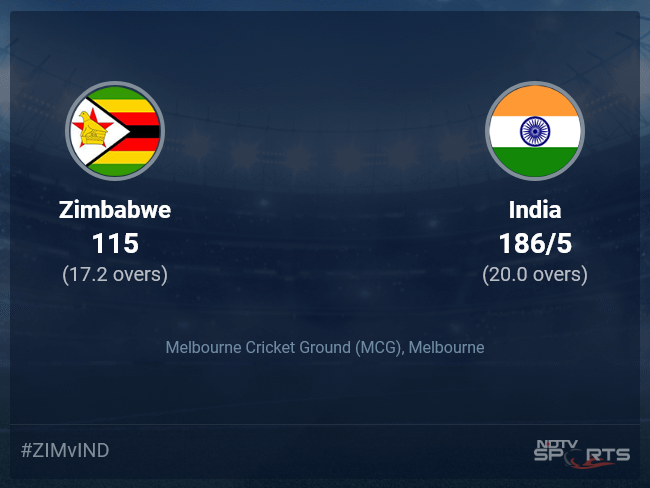 ZIM vs IND Latest Score
A dedicated team of experts bring you live score, live cricket score, live match update on Sports.NDTV.com. After 17.2 overs, Zimbabwe, chasing a target of 187, are 115. The live updates of Zimbabwe vs India scorecard is also available. It is the perfect platform to follow your favourite teams in ICC T20 World Cup 2022. Keep a track on your favourite batsmen and bowlers through ICC T20 World Cup 2022 today match, ball by ball commentary, Zimbabwe vs India, Zimbabwe vs India live score, Zimbabwe vs India scorecard. Follow the excitement of the ICC T20 World Cup 2022 on Sports.NDTV.com as you can follow live match updates and live cricket score through our platform.
Right then, we are done with the Super 12 stage and are ready with the line-up for the semifinals. Have to say, this has been quite an enticing World Cup so far with cut-throat competition between all teams. Now we can expect the action to get more intense and thrilling as we move into the knockout stage. The first semi-final will be in Sydney where New Zealand will go up against Pakistan on Wednesday, 9th of November. It will start at 1.30 pm IST (8 am GMT). The second semi-final would be played at the Adelaide Oval where India will lock horns against England on Thursday, the 10th of November at 1.30 pm IST (8 am GMT). So, two blockbuster games await us. Do join us for the build-up of those games nice and early. Till then, it's goodbye and cheers!
Rohit Sharma, the skipper of India says that it was a good overall performance and something they were looking for. Mentions that they have qualified but they wanted to play the way that they did and they got a lot from the game. Credits Suryakumar Yadav for what he is doing as it is remarkable and he is taking the pressure away from the other batters which is quite important. Adds that he allows others to take time and the confidence he shows brings ease to the dug out. Goes on to say that they expect this from him and he has grown from strength to strength. Claims that the key for them is to adjust to the conditions and says that they played recently at the venue so they know what to do. Admits that England is a strong team and it's a semi final where two teams will be going at each other so they should not forget what got them there. Adds that it is a high pressure game but they take a lot of pride in qualifying and understands that if they play well, they have one more good game after that. Ends by saying that the crowd has been brilliant and have come to watch wherever they have gone, so he expects nothing less in the semi-final.
Craig Ervine, the skipper of Zimbabwe says they could have changed a couple of plans. Mentions that the initial plan was to bowl wide yorkers but they could have taken some pace off the ball. Credits Suryakumar Yadav for taking the game away from them. Claims that leading up to the tournament they had a positive approach with the bat but in the last two games they have gone into a shell and lost that positively. Adds that they need to counter that by moving around a bit and being proactive. Admits that the last few results didn't go as planned but they did really good work to get into Super 12. Ends by saying that in the last few games their ground fielding has been poor but they fought hard during this World Cup.
Suryakumar Yadav is the Player of the Match and he says that the plan with Hardik was clear and they wanted to take a positive approach. Adds that when they started connecting their shots and getting boundaries,they decided to continue. Mentions that the atmosphere in the team is really nice and the build-up to the tournament was good. Claims that his plan has always been clear and he attempts to see what the team needs in any particular situation. Admits that it feels really good to be in good form but it is important to start from zero. Ends by saying that they have qualified for the knockouts and he wants to see how it goes but he is thankful for the support.
Time for the Presentation.
India, on the other hand, would be pretty happy with the clinical nature of this win. Suryakumar Yadav was absolutely fantastic at the death which took India to an above-par score and after that, the way Bhuvneshwar Kumar and Arshdeep Singh swung the ball was quite commendable. India managed to take three wickets in the Powerplay and all Indian seamers made sure that Zimbabwe were never given an inch before the spinners came into the attack. Indian spinners, Ashwin and Axar Patel struggled initially but then came back strongly to pick four wickets between them. Overall, a convincing performance by India and it would be interesting to see how they go about their business in the semi-final now.
In the first half of the game, India posted a huge total courtesy of some quality batting by KL Rahul and Suryakumar Yadav. The target of 187 was always going to be tough for Zimbabwe and the 79 runs they gave away at the death with the ball, took the momentum away from them. Sean Willians took two wickets with the ball but with the bat, he could not score much. The top 3 batters before him also failed to make a mark and it was only the partnership of 60 runs between Raza and Burl that gave the Zimbabwean fans something to cheer about. However, they were never in this chase and once that partnership was broken, Zimbabwe ended up folding quite quickly on 115. Zimbabwe have played some good cricket in this tournament though and they would be looking to build up from here and come up with bettter performance in future.
India have registered a dominating win here at the 'G' and have finished at the top of the table in Group 2. They will now go to Adelaide to face off against England in the semi-final and this is exactly the kind of morale-boosting win a team needs before going into a knockout game. Zimbabwe, on the other hand, have played some brilliant cricket in patches but they need to be better with their execution with the bat to challenge big teams consistently.
17.2 overs (0 Run) OUT! CAUGHT AND BOWLED! Axar Patel finally gets his wickets column ticking! The Zimbabwe batting has crumbled once again and India have celebrated their semi-final qualification with a thumping win. Axar Patel flights this ball full and outside the off pole, Tendai Chatara looks to stroke this through the off side. There is some extra bounce off the wicket and this results in an inside edge that floats high to the bowler's right. Axar Patel covers the ground and takes the catch with both hands to send Zimbabwe packing. India win by 71 runs!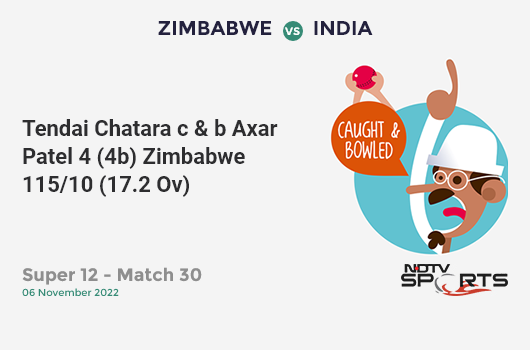 17.1 overs (4 Runs) FOUR! Axar Patel continues to be expensive! Bowls a flighted delivery full and outside off, Tendai Chatara thumps this towards long on and collects four runs.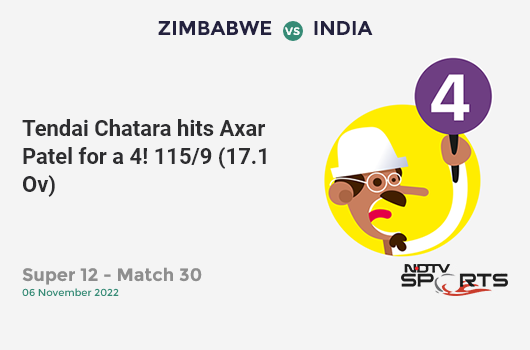 16.6 overs (0 Run) Delivers this in line with the stumps on a good length, Blessing Muzarabani blocks this towards mid-wicket.
16.5 overs (0 Run) Bowls this one full and outside the off pole, Blessing Muzarabani hangs his bat out to dry and is beaten all ends up.
16.4 overs (0 Run) OUT! CAUGHT! Sikandar Raza has to depart and with that Zimbabwe have lost their last ray of hope! Hardik Pandya bowls a slower bouncer wide outside off, Sikandar Raza pulls this toward deep square leg but mistimes the shot as he is beaten by the lack of pace. Suryakumar Yadav makes no mistake in the deep and takes an easy catch to take India one wicket away from sealing a comprehensive win.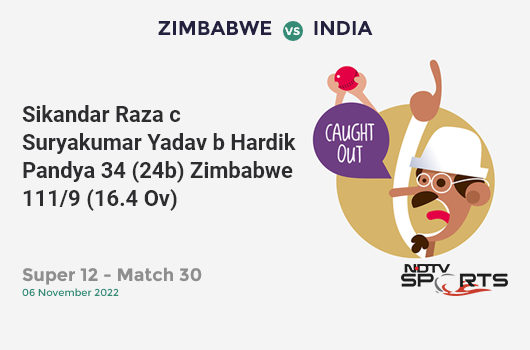 Blessing Muzarabani is the last man in.
16.4 overs (1 Run) WIDE! This is bowled on a good length and he follows the batter going to the leg side. The ball is way down leg side and the umpire calls this wide.
16.3 overs (1 Run) Hardik Pandya has got his line wrong here as he strays in the pads once again on a fuller length. Tendai Chatara misses his flick and the ball goes off his pads to fine leg for a leg bye.
16.2 overs (1 Run) This is a touch fuller but still going down leg, Sikandar Raza gets low and clips this towards deep mid-wicket for a single.
16.1 overs (2 Runs) Hardik Pandya bowls a back-of-a-length delivery angling down leg, Sikandar Raza pulls this towards fine leg and they take a couple of runs.
15.6 overs (0 Run) Another flighted delivery bowled full and spinning down leg. Tendai Chatara looks to stroke this through the line but is beaten on the inside edge as the ball just misses the leg pole.
Tendai Chatara is the next man in.
15.5 overs (0 Run) OUT! TIMBER! Another one bites the dust and Ravichandran Ashwin has two wickets in his last over! Bowls this on a fullish length and in line with the stumps. Richard Ngarava goes deep in the crease and looks to pull a ball that keeps a fraction low. The stumps have been shattered and Zimbabwe lose their eighth wicket now. India will be eager to wrap this match up in a jiffy.
15.4 overs (1 Run) This is slightly short and outside off, Sikandar Raza gets on his back foot and punches the ball down to long off for a single.
15.3 overs (0 Run) Floats one in full and angling down leg, Sikandar Raza gets his front foot out of the way and looks to heave across the line but misses.
15.2 overs (1 Run) Loopy delivery bowled full and just outside off, Richard Ngarava gets an inside edge to deep square leg and gets off the mark with a single.
Richard Ngarava walks out to the middle now.
15.1 overs (0 Run) OUT! CAUGHT! Rohit Sharma persists with spin and Ravichandran Ashwin gets his second wicket! Flights the ball full and into the pads, Wellington Masakadza looks to work this leg side but gets a leading edge to Rohit Sharma at short cover. Zimbabwe have now lost their seventh wicket and are staring down a barrel of defeat.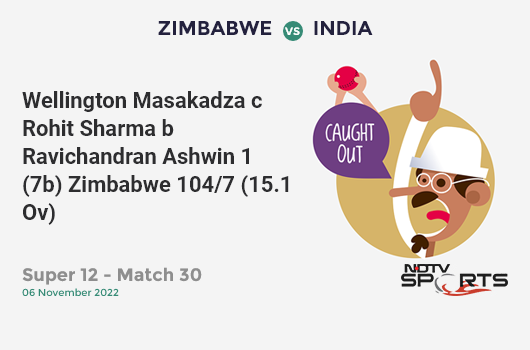 Match Reports
Topics mentioned in this article