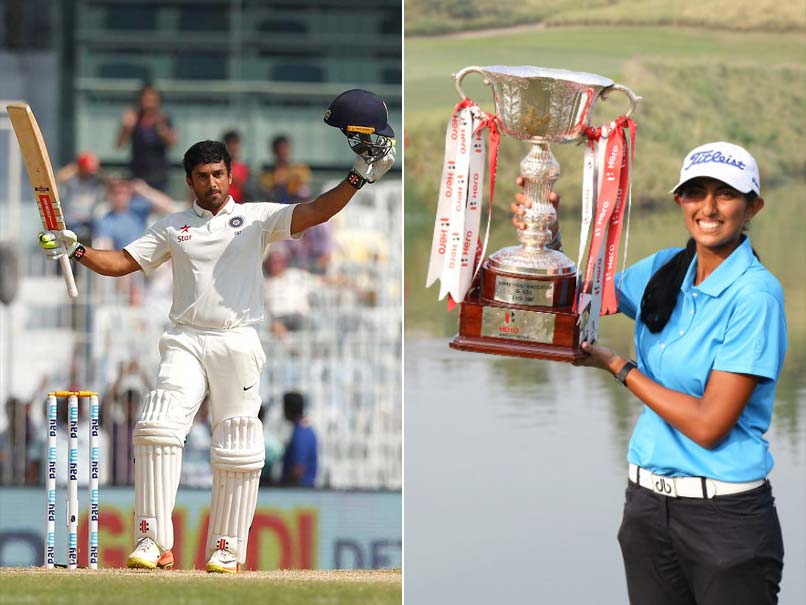 Cricketer Karun Nair (L) and golfer Aditi Ashok were among the rising stars for India in 2016.
© BCCI/AFP
Indian sports was all about the emergence of the young brigade in 2016. PV Sindhu, Sakshi Malik, Dipa Karmakar were shining stars as they rose to bring glory to the nation.
While badminton player Sindhu and wrestler Sakshi won medals at the 2016 Rio Olympics, Dipa missed a bronze medal by a whisker. But while these girls stole the limelight, there were also several other new names that made headlines and have shown the prospect of a better future.
With another year of several important sporting events coming up, a look at the five athletes who can influence Indian sports like never before.
 
Karun Nair
 
Nair achieved a feat in his debut Test series that many cricketers fail to get their entire careers. His 303 not out in the Chennai Test against England has raised the expectations from him. India will be playing Test series against Australia and Bangladesh at the beginning of 2017 and Nair will surely be the one to look out for.
Jayant Yadav
At 26, Yadav is sort of a late bloomer in cricket. But then, he has made up for it by a stellar performance in the series against England - his debut series.
The Haryana Ranji Trophy player not only scored a ton and a half-century but also took 10 wickets with his off-spin. Now, courtesy Yadav, India can expect to end its long wait for a reliable all-rounder.
 
Aditi Ashok
The 18-year-old golfer first came into prominence as she finished 41st in the women's category at Rio Olympics. For the first two days of the event, she was in the top-eight of the field.
After the Olympics, She maintained her form and has earned a partial LPGA Tour membership for 2017 after finishing tied 14th at the qualifying tournament in Florida.
Boris Singh
Not many would have heard of him, but Boris is one of the most reliable players in India's Under-17 football team that will play at the FIFA U-17 World Cup. He can play as wing-back and on the attacking flanks as well.
He will need all the support from his teammates to do well in the mega-event which is touted to change the contours of the game in the country.
Vinesh Phogat
Vinesh is the third girl from the Phogat family in Haryana to make her name in women's wrestling. She won a gold medal at the 2014 Commonwealth Games and entered the quarter-finals in the 48kg category at Rio Olympics. She suffered a knee injury in the match and had to concede defeat.
However, at 22, Vinesh is expected to bring more laurels to the country like her sisters, Geeta and Babita.