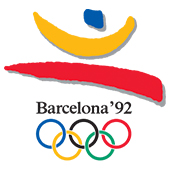 About BARCELONA 1992 Summer Olympics
Spanish put on a fiesta in a marvellous setting and in Linford Christie they had a fearless matador.
A run that will be remembered as much for his eye-ball boggling ferocious concentration as his sheer power made him the oldest Olympic 100m champion.
Gail Devers overcame serious illness to win the women's 100m while Paraskevi Patoulidou became the first Greek woman to claim an Olympic gold in the 100m hurdles.
A mighty political shift saw South Africa return for the first time since 1960 while a pan-German side competed for the first time since 1964.
The Soviet empire, on the verge of collapse, was represented by a Unified Team while the Balkan upheaval saw Bosnia-Herzegovina, Slovenia and Croatia send their own teams and the Serbs compete as individuals.
Lithuania, not represented since 1928, won their first Olympic title when Romas Ubartas, a European and Olympic champion for the Soviet Union, won the men's discus throw.
Khalid Skah won a controversial 10,000m after his Moroccan team-mate Hammou Boutaib obstructed Kenya's Richard Chelimo.
Vitali Scherbo was the most successful competitor with six gold medals in gymnastics but it was Spain who were the real winners of a magnificent Games.
They had won only four gold medals in previous Olympics but in front of a joyous home crowd they grabbed 13.