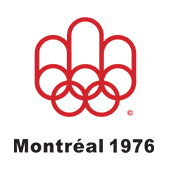 About MONTREAL 1976 Summer Olympics
Tanzania refused to go when the IOC ignored demands for New Zealand to be expelled because their rugby team was touring South Africa. On the eve of the opening ceremony, the Supreme Council for Sport in Africa's secretary general Jean-Claude Ganga of the Congo, since expelled as an IOC member over the 2002 Winter Games cash-for-votes scandal, called a boycott of 21 other African countries, joined by Iraq and Guyana.
Poor planning and uncontrolled building costs meant Montreal mayor Jean Drapeau left local taxpayers with a 1.5 billion dollar bill and Queen Elizabeth opened the Games in an unfinished stadium.
The Munich tragedy meant that Montreal was the first Games where security was so intrusive.
Lasse Viren repeated his double while Cuba's Alberto Juantorena became the first man to win both 400m and 800m since Paul Pilgrim from New York, in the unofficial Games of 1906.
His main challenger at two-laps, Kenya's Mike Boit, was missing while Tanzania's absence meant Filbert Bayi missed a rerun of the 1974 Commonwealth Games 1,500m final against New Zealand's John Walker.
Nadia Comaneci could never match Olga Korbut's charm but the 14-year-old Romanian became the first Olympic gymnast to score perfect marks of 10. She added the uneven bars and balance beam gold medals to her All-round title.
Boris Onischenko, a Red Army major, outranked British sergeant Jim Fox but he was court-martialed from Modern Pentathlon when Fox pointed out to the judges that his Soviet opponent was scoring in the fencing without actually hitting anybody.
Onischenko had wired his sword to register a hit whenever he wanted.
Twelve of the 13 men's swimming events were won by Americans. The exception was Britain's David Wilkie in the 200m breaststroke.
The East Germans won 11 of the 13 women's events. Kornelia Ender, who had won three silver medals as a 13-year-old in Munich, won two gold medals, breaking her 100m freestyle world record for the 10th time in the final.
She revealed in 1990 she had been given frequent injections during her sporting career without being told what they were for.
Vassily Alekseyev of the Soviet Union, unbeaten from 1970 to 1978 when he set 79 world records, retained his superheavyweight title at weightlifting.
Women's basketball was introduced and the Soviet team, unbeaten in international tournaments since 1958, duly took the title, with 6ft 10-1/2in (2.10m) Uljana Semjonova topscoring, just as she did in Moscow four years later.