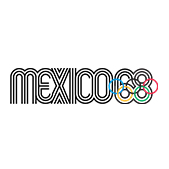 About MEXICO CITY 1968 Summer Olympics
This was the year when student-led strikes in France almost toppled General de Gaulle and Soviet tanks wiped out Prague's attempts to throw out Communism. Students in Mexico disagreed about state money being spent on the Olympics and staged a series of protests, all broken up violently by the police.
IOC president Avery Brundage warned the president, Diaz Ordez, that if there were demonstrations at the Olympic sites the Games would be cancelled. Ten days before the Games were to begin the army opened fire on a peaceful rally and killed nearly 300.
The IOC refused to take a stand and described it as a local affair.
Two weeks later Tommie Smith and John Carlos raised their fists in a Black Power salute during the American anthem.
"A nasty demonstration against the United States flag by Negroes," was Brundage's response and the two men were thrown out.
Significantly, the civil rights protest was supported by Australia's Peter Norman, the silver medal winner.
Mexico City's rareified air helped athletes set records in the sprint events.
Bob Beamon jumped 29ft 5in (8.90m) for a world record that would remain unbeaten for 23 years.
But the distance runners suffered -- unless they were from the east African plateau.
Kip Keino won the 1,500m and a silver in 5,000m when a tactical error let in Tunisian Mohammed Gammoudi as Kenya won their first ever gold medals. Naftali Temu won the 10,000m and Amos Biwot the steeplechase. Ethiopia's Mamo Wolde won the marathon.
Dick Fosbury, whose jump was nicknamed the flip but later became the flop, won the high jump and dicus thrower Al Oerter became the first man to win four athletic golds.
But the hero of Mexico was Vera Caslavska, the defending All-round gymnastic champion from Czechoslovakia who had publicly come out against Soviet involvement in her country before Leonid Brezhnev sent the tanks in.
She was eventually allowed to go to Mexico where she captivated the crowds, adding four gold medals and two silvers to the three gold and two silver she had won in Tokyo.