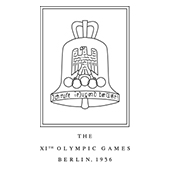 About BERLIN 1936 Summer Olympics
Adolf Hitler, who had risen to power since the Los Angeles Games, seized on the idea of using the Olympics as a platform for demonstrating the supposed supremacy of the Aryan races.
The torch relay, exploited in Leni Riefenstahl's film Olympia, made its first appearance.
Germany won only five gold medals in men's track and field but thorough preparation in gymnastics, rowing and equestrian helped them to 89 overall, compared to 56 for the USA.
Jesse Owens and the other black American athletes were described by the Nazi press as "black auxilliaries" but his four gold medals and tremendous personality won over ordinary Germans.
The IOC said it had been alarmed at the ill-treatment of Jews but would not be drawn into political and other controversies.
A Workers' Games, which were proving more popular, came to an end when Franco started the Spanish Civil War. There had been 150,000 at Paris in 1925 and 100,000 at Vienna in 1931.