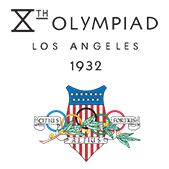 About LOS ANGELES 1932 Summer Olympics
The distance and the depression led to the smallest numbers since 1906 although excellent conditions led to every Olympic athletic record except the long jump being broken. Babe Didrikson showed her versatility by winning gold medals in the 80m hurdles, javelin and a silver in the high jump. Officials prevented her from competing in another two events.
Japan won five gold medals in men's swimming.
Just before the Games, the IOC said Nurmi would not be allowed to run in his fourth Games because he had received too much expenses on trip to Germany in 1929.