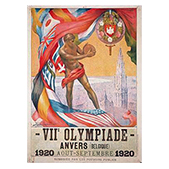 About ANTWERP 1920 Summer Olympics
Germany and its allies were barred but there were still a record 29 countries. The five-ring Olympic flag and oath-taking were introduced. Finland's Paavo Nurmi won the 10,000m and cross-country individual and team titles as well as a silver in the 5,000m. He was to win 9 golds and 12 medals and set 22 world records in three Games but in 1932 he was suspended for claiming too much on expenses.
Jack Kelly, a Philadelphia bricklayer-turned millionaire who had been refused entry to the Royal Henley rowing regatta, got his revenge by beating Britain's Diamond Sculls winner Jack Beresford. Kelly's daughter was the later Princess Grace of Monaco.
Defending Wimbledon champion Suzanne Lenglen dropped only four games in 10 sets to win the tennis gold medal.
The only break in Hungary's 56-year domination of individual sabre fencing ocurred as Hungary was not invited.