Story Progress
Back to home
Ireland vs India Live Score Ball by Ball, Ireland vs India, 2023 Live Cricket Score Of Today's Match on NDTV Sports
Live Updates of Today Match between Ireland vs India from The Village, Malahide, Dublin. Check commentary and full scoreboard of the match.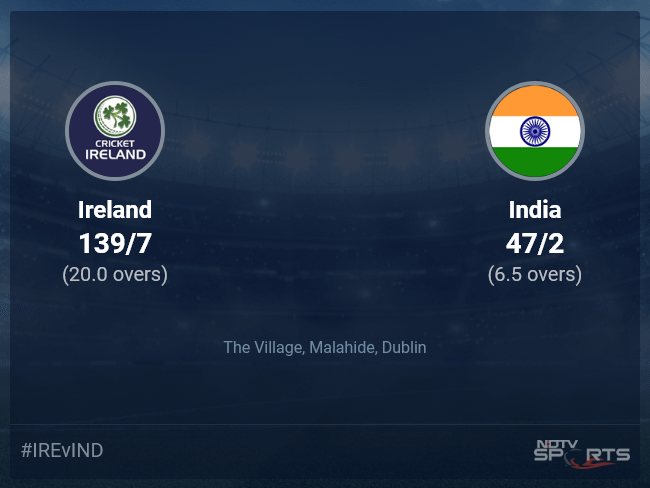 IND vs IRE Latest Score
Follow the Ireland vs India, 2023 live cricket score on Sports.NDTV.com. After 6.5 overs, India, chasing a target of 140, are 47/2. Get live score, ball by ball commentary and much more. Keep track of Ireland vs India, 2023 today match between Ireland and India. Everything related to Ireland and India match will be available on Sports.NDTV.com. Stay updated with Ireland vs India live score. Do check for Ireland vs India scorecard. You can get scorecard updates, match related facts. Get quick live updates with ads, Sports.NDTV.com, which is the perfect destination for live cricket score.
Right then, that's all we have from this game and India lead the three-match T20I series 1-0 after a rain-marred contest in Malahide. The next game of the series will be played on Sunday, 20 August at the very same venue and hopefully, we get a full game in then. That match will begin at 7.30 pm IST (2 pm GMT) but you can tune in to our build-up much sooner. Till then, take care and goodbye!
The Indian skipper, Jasprit Bumrah is the PLAYER OF THE MATCH for his bowling display. He had figures of 2 for 24 from his four overs. He starts by saying that it felt very good. Adds that he had many sessions at the NCA and it did not feel like he missed out. Credits the staff at NCA for looking after him. Mentions that he is very happy to be back and it felt good to contribute. Feels that it was good that the weather assisted the bowlers. Feels that in every game you want more and you always want a perfect game. Credits Barry McCarthy and Curtis Campher for the way they batted. States that everyone has a lot of belief and feels that the Indian T20 League helps them. Reckons that they have a confident bunch which is a good sign for them. Ends by saying that they get good support wherever they go.
The presentation ceremony...
The game might have ended without a proper end but it was setting up to be a fine game as the Irish bowlers had just started to make a few inroads in the game. Craig Young's double blow just a couple of balls before the rain came had ignited the fire in the home side but Yashasvi Jaiswal and Ruturaj Gaikwad very smartly had done enough early on to keep their side ahead of the DLS score. Earlier in the game, Jasprit Bumrah made a comeback to the national side and led from the front with the ball with a couple of early wickets. India had Ireland on the ropes at 59/6 but couldn't deal the killer blow. It was a sensational stand between Curtis Campher and Barry McCarthy worth 57 runs that brought new life to the Irish innings. McCarthy rounded it all off with a late blitz and brought up a half-century as well.
UPDATE - 10.45 pm IST (5.15 pm GMT) - Live visuals show the match officials having a chat with Jasprit Bumrah and Paul Stirling and sadly, the rain has had the final say in Malahide! Persistent rains have forced the first T20I to be called off. INDIA WIN BY 2 RUNS (DLS).
UPDATE 10.20 pm IST (4.50 pm GMT) - Not much of an update to be honest but the rain is steady in Malahide and it looks like we are in for a bit of a prolonged delay. Stay tuned for more updates.
UPDATE 9.56 pm IST (4.26 pm GMT) - The umpires are in conversation and off they go! The inevitable has happened and the covers are coming on now but it doesn't look too heavy at the moment. The DLS par score for 6.5 overs is 45/2 and India are just ahead by 2 runs. Ireland were desperate to stay out there and hopefully, it is a short delay. Stick around for further updates.
6.5 overs (0 Run) Continues to bowl short and outside off, Ruturaj Gaikwad sways away and leaves the ball alone.
6.4 overs (1 Run) Hurls it on a back of a length, around off, Sanju Samson waits on the back foot and runs it down to third man for a single.
Sanju Samson comes out to face the hat-trick ball. And, the drizzle is starting to get heavier now as well.
6.3 overs (0 Run) OUT! CAUGHT BEHIND! Unfortunate for Tilak Varma and Craig Young is on a roll here! Not a great delivery as this is on a back of a length, down leg, Tilak Varma hangs back to tickle it fine but gets a glove on it. Lorcan Tucker dives forward and makes absolutely no mistake. Ireland are right back in it with these twin strikes. Hat-trick ball coming up.
Tilak Varma walks in at number 3.
6.2 overs (0 Run) OUT! IN THE AIR AND GONE! One shot too many and Craig Young makes instant impact! Bends his back and goes into the wicket, on middle, Yashasvi Jaiswal gets hurried on the pull. Gets it off the splice off the bat and Paul Stirling from mid-wicket walks a few steps forward and completes the catch. End of an entertaining knock by Jaiswal.
6.1 overs (1 Run) Starts off on a back of a length, on off, Ruturaj Gaikwad nudges it to mid-wicket and gets across for a single.
Craig Young comes into the attack now.
5.6 overs (6 Runs) SIX! Yashasvi Jaiswal takes on the short ball now! Banged in short, on middle, Yashasvi Jaiswal waits deep in his crease and allows the ball to come to him. Hooks it with disdain to the deep backward square leg fence for a maximum.
5.5 overs (0 Run) Serves it on a length, near the tramline on off, Yashasvi Jaiswal throws his hands at it but misses.
5.4 overs (4 Runs) FOUR! Good use of the feet and Jaiswal helps himself to another boundary! Full and swinging away, outside off, Yashasvi Jaiswal gets down the track in a flash and creams the drive wide of mid off for a boundary.
5.3 overs (0 Run) Play and a miss! Back of a length a touch, Yashasvi Jaiswal slashes hard at the delivery but does not connect.
5.2 overs (0 Run) A loud shout for LBW but turned down by the umpire! Bowls it on a good length, shaping in, on middle, Yashasvi Jaiswal hops in the crease to defend but gets rapped high on the back pad. Ireland go up in unison but the umpire says no! Paul Stirling has a word with Joshua Little and goes for the review. The UltraEdge shows a spike and Ireland lose their review.
5.1 overs (1 Run) Serves it on a good length, outside off, Ruturaj Gaikwad opens the bat face and dabs it towards deep backward point for a single.
Match Reports
Topics mentioned in this article