Story Progress
Back to home
Sunrisers Hyderabad vs Punjab Kings: IPL 2021 Live Cricket Score, Live Score Of Today's Match on NDTV Sports
Live Updates of Today Match between Sunrisers Hyderabad vs Punjab Kings from Sharjah Cricket Stadium, Sharjah. Check commentary and full scoreboard of the match.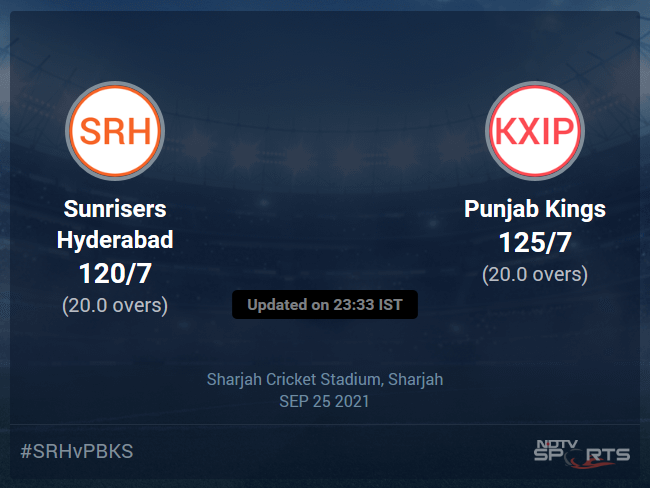 SRH vs PBKS Latest Score
A dedicated team of experts bring you live score, live cricket score, live match update on Sports.NDTV.com. After 20.0 overs, Sunrisers Hyderabad, chasing a target of 126, are 120/7. The live updates of Sunrisers Hyderabad vs Punjab Kings scorecard is also available. It is the perfect platform to follow your favourite teams in Indian Premier League 2021. Keep a track on your favourite batsmen and bowlers through Indian Premier League 2021 today match, ball by ball commentary, Sunrisers Hyderabad vs Punjab Kings, Sunrisers Hyderabad vs Punjab Kings live score, Sunrisers Hyderabad vs Punjab Kings scorecard. Follow the excitement of the Indian Premier League 2021 on Sports.NDTV.com as you can follow live match updates and live cricket score through our platform.
Right then! That is all we have from Saturday's action but we have two more games coming up on Sunday, 26th September 2021! The first one will be played between Chennai and Kolkata at 2 pm Local (10 am GMT) and the second clash will be between Bangalore and Mumbai at 6 pm Local (2 pm GMT). Do join us for that. Till then, take care and goodbye!
Jason Holder is awarded as the Player of the Match. He says that it is disappointing that they could not get over the line. Adds that he was well supported in the field and credits Jagadeesha Suchith for that outstanding catch. Tells that he wanted to give himself a chance today and he struck the ball well right from the start. Says that they still have five games to go and they will be playing for pride and also their loyal fans.
KL Rahul, the skipper of Punjab, says that he is used to these nail-biting games now. Credits Jason Holder by saying that he played a brilliant knock and he also bowled well. Feels that it was not an easy pitch to bat on and he was feeling it hard to clear the ropes. Says that Shami bowled really well at the start and set the game up for their spinners. Adds that it is important to understand the pitch and plan the innings accordingly. Also credits Harpreet Brar by saying that he is a very good cricketer who is brilliant in the field and so is Arshdeep Singh.
Ravi Bishnoi is in for a quick chat! He says that this win was a good one and they are happy. Says that KL Rahul told them that last year too, they were in a similar situation as today and they won that game, so they could do it again. On his bowling, Ravi says that he wanted to bowl wicket-to-wicket and bowl in good areas. States that if they wanted to qualify to the next stage, they needed to win this game and they had this in mind.
Kane Williamson, the Hyderabad skipper, says that the bowlers did well and the fielding was very good too and they needed partnerships if they wanted to chase this down. Praises Holder as he kept the game alive and performed well, with both bat and ball. Says that they wanted to build a platform but it was challenging on this deck. Adds that the challenge is to pick themselves up and go to their next game with a fresh approach.
Hyderabad had a tough day with the bat yet again. Warner, Williamson and Pandey fell early and they were in big trouble. Saha held one end together but he did not find much support till Holder came to bat. When Holder and Saha were batting, it looked like the momentum was shifting but Saha got run out at a crucial juncture. Holder used his big levers and hit a few big ones but the runs required in the last few overs were too many for him to get alone. Had there been a better show by the top order, then Hyderabad could have won this game with ease.
A really good show by Punjab. They did not have the biggest total on the board but their bowlers did not give up. Shami took two wickets upfront and put them on top. Then came the strangle by the spinners. Bishnoi took 3 wickets for only 24 runs while Brar also kept things tight. Arshdeep Singh took only 1 wicket but gave only 22 runs and bowled a brilliant penultimate over. Ellis was good too as he finished things in the final over to get Punjab over the line in a thriller.
What a cracking game that was! It could have gone either way but Punjab have held their nerves to win this one. Hyderabad were never in a comfortable position but Holder gave them hope in the death overs. But the big man could not get them through and Punjab have won this!
19.6 overs (1 Run) ELLIS KEEPS HIS NERVE, ALRIGHT! Good stuff from the debutant. A full toss around off, slower too, Jason Holder is not able to get underneath this and just tonks this one ahead of the long on fielder. PUNJAB WIN BY 5 RUNS!
A very straight long off in place for the final ball.
19.5 overs (2 Runs) Fuller this time, around off, Holder jams this one out through mid-wicket. Nathan Ellis chases after this and keeps it down to just 2 runs. 7 needed off the final ball. A biggie will ensure that this game will go onto the Super Over. Can Nathan Ellis keep his nerve?
19.5 overs (1 Run) WIDE. Nathan Ellis this time bowls a full toss, but hurls it outside the tramline on the off side. Left alone. Wided.
19.4 overs (0 Run) Ellis does well again! He serves a delicious yorker, around leg. Holder manages to jam this one out towards the long on region, but Holder denies the single. 10 needed in 2 balls now!
19.3 overs (0 Run) DOT! Well bowled by Ellis. He hurls a slower bouncer, outside off, Holder has to wait. He keeps waiting. The ball finally arrives and Holder smacks this one, but only manages to find Mayank Agarwal at point. 10 needed in 3 now!
19.2 overs (6 Runs) SIX! BANG! This is why Hyderabad needed Holder on strike! He delivers and now they need 10 more to win! Around off, on a length, Jason Holder makes room and smokes this one over the wide long on fence.
19.1 overs (1 Run) BYE! It works out for Hyderabad, in the end. Rahul should have struck with his throw though. Slower, length, outside off, Kumar looks to slap it away but misses. They scamper through for the run. KL Rahul has a shy at the striker's end but misses. Had he hit, Holder would have been sent packing. 16 from 5 now!
Right then. 17 needed from the last over and Bhuvneshwar Kumar is on strike. Nathan Ellis to steam in.
18.6 overs (1 Run) What a penultimate over from Arshdeep! Just 4 runs and a wicket off it. He hurls a yorker, on leg, this is flicked to fine leg for one. Singh ends with figures of 4-0-22-1, wonderful stuff. 17 needed off the final 6!
18.5 overs (2 Runs) A couple of runs for Kumar! Around off, on a length, Bhuvneshwar Kumar lofts this one over covers, in the gap. The fielder at long off runs to his left and stops the ball. Two taken.
18.4 overs (0 Run) Well bowled again by Singh! Superb stuff. He serves a short ball, slower this time, around off. Kumar hangs back, waits for it to arrive, flashes his blade, but misses.
18.3 overs (1 Run) Slower, around off, Holder pushes this to the left of the cover fielder for one.
18.2 overs (0 Run) Singh slants in a length ball around off, Holder looks to push but gets beaten this time.
Bhuvneshwar Kumar is the new man in!
18.1 overs (0 Run) OUT! CAUGHT AND BOWLED! Arshdeep Singh wanted it for himself and he makes no mistake. Khan has to depart and he will be disappointed that he could not contribute more with the blade. A pacy shortish ball, around off, Rashid Khan looks to pull, but only manages a top edge on this. The ball loops up in the air next to the bowler, Singh moves that side and pouches this. 21 more needed in 11 balls!
17.6 overs (1 Run) 9 off Shami's final over! Shortish, outside off, chopped away by Rashid towards covers for one. 21 needed in 12 balls!
17.5 overs (1 Run) Around off and middle, on a good length, Holder heaves this to the fielder at deep square leg on the bounce. One run.
17.4 overs (0 Run) Shami serves this fuller, slower, wider outside off. Holder leaves it, thinking it could be a wide, but the umpire makes no movement. Good decision as this delivery was just inside the tramline.
17.3 overs (0 Run) Slower this time, fuller outside off, Holder swings at this but misses. A good comeback from Shami!
17.2 overs (6 Runs) SIX! What a strike from Holder! This is in the arc and the big West Indian does not miss out! Shami hurls this in the slot, around off, Jason Holder uses his long levers and tonks this one over the long on fence.
17.1 overs (1 Run) Around off, on a length, Khan looks to push but the ball takes the inside edge and goes to the left of Gayle at short fine leg for one.
Mohammed Shami (3-1-5-2) is back on.
16.6 overs (0 Run) A brilliant over by Singh, just 5 runs and a wicket off it! Angling away, outside off, Holder misses his poke this time. 30 more needed from 18 balls!
16.5 overs (2 Runs) On middle, on a length, Holder nudges this behind square on the leg side. Mohammed Shami runs to his right in the deep and stops the ball. Two taken.
16.4 overs (0 Run) Short of a length, angling away, around off, Jason looks to have a poke at this but misses.
16.3 overs (1 Run) Outside off on a length, Khan swings at this but the ball takes the outside edge and goes to Gayle at short third man for one.
16.2 overs (1 Run) Around off, pushed to the off side for one.
Rashid Khan walks out to bat now.
16.1 overs (1 Run) OUT! RUN OUT! The last thing Hyderabad needed after the break. They had some momentum on their side after the last over, but now, the wicket of Saha is a punch in the gut for them. Arshdeep Singh serves a length delivery, on the pads. Wriddhiman Saha nudges this to the mid-wicket region as the batters take one. Arshdeep Singh gives the ball a chase and looks to clean up. Saha steps out of the crease, looking for the second, but says no, as Holder was already halfway down the track. Saha then thinks of taking the run, but by then, it is too late. Arshdeep Singh throws the ball to Ravi Bishnoi at the non-striker's end, who whips the bails off quickly.
Strategic Time-Out! We are heading towards what could be a thrilling finish folks! Holder and Saha can get these runs but expect Punjab bowlers to make things difficult for them. Here comes Arshdeep Singh back in the attack.
15.6 overs (0 Run) A slower full toss, around off, Holder pushes it back to the bowler and steps out of the crease, in the process. Nathan Ellis collects the ball and has a shy at the striker's end but misses. 16 from the over and Hyderabad now need 35 more from the last 4 overs!
15.5 overs (2 Runs) Good running from the batters. Around off again, on a length, Holder nudges this through square leg and they run hard and complete the second run.
15.4 overs (1 Run) Shortish, on off, Saha pulls this to the leg side and hands the strike back to Holder.
15.3 overs (1 Run) Around off, tapped to the off side by Jason for one.
15.2 overs (6 Runs) SIX! Back-to-back maximums! Three sixes in the last 4 balls and Holder is looking to attack! Around off, on a length, Jason Holder gives the full swing of the blade and smacks this one over long on.
15.1 overs (6 Runs) SIX! BANG! What a shot. Holder has decided to take the charge to the Punjab bowlers now! A pacy length ball, on middle and leg, Jason Holder smokes this one all the way over deep mid-wicket.
Match Reports
Topics mentioned in this article