Story Progress
Back to home
Royal Challengers Bangalore vs Chennai Super Kings Live Score Ball by Ball, IPL 2021 Live Cricket Score Of Today's Match on NDTV Sports
Live Updates of Today Match between Royal Challengers Bangalore vs Chennai Super Kings from Sharjah Cricket Stadium, Sharjah. Check commentary and full scoreboard of the match.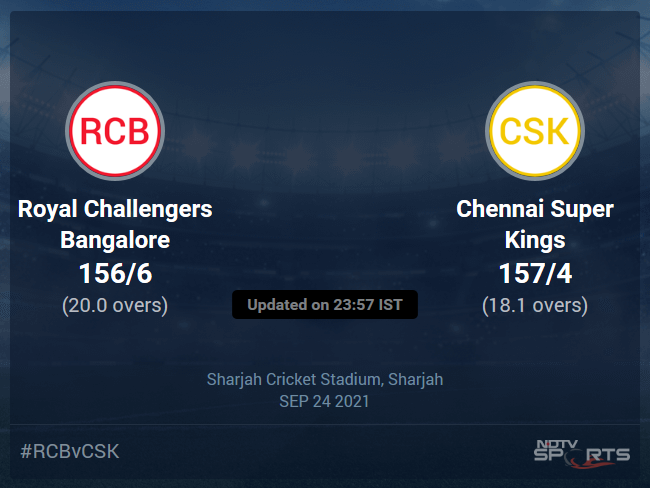 CSK vs RCB Latest Score
Follow the Indian Premier League 2021 live cricket score on Sports.NDTV.com. After 18.1 overs, Chennai Super Kings, chasing a target of 157, are 157/4. Get live score, ball by ball commentary and much more. Keep track of Indian Premier League 2021 today match between Royal Challengers Bangalore and Chennai Super Kings. Everything related to Royal Challengers Bangalore and Chennai Super Kings match will be available on Sports.NDTV.com. Stay updated with Royal Challengers Bangalore vs Chennai Super Kings live score. Do check for Royal Challengers Bangalore vs Chennai Super Kings scorecard. You can get scorecard updates, match related facts. Get quick live updates with ads, Sports.NDTV.com, which is the perfect destination for live cricket score.
That's a wrap to this game. Chennai maintained their dominance in the Southern Derby. Super Saturday is coming your way next and it is going to be full of thrill and excitement. Two games coming your way - Delhi vs Rajasthan at 2 pm local (10 am GMT) followed by the clash between Hyderabad and Punjab at 6 pm local (2 pm GMT). We look forward to your company for all the action. Cheers!
Dwayne Bravo (4-0-24-3) is chosen for the Man of the Match award! The West Indian says that he just strives to be competitive and calls the Indian T20 league the toughest tournament in the world. Adds that the pride and passion he has for the game keeps him going. Tells that the wicket of Kohli was very important and he just kept it simple and stuck to the basics. Feels that the batsmen know what he is going to do but he mixes it well to confuse the batters. Mentions that preparation is the key for him and he practices a lot in the nets. Wants to enjoy the competition when he comes up against the best in the business. On Chennai being called the dad's army, DJ shares that the message from Dhoni is that they might not be the quickest in the field but have to be the smartest.
MS Dhoni, the victorious captain of Chennai, says that they were worried about the dew and that's why he chose to bat second. Adds that Bangalore got off to a great start but the pitch slowed down a bit after the 8th over. Praises the spell from Ravindra Jadeja and also lauds the efforts of his pacers at the backend. Mentions that he could have used Moeen Ali but he changed his mind and decided to bowl Dwayne Bravo. States that the individuals in his team have taken the responsibility, worked on their game and have read the conditions superbly. Feels that this was one of the slowest wickets so far and his players are adapting to the demands of the game really well. Hopes that it continues. Regarding the batting positions, MS tells that maintaining the left-right combination is important and feels that all his batters are good enough to score at whatever positions given to them. On Dwayne Bravo, Dhoni replies that he is executing his skills very well and MS wants him to confuse the batsmen more with his vast variations. Signs off by saying that DJ has always done well for them.
Ruturaj Gaikwad, one of the stars with the bat for Chennai, says that he is happy with the win but is disappointed that he didn't finish the game. Adds that the opening partnership is very important and they just needed to play good cricketing shots. Mentions that he and Faf du Plessis have a clear understanding and that works for them. Also tells that he just tries to focus on what the team requires and that does the job for him.
Virat Kohli, the skipper of Bangalore, is up for a chat. Starts by saying that the wicket did slow down a bit. Mentions 175 could have been a winning total on this pitch. Adds that their bowlers could not capitalize in the second half and were inconsistent with their lines. States that in the first 5-6 overs the X-factor was missing. Ends by saying, they are disappointed with this defeat more than the last one, as they were clearly on top at the beginning but could not take advantage of that. Feels that they need to bowl better in the crunch moments and hopes they get back stronger in the next game.
Bangalore would be deeply disappointed with this loss in particular. They lost a golden chance to post a big total on the board and then their bowling in the Powerplay was very much flat. Bangalore did manage to pick a few wickets later on but by then enough damage was done. This is now their 7th consecutive defeat in the UAE.
Yet another comprehensive victory for Chennai as they march to the top on the points table. A clinical chase from them. Ruturaj Gaikwad and Faf du Plessis once again formed a solid alliance upfront to provide Chennai with a great platform and the other batsmen capitalized. Both departed in quick succession but the stand between Ambati Rayudu and Moeen Ali took Chennai closer to the target. After the departure of Moeen and Rayudu, things got slightly tricky but Suresh Raina and MS Dhoni made sure that there were no more hiccups.
18.1 overs (1 Run) That's it, Chennai have won the game. Patel hurls across a length ball, on the middle stump line. Suresh Raina makes room for a big heave across the line but fails to middle his shot. It flies behind mid-wicket, Mohammed Siraj runs but it falls away. The batsmen cross. Chennai win by 6 wickets!
18.1 overs (1 Run) WIDE! Way down the leg side from around the stumps. Wide called and the scores are now level.
Harshal Patel is back into the attack.
17.6 overs (4 Runs) FOUR! That should do it now for Chennai. On the hips and Dhoni just nudges it fine and the ball races away into the fine leg fence. Chennai need 2 runs in 12 balls.
17.5 overs (0 Run) Full and straight, driven straight back to the left of the bowler. Mohammed Siraj dives and stops it.
17.4 overs (0 Run) Good-length ball, on off. Dhoni mistimes his pull to short mid-wicket.
17.3 overs (4 Runs) FOUR! Poor delivery, that's too easy for MS Dhoni. It's slow and banged into the pitch again. The ball doesn't rise up much and Dhoni pulls it powerfully to the left of the fielder at deep square leg for a boundary.
17.2 overs (1 Run) Slower one, banged into the pitch and around leg stump. Raina hangs back and nudges it to behind square leg for a single.
17.1 overs (1 Run) Length ball, around off. Dhoni taps it towards covers for a run.
Mohammed Siraj is back into the attack. He replaces Harshal Patel.
16.6 overs (6 Runs) SIX! BANG! Suresh Raina has hit that one right off the screws. On leg stump and it's the wrong one again. Raina picks it and smokes it well over the square leg fence for a biggie. This should calm the nerves in the Chennai camp as it was getting close.
16.5 overs (4 Runs) FOUR! Dragged down and punished by Suresh Raina. Raina goes deep in his crease and pulls it hard towards wide long on. Devdutt Padikkal should have stopped it but fumbles and it's a free boundary for Chennai.
16.4 overs (0 Run) Once again the ball just stops a bit and induces the false shot from Raina. Raina looks to nudge it on the leg side but closes the face of the bat early. The ball goes off the leading edge towards backward point. He wants a run but is sent back.
16.3 overs (0 Run) Hasaranga bowls this one into the pitch and on leg stump. The ball stops a bit and takes Raina by surprise. He defends it a bit awkwardly back towards the bowler.
16.2 overs (1 Run) Flighted delivery, on off. Dhoni drives it down to long on for a single.
16.1 overs (0 Run) Angled in at middle and leg. Dhoni pushes it back to the bowler.
Wanindu Hasaranga is back into the attack. His figures read 3-0-29-0 so far. He replaces Yuzvendra Chahal.
15.6 overs (1 Run) On the pads and this is flicked away to deep square leg for a run. Dhoni runs the first run hard but has to settle for only a run. 23 runs needed now off 24 balls.
15.5 overs (0 Run) It's the cutter again, on off and angling into the body. Dhoni looks to tuck it away but inside-edges it back onto the thigh pad. The ball goes nowhere.
MS Dhoni walks out at number 6.
15.4 overs (0 Run) OUT! CAUGHT! Harshal Patel just has this knack of getting the big wickets and he delivers yet again. Is it too late though? Short in length outside off and Ambati Rayudu pulls it off the toe end of the bat, straight to AB de Villiers at mid-wicket. De Villiers isn't going to drop those and Bangalore will look to take advantage of two new batsmen at the crease. 24 needed off 26 balls.
15.3 overs (0 Run) Nicely bowled slower delivery, outside off and deceives Ambati Rayudu completely. He tries to cut but misses.
15.2 overs (4 Runs) FOUR! Now Harshal Patel bowls a poor delivery. This is not what Virat Kohli was hoping for after the break. A full toss, around off. Ambati Rayudu slashes it behind backward point for a boundary.
15.1 overs (4 Runs) FOUR! That is poor from Yuzvendra Chahal. Slower, off-cutter from Patel. Rayudu just guides it to short third man but the ball goes through Chahal's fingers and into the fence. He was late into his dive, almost dived over the ball.
Match Reports
Topics mentioned in this article