Story Progress
Back to home
Mumbai Indians vs Delhi Capitals: IPL 2021 Live Cricket Score, Live Score Of Today's Match on NDTV Sports
Live Updates of Today Match between Mumbai Indians vs Delhi Capitals from Sharjah Cricket Stadium, Sharjah. Check commentary and full scoreboard of the match.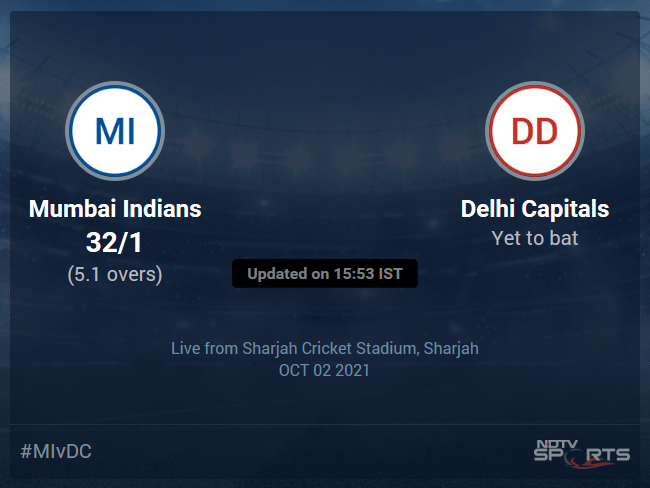 MI vs DC Latest Score
A dedicated team of experts bring you live score, live cricket score, live match update on Sports.NDTV.com. After 5.1 overs, Mumbai Indians are 32/1. The live updates of Mumbai Indians vs Delhi Capitals scorecard is also available. It is the perfect platform to follow your favourite teams in Indian Premier League 2021. Keep a track on your favourite batsmen and bowlers through Indian Premier League 2021 today match, ball by ball commentary, Mumbai Indians vs Delhi Capitals, Mumbai Indians vs Delhi Capitals live score, Mumbai Indians vs Delhi Capitals scorecard. Follow the excitement of the Indian Premier League 2021 on Sports.NDTV.com as you can follow live match updates and live cricket score through our platform.
4.6 overs (0 Run) Full around off, at 144.3 kph, Suryakumar Yadav drives but picks out the cover fielder. 9 from Rabada's first over.
4.5 overs (1 Run) On a length and around off, slower in pace, de Kock shows the full face of the bat and eases it through mid off for a single.
4.4 overs (0 Run) A terrific yorker on middle at 144.5 kph, Quinton digs it out back to the bowler.
4.3 overs (2 Runs) Rabada spears in a full ball on middle at 144 clicks, de Kock moves across the stumps again and gets his bat down in time. He whips it to deep square leg for a couple.
4.2 overs (0 Run) Full and around off, at 132.9 kph, de Kock drives through the line but finds mid off.
4.1 overs (6 Runs) SIX! Quinton de Kock shows no mercy on his South African teammate. Fuller in length and outside off, at 138.2 kph, de Kock shuffles across the stumps and uses the pace of the bowler to scoop it over fine leg.
Kagiso Rabada comes into the attack now.
3.6 overs (1 Run) Deceives the batsman with a slower one. Fuller and around off at 125 clicks, de Kock checks his shot and chips it a bit towards mid off. They cross for a run. End of another tidy over from Avesh Khan.
3.5 overs (0 Run) Delivers it on a length around middle, de Kock tries to work it around but gets an inside edge onto the pads.
3.4 overs (1 Run) Short again, around off at 135.4 kph, Suryakumar Yadav remains back and steers it down to deep backward point for a single.
3.3 overs (0 Run) Shortish and around off, at 132.1 kph, Yadav punches from the back foot but finds the fielder at cover-point.
3.2 overs (0 Run) Pitches it up and outside off, at 140.5 kph, Yadav defends it down from the bottom half of his bat. It rolls behind near the pitch.
3.1 overs (0 Run) Back of a length around off, at 135.6 kph, Yadav stays back and plays it with an angled bat to point.
2.6 overs (0 Run) Nicely tossed up, full and around off, de Kock drives it off his front foot but finds the cover fielder. 9 from Ashwin's first.
2.5 overs (1 Run) This is smart batting. Hits a six and then calmly eases a full ball down to long on to rotate the strike.
2.4 overs (6 Runs) SIX! Handsome stroke! Loopy and full, around off, Suryakumar Yadav goes down and across as he smashes it all the way over square leg for a maximum, first of the game.
2.3 overs (0 Run) Fuller and around off, Yadav tries to flick but it takes the inner edge and rolls to short fine leg.
2.2 overs (1 Run) Flighted and full on off, de Kock drives it to long off and picks up a run.
2.1 overs (1 Run) Ashwin bowls it short to begin his spell, just outside off, Suryakumar Yadav goes back and punches it down to long on for a run. He opens his account.
First sign of spin! Ravichandran Ashwin is into the attack, replacing Anrich Nortje.
1.6 overs (4 Runs) FOUR! Wow! Lovely timing on this shot. On a length and around middle at 131 clicks, de Kock sticks on the back foot and flicks it with beautiful timing to the deep mid-wicket fence. A boundary to end the over but still it was a great one by Avesh.
Suryakumar Yadav comes out at number 3.
1.5 overs (0 Run) OUT! Rohit holes out! Here is the first breakthrough and Avesh Khan continues to pick wickets this season. Serves a shortish delivery outside off, at 131.7 kph, there is some extra bounce again as Rohit winds up for a big shot across the line. It takes the top edge and flies behind backward point. Kagiso Rabada moves across to his right from third man and takes the skier safely. Plenty of dot balls and it frustrated the batsman. Good bowling.
1.4 overs (0 Run) Extra bounce off the pitch and Rohit is hurried up. Avesh hurls it on a length around off, some extra bounce, Rohit tries to defend but gets an inside edge onto the thigh pad.
1.4 overs (1 Run) Wide! Plenty of width offered outside off, short in length, Sharma chases but fails to connect.
1.3 overs (0 Run) Slower delivery, short and wide outside off, Sharma withdraws his bat and allows it through to Rishabh Pant.
1.2 overs (0 Run) On a length around off, shaping in at 136.6 kph, Sharma tucks it on the leg side but finds mid-wicket.
1.1 overs (0 Run) Avesh begins with a fuller ball around off, at 135.2 kph, Sharma pushes it back from the toe end of the bat. It rolls past the bowler to mid off.
Who will bowl from the other end? Avesh Khan, it is.
0.6 over (0 Run) On a length and outside off at 135.5 kph, de Kock stays back and taps it down to point. 7 runs from the opening over.
0.5 over (1 Run) Aerial but it won't carry. Fuller and on off, Rohit flicks it off the inner half in front of deep square leg. It's a single.
0.4 over (2 Runs) The line is slightly straighter and Rohit works it through the gap at mid-wicket for a couple of runs.
0.3 over (0 Run) Angling in from a length around off, at 143.3 kph, Rohit flicks but finds the fielder at mid-wicket.
0.2 over (0 Run) Back of a length, around off at 147 kph, Sharma defends it back to the bowler.
0.1 over (4 Runs) FOUR! Pure timing! A bit of a gift from Anrich Nortje. It's a leg-stump half-volley, Sharma picks it up off his pads and flicks it with great timing to the deep mid-wicket fence.
We are done with the pre-match formalities and match number 46 is all set to begin! The Delhi players make their way out to the middle and take their respective positions on the field. Rohit Sharma and Quinton de Kock are the openers for Mumbai. Anrich Nortje will start with the ball.
Mumbai (Playing XI) - Rohit Sharma (C), Quinton de Kock (WK), Suryakumar Yadav, Saurabh Tiwary, Hardik Pandya, Kieron Pollard, Krunal Pandya, Nathan Coulter-Nile, Jayant Yadav (In place of Rahul Chahar), Jasprit Bumrah, Trent Boult.
Delhi (Playing XI) - Prithvi Shaw (In place of Lalit Yadav), Shikhar Dhawan, Steven Smith, Shreyas Iyer, Rishabh Pant (WK/C), Shimron Hetmyer, Axar Patel, Ravichandran Ashwin, Kagiso Rabada, Avesh Khan, Anrich Nortje.
Rohit Sharma, the Mumbai skipper, says that he was in two minds about what to do. Tells that the teams have lost batting first and lost chasing also, so it all depends on how you play. Mentions that they have quality in their bowling and they will look to bat well and get to the par score. Says that they know where they stand on the table but it is crucial for them to focus on what they have in their hand. Feels that it's just about everyone coming in collectively and performing. Informs that they have one change as Jayant Yadav comes in place of Rahul Chahar.
Rishabh Pant, the captain of Delhi, feels that it's a better option to chase over here. Tells that they have qualified but the hunger never stops. Mentions that keeping wickets in hand is the key. Shares that they are going to take one match at a time and they want to win each and every game. Informs that they have made one change as Lalit Yadav goes out and Prithvi Shaw comes in.
Toss time! Rohit Sharma and Rishabh Pant have arrived in the middle. Rohit flips the coin, Pant calls correctly and DELHI WILL BOWL FIRST!
Expected changes! Sam Billings has completed his quarantine and is available for selection. It would be interesting to see whether Delhi opt for his services in place of Steven Smith who can score runs but not at the desired rate. For Mumbai, they can bet on Jayant Yadav as Delhi have quite a few left-handers in their ranks and the off spinner can play a handy role in stifling them. Ishan Kishan could return in the XI too in place of Suryakumar Yadav who seems to be going through a lean patch. These are all possibilities and the picture will get clear only at the toss.
Pitch report - Ian Bishop and Matthew Hayden are down there inspecting the conditions. The West Indian starts by saying that it feels like having a sauna out there. Informs that the pitch to be used for this match is at the edge of the square and it's a slightly shorter boundary on one side. Bishop shares that the highest total is 156 in this season and it is not as high as it was last year. Hayden joins in and says that apart from the temperature, the batting tempo on this pitch will be vital. Tells that there is no pace on this surface, compared to the other venues. The Aussie feels that it's going to be challenging to hit to the biggest side of the ground. Bishop has the final word and says that the bowlers would also have to find the right length.
Last meeting - A 4-wicket haul for Amit Mishra restricted Mumbai to just 137 and Delhi put up a clinical chase to secure two points. The leggie is not around now but Delhi still own a great variety in their bowling attack. Can Mumbai prevail this time?
The stakes may be high for Mumbai but Delhi don't have any such scenarios to deal with. But that doesn't mean they will take this game lightly. Qualifying for the playoffs is one thing but finishing in the top two is more desirable. Delhi's aim will be to be there in Qualifier 1 to have a second bite at the cherry if something goes wrong. Also, Delhi would love to score a league double over the defending champions who beat them four times last season, including the finale. Expect Delhi to bring out their best in this game.
Mumbai are back in familiar territory. They've earned this tag of being the 'Comeback Kings' for a reason. Mumbai have made this a habit to start poorly and then they peak at the business end of the tournament. The team from the city of Bollywood offers all the drama and excitement to its fans and treats them with a pulsating climax. Not many would complain now as Mumbai have proved their credentials by winning the League five times and all you need to do is to have faith in them. Right now, Mumbai's destiny is in their own hands. Three games left for them and by winning all three, they can smoothly qualify for the playoffs. But a hiccup this afternoon would throw them back in the mix of hopefuls. Plenty riding on this match.
Hello, ladies and gentlemen! It's time to make your weekend special! Saturday has arrived, loaded with a couple of matches and we have gathered here for the face-off between two metropolitan cities - Mumbai and Delhi. The latter is already in the playoffs now after Punjab's win last evening whereas the former is caught in the mad race for qualification. It's a very critical game for the reigning champions and we are expecting them to come out all guns blazing this afternoon.
Topics mentioned in this article