Story Progress
Back to home
Kolkata Knight Riders vs Rajasthan Royals Live Score Ball by Ball, IPL 2021 Live Cricket Score Of Today's Match on NDTV Sports
Live Updates of Today Match between Kolkata Knight Riders vs Rajasthan Royals from Sharjah Cricket Stadium, Sharjah. Check commentary and full scoreboard of the match.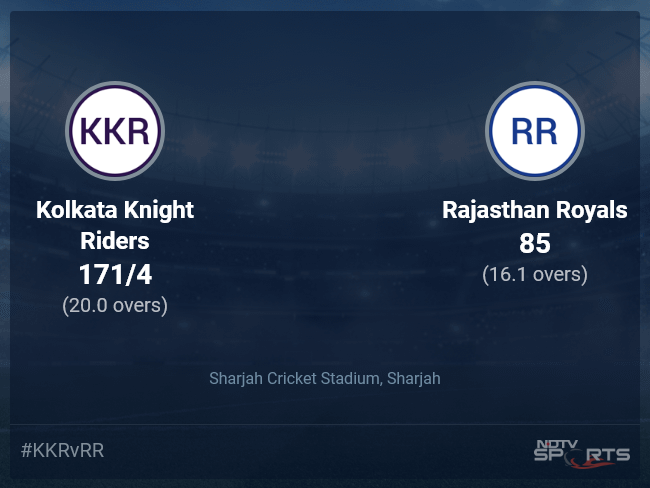 RR vs KKR Latest Score
Follow the Indian Premier League 2021 live cricket score on Sports.NDTV.com. After 16.1 overs, Rajasthan Royals, chasing a target of 172, are 85. Get live score, ball by ball commentary and much more. Keep track of Indian Premier League 2021 today match between Kolkata Knight Riders and Rajasthan Royals. Everything related to Kolkata Knight Riders and Rajasthan Royals match will be available on Sports.NDTV.com. Stay updated with Kolkata Knight Riders vs Rajasthan Royals live score. Do check for Kolkata Knight Riders vs Rajasthan Royals scorecard. You can get scorecard updates, match related facts. Get quick live updates with ads, Sports.NDTV.com, which is the perfect destination for live cricket score.
Right then! That is all we have from this game. Now, we have two more league games remaining and both of them will be played simultaneously. On 8th October, Delhi will take on Bangalore and Mumbai will face Hyderabad. Both the games will be at 6 pm Local (2 pm GMT). So, join us for that. Goodbye for now!
Shivam Mavi, the Man of the Match, says that he is feeling really good that he could perform so well on the big stage. Adds that his plan was to bowl at the stumps and not give any room. States that when he was playing under-19 cricket, they needed to keep on learning and he has learned when to use slower balls and when to use the yorkers. Adds that he loved taking the wicket of Shivam Dube. Tells that they did whatever was in their hands.
Eoin Morgan, the skipper of Kolkata is down for a chat. Says that batting first on this wicket and setting a total was tough but Iyer and Gill batted brilliantly to take them to a big score. Adds that going too hard too early on these pitches is not the ideal thing and you have to time your aggression well. Mentions that having Shakib Al Hasan in the side has made replacing Russell easy. Informs that they hope that they are taking it day by day with Russell and hope that he recovers soon. Finishes by saying that they have played very well and have deserved to win.
Stay tuned for the presentation ceremony to find out who the Player of the Match is.
Sanju Samson, the Rajasthan skipper, says that it was a better wicket to bat on. Adds that it was staying low but it definitely was better and 170 was chaseable on this. Tells that they could have done much better with the bat. States that they wanted to get a good start and they wanted a powerful Powerplay but they could not execute it. Says that they have been facing a lot of challenges but they showed character throughout the season and they wanted to show passion. Adds that missing key players was challenging but they were positive about it. Adds that captaincy changed the way he looks at his batting and he realized that if he got out, what would happen to his team and that helped him get more runs.
Lockie Ferguson is down for a chat. He says that the hamstring is fine now. Adds that he had fun bowling on this wicket and looked to bowl on a good length. Credits the batters for the way they batted and got a good score on the board. Informs that the medical team made sure that he recovered from the injury. Credits Mavi for the way he bowled in this game and says that he is an impressive young bowler.
Earlier in the game, Shubman Gill batted brilliantly for Kolkata and made sure that they got a very big total on the board. Kolkata got 171 runs and on a slow pitch, it was too big for Rajasthan to get to that total. A brilliant victory for Kolkata and a disappointing show by Rajasthan in their final game of the season.
Not much to talk about Rajasthan's batting. They needed a strong start at the top but that did not happen. Instead, their top order was folded and they were way behind the curve. Rahul Tewatia hit a few blows but that was never going to be enough for them to even get close to the total. It was a very poor show from them and this is not something that they would have wanted in their last game of the season. Their show against Mumbai in the previous game too was very poor and Rajasthan would be very disappointed.
Kolkata had a very good total on the board and they bowled really well to defend it. It was a team performance by them and everyone contributed well. Shakib Al Hasan took a wicket at the top and set the tone. Then, Shivam Mavi and Lockie Ferguson demolished the middle order of Rajasthan and put them in firm control of the game. Varun Chakravarthy got the wicket of Chris Morris and all the recognized batters of Rajasthan were back in the hut. Shivam Mavi took 4 wickets while Lockie Ferguson took 3. The spin of Varun Chakravarthy and Shakib Al Hasan got a wicket each and it was a team show by them.
A brilliant victory for Kolkata and this is just what they needed! With this win, they would most likely be the fourth team to make it to the playoffs. Mumbai can still qualify but they would need a massive win against Hyderabad in their last game. As for Rajasthan, this ends the season for them and they would be disappointed with their last couple of games.
16.1 overs (0 Run) OUT! DRAGGED ON! Mavi finishes the game off with a 4-fer! His best figures in the Indian T20 League! Good-length ball outside off, Tewatia looks to swing it away but gets an inside edge onto the stumps. KOLKATA WIN BY 86 RUNS.
Change. Shivam Mavi (3-0-21-3) to bowl out.
15.6 overs (0 Run) Outside off, left alone.
15.5 overs (0 Run) BEATEN! Tossed up outside off, Rahman looks to defend but misses.
15.4 overs (0 Run) Flatter ball on middle, Rahman defends it onto the pitch.
15.3 overs (1 Run) OUT! RUN OUT! Sakariya has been dismissed via a run out! Rajasthan lose their 9th wicket. Tossed up on middle, Tewatia looks to sweep but it goes off the top edge to deep square leg. Tewatia wants two initially and calls for it but then he sees the fielder coming in quickly and sends Sakariya back. Shakib Al Hasan collects and throws it to Dinesh Karthik who whips the bails off. Sakariya is well short despite the desperate dive.
Strategic Time-Out! Well, the game is pretty much done and dusted. The only thing that Tewatia can do now is put on a show for the viewers and dent the NRR of Kolkata a bit. Mustafizur Rahman joins him in the middle.
15.2 overs (0 Run) On off, defended back to the bowler.
15.1 overs (1 Run) BYE! Tossed up outside off, Sakariya looks to drive but misses. The keeper misses it and the batters collect a bye.
Match Reports
Topics mentioned in this article