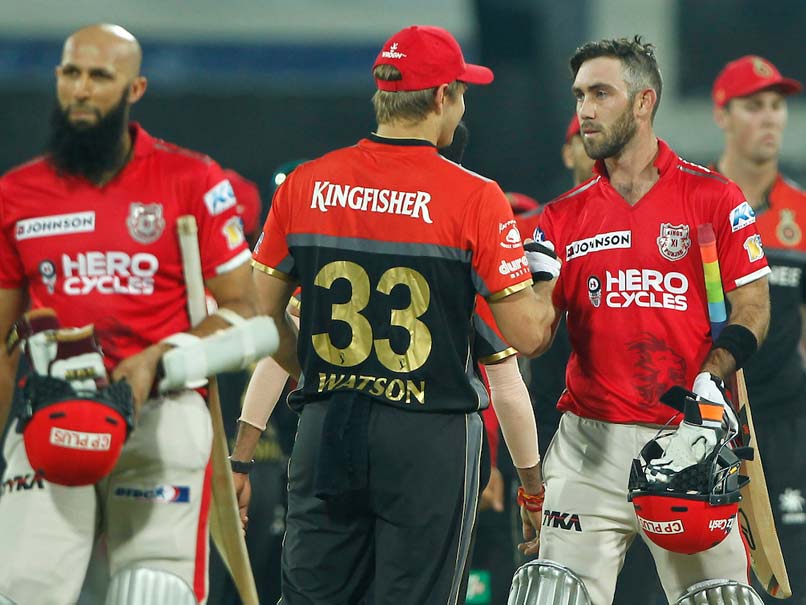 Hashim Amla and Glenn Maxwell added 72 runs for the third wicket
© BCCI
Hashim Amla and Glenn Maxwell made short work of the target as Kings XI Punjab cruised to a eight-wicket victory against Royal Challengers Bangalore. Chasing a target of 149 runs, Punjab went off to a great start as Hashim Amla brought up his second fifty in IPL. Earlier, AB de Villiers played a brilliant knock of 89* but at the end it was not enough to take his side home. (Scorecard)
Highlights, Kings XI Punjab vs Royal Challengers Bangalore straight from Indore, India
22:57 IST: Six! Maxwell finishes it off in style. Punjab win by 8 wickets.
22:54 IST: Six! This time Maxwell goes over point. The result, the same.
22:51 IST: Six! Maxwell throws his bat at that and it goes all the way.
22:50 IST: Punjab need 22 runs off 42 balls. 
22:48 IST! Four! Maxwell goes over the top. One bounce and into the fence.
22:46 IST: Four! Amla helps it round the corner. Brings up his second half century in IPL
22:43 IST: Six! This time Amla goes over the top and gets the distance.
22:38 IST: Six! Maxwell goes big and that has gone all the way.
22:37 IST: Maxwell is the new man in. Four! Straight over the bowler's head.
22:32 IST: Bowled! Chahal strikes. Axar will have to take the long walk back.
22:29 IST: Six! Short from Abdulla and Patel rocks back and deposits it into the stands.
22:26 IST: Five of that first over from Chahal.
22:24 IST: Chahal comes on for Bangalore
22:20 IST: Wicket! Vohra tries to work it on the on-side. Misses it completely and the umpire raises the finger. Trapped right in front. Tymal Mills strikes in his first over.
22:18 IST: Great shot by Vohra. Straight down the ground for a boundary.
22:16 IST: Six! Amla uses the pace of Mills and dropped by Stanlake at deep fine-leg. To make matters worse, it has gone all the way.
22:15 IST: Tymal Mills comes on.
22:17 IST: KXIP are 50 for no loss at the end of 5 overs
22:15 IST: Wow! RCB had scored 71 off the first 15 overs and 77 off the last 5!
22:13 IST: Any doubts there? Was some innings eh?
Mr. 360 - @ABdeVilliers17 has arrived. Well & Truly! @RCBTweets #IPL #KXIPvRCB pic.twitter.com/EBFnihisv2

— IndianPremierLeague (@IPL) April 10, 2017
22:10 IST: Anyhow, more importantly Punjab have not lost a wicket yet and are 26 for no loss after three overs
22:07 IST: Some 15-20 years ago that edge from Vohra would have been out and not six.
22:05 IST: Edged.... and that is a SIX! Wow! These modern day bats are amazing
22:03 IST: Amla has hit two lovely boundaries already and KXIP are 14 for no loss after 2 overs
22:00 IST: Hashim Amla and Manan Vohra have come out to bat for the host team
21:58 IST: Kings XI need 149 to win this important encounter against the Royal Challengers
21:55 IST: Hello and welcome back after the break
21:38 IST: Bangalore 148 for 4 at the end of 20 overs. De Villiers 89*
21:37 IST: Another one. Add Six more. De Villiers finishes off in style. 14 runs coming off the last over.
21:36 IST: Six! Mohit bowls it wide but De Villiers fetches it from there and deposits it into the cover fence.
21:34 IST: So the last over of the innings coming up.
21:30 IST: Six! High and handsome from De Villiers. This is a big over for Bangalore.
21:28 IST: Six! That has gone into the roof. Huge hit. De Villiers gets on one knee and smashes it over the on-side boundary.
21:28 IST: Four! Wide from Sandeep Sharma and De Villiers opened the face of the bat and gets it away over point.
21:25 IST: Six! De Villiers goes for the big one and that is a as flat a six as you will see through mid-wicket.
21:22 IST: Six followed by a four! Binny is on a roll here.
21:21 IST: SiX! Binny gets into the act. Smashes it through mid-wicket.
21:20 IST: Six More! De Villiers seems to be batting in a different pitch. Short and gets the treatment.
21:17 IST: Six! Brilliant pick up shot by De Villiers and it has gone all the way.
21:10 IST: Six! De Villiers goes downtown and clears the man at long off easily.
21:08 IST: End of a very good spell from Axar Patel. Returns with figures of 1 for 12.
21:07 IST: Stuart Binny is the new man in for Bangalore.
21:03 IST: Wicket! Brilliant catch by Wriddhiman Saha. Went back a long way and safely held at the end. Mandeep Singh takes the long walk back. Aaron takes his second wicket.
21:00 IST: Axar Patel has only gone for 11 runs in his 3 overs.
20:58 IST: Bangalore need a move on. 65 for 3 after 12 overs.
20:54 IST: Runs coming in singles at the moment for Bangalore.
20:44 IST: Big over this for Bangalore. Another boundary for Mandeep.
20:43 IST: Back of a length from Natarajan and Mandeep rocks back and puts it away for a six!
20:40 IST: Natarajan comes on to the attack.
20:39 IST: Bangalore 34 for 3 after 8 overs.
20:34 IST: Four! Drifting down the leg side and de Villiers puts it away for a boundary.
20:32 IST: Mandeep Singh off the mark after facing 8 balls.
20:30 IST: After six overs Bangalore are 23 for 3.
20:28 IST: Mandeep Singh is the new batsman.
20:24 IST: Wicket! Now Jadhav has to take the long walk back to the dressing room. Aaron picks up his first wicket.
20:22 IST Kedar Jadhav is the new man at the crease. Joins De Villiers.
20:19 IST: Varun Aaron comes on, replaces Mohit Sharma.
20:18 IST: Bangalore 19 for 2 after 4 overs.
20:17 IST: Wicket! Sandeep Sharma strikes for Punjab. Bangalore lose their second wicket. Vishnu Vinod's short stay at the crease comes to an end.
20:12 IST: Six! Stand and deliver. De Villiers clears the fence easily.
20:09 IST: Only one over for Axar. Mohit Sharma replaces him.
20:07 IST: Four! De Villiers gets it away through the point boundary. First of the innings.
20:04 IST: Sandeep Sharma to share the new ball with Axar Patel. Ab de Villiers is the new man in.
20:03 IST: Wicket! Watson goes for the cut. Gets an inside edge and the stumps are all over the place. Axar Patel strikes for Punjab.
20:02 IST: Vinod tucks it of off his legs for a single. So both the openers are off the mark.
20:01 IST: Watson is off the mark with a single. RCB are away.
20:00 IST: Axar Patel to start things off for Punjab with the new ball.
19:58 IST: So the players make their way out to the middle. Shane Watson and Vishnu Vinod are the two openers for RCB.
19:40 IST: Here is a look at the teams:
KXIP XI: M Vohra, H Amla, W Saha, G Maxwell, D Miller, MP Stoinis, A Patel, M Sharma, Sandeep Sharma, V Aaron, T Natarajan

— IndianPremierLeague (@IPL) April 10, 2017
RCB XI: S Watson, V Vinod, AB de Villiers, K Jadhav, M Singh, S Binny, P Negi, I Abdulla, T Mills, B Stanlake, Y Chahal

— IndianPremierLeague (@IPL) April 10, 2017
19:35 IST: For Punjab there is one change. Varun Aaron comes back into the side.
19:34 IST: Chris Gayle has been dropped from the side. AB de Villiers comes back after a injury lay off.
19:30 IST: Royal Challengers Bangalore win toss, elect to bat first.
19:28: We are minutes away from the toss.
19:25 IST: Hello and welcome to the match between Kings XI Punjab and Royal Challengers Bangalore.
RCB would probably have been tempted to field Virat Kohli for Monday's match, had they lost both their matches. But having managed to stop Delhi Daredevils in their second match in Bengaluru, they would likely wait and ensure that their skipper is well and truly fit before they field him.
KXIP, on the other hand, would be perfectly happy now, since almost all their batsmen did get a feel of match practice and skipper Maxwell and David Miller really set the pace against Rising Pune Supergiant.