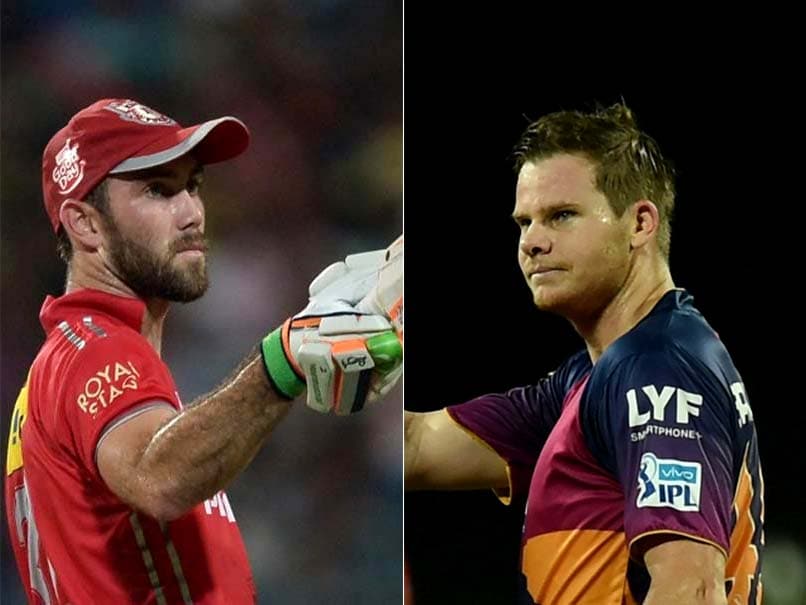 KXIP registered an easy win over RPS thanks to a solid knock from skipper Glenn Maxwell.
© BCCI
Kings XI Punjab (KXIP) beat Rising Pune Supergiant by six wickets in Indore on Saturday. Glenn Maxwell steered Punjab to a comfortable win with an unbeaten 44-run knock. (SCORECARD)
Catch all the highlights of KXIP vs RPS in Indore
19:32 IST: That's it from us. Adios!
19:31 IST: Punjab will be delighted with their effort, while Pune will be disappointed with their batting after a solid show in the last match.
19:30 IST: That's it! KXIP complete a comfortable win over RPS.
19:24 IST: Scores are level now.
19:21 IST: Four! Only 3 needed now for Punjab.
19:13 IST: Big appeal lbw appeal by Chahar against Maxwell, but the umpire turns it down. Dhoni too looked confident as the Australian attempted a reverse sweep off the leg-spinner.
19:09 IST: SIX! Another one. This time over the long-on boundary. Maxwell on fire in Indore.
19:06 IST: SIX! Maxwell lifts Tahir for a maximum over midwicket.
19:03 IST: FOUR! Maxwell crunches a wide one from Stokes through the covers for a boundary. The KXIP captain is looking solid out in the middle.
18:58 IST: FOUR! Maxwell powers Bhatia's delivery through the covers for a four.
18:50 IST: OUT! Axar is removed by Tahir. The leg-spinner has brought Pune back into this contest.
18:45 IST: OUT! Amla is dismissed by Chahar. The right-hander was caught in the deep by Stokes. Big wicket for Pune.
18:40 IST: SIX! Axar clobbers Chahar for a maximum. Superb stroke from the left-hander.
18:28 IST: Excellent stuff from Stokes, concedes just one run off his over.
18:25 IST: Great start by Tahir. KXIP are 56/2 after 6 overs.
18:24 IST: How Tahir went unsold in the IPL 2017 auction is just bemusing!
18:22 IST: WICKET!! Tahir does it again. Saha fails to read the googly and is cleaned up. Took just two balls for the South African spinner to make an impact in this match.
18:21 IST: Pune's trump card Tahir into the attack now. 
18:20 IST: Four More!! Saha lifts the ball over the mid-off fielder for back-to-back boundaries. Punjab are motoring along here. KXIP are 48/1 after 5 overs.
18:19 IST: Four!! Saha caresses the Stokes delivery through covers.
18:18 IST: Punjab are not chasing a big score but are going all guns blazing right now.
18:17 IST: A superhuman effort on the field from Dan Christian but he fails to latch on to the catch. But what an effort nonetheless.
18:15 IST: SIX! Amla plays a glorious shot off Christian over deep extra cover for a maximum.
18:10 IST: OUT! Vohra is dismissed by Dinda. The right-hander was looking dangerous before he was caught at deep mid-wicket by Tiwary.
18:07 IST: SIX! Vohra steps down the track and clobbers Dinda for a six straight back over his head.
18:02 IST: Dot ball from Dinda to finish the over. KXIP are 6/0 after 1 over.
17:59 IST: Four!! An edge from Amla and it runs away to the third-man boundary. Punjab are up and running!
17:55 IST: Punjab openers Manan Vohra and Hashim Amla are walking out.
17:42 IST: Pune finish with 163 thanks to Tiway's unbeaten 40-run knock. Smith would have wanted a few more runs on the board.
17:38 IST: Dan Christian delivered some lusty blows in the final over bowled by Sandeep Sharma. He cracked two fours and a six before being dismissed.
17:25 IST: WICKET!! Stokes falls after his maiden fifty. Axar takes a good caught and bowl chance.
17:20 IST: FOUR! Tiwary flicks Stoinis between fine leg and deep square for four more runs. 
17:17 IST: SIX! Stokes steps out and pulls Stoinis' ball over midwicket for a flat six.
17:12 IST: SIX! Tiwary slices Natarajan's full delivery over the covers for a six.
17:10 IST: SIX! Stokes clobbers Patel for a six straight down the ground. The left-hander is striking the ball as cleanly as it gets.
17:09 IST: FOUR! Stokes pulls a short one from Axar for another boundary.
17:04 IST: FOUR! Tiwary powers Natarajan's delivery for four through the off-side.
17:02 IST: Manoj Tiwary is the new man in for Pune. Stokes looking good at the other end.
16:58 IST: OUT! Dhoni pops it straight into Swapnil's hands. Caught and bowled. Huge wicket for Punjab!
16:50 IST: Six!! Ben Stokes makes his mark with a maximum over deep mid-wicket.
16:45 IST: Dhoni off the mark with a single.
16:41 IST: Things not going well for Pune. Someone will need to step up and could be a certain MS Dhoni, who has walked out to bat, to get the job done.
16:38 IST: WICKET! And it's the big one. Pune's skipper Steve Smith walks back after holing out to Vohra off the bowling of compatriot Stoinis. RPS are 49/3 after 8.1 overs.
16:36 IST: Axar Patel doing a phenomenal job of keeping Pune under tabs. RPS are 48/2 after 8 overs.
VIDEO: @DavidMillerSA12 discusses @TheMasters Augusta 2017 & @McIlroyRory with Sunny G https://t.co/UUZh1E8OLh #IPL

— IndianPremierLeague (@IPL) April 8, 2017
16:33 IST: Four!! An absolutely delightful straight drive from Smith. He once again looks in ominous touch but will need support from the other end.
16:30 IST: WICKET!! T Natarajan gets rid of Rahane for his first IPL wicket.
16:28 IST: Good over from Axar Patel. Just three off that over.
16:25 IST: Back-to-back fours! Smith comes down the track and guides the ball through covers. Pune finally getting a move on! RPS are 32-1 after 5 overs.
16:24 IST: Four!! Smith carts Sandeep through covers for his first boundary.
16:22 IST: Smith rotating the strike nicely while Rahane seems to be the aggressor.
16:19 IST: Six!! First boundary for Pune and it comes off the bat of Rahane. It was short from Mohit Sharma and Rahane climbed all over it.
16:17 IST: Dropped!! Big chance for Punjab but Vohra, at cover, puts down Rahane.
16:16 IST: Rahane comes down the track and foes for a wild swing, is almost castled.
16:14 IST: Brilliant stuff from the Pune bowlers so far. Pune are finding the going extremely hard.
16:10 IST: This is a great start by Punjab with the ball. After 2 overs Pune 3 for 1.
16:09 IST: That brings Pune captain Steve Smith at the crease.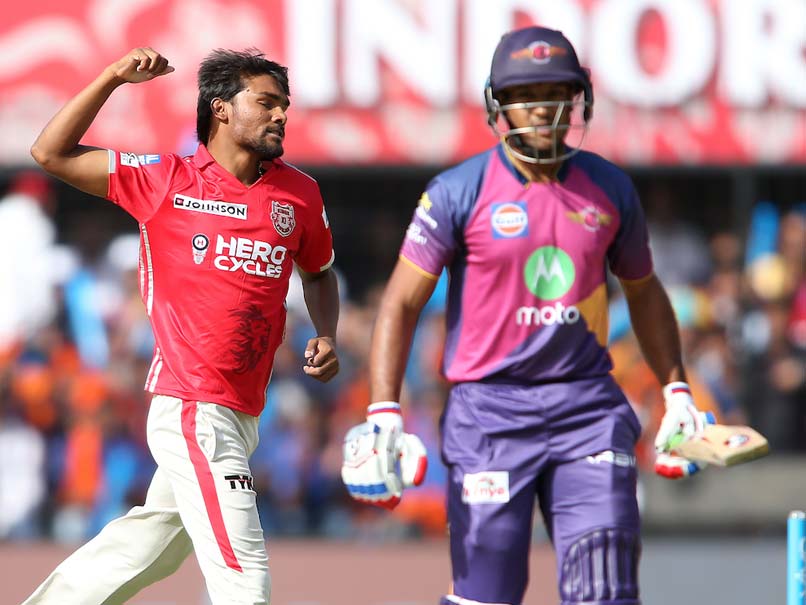 16:06 IST: Out! Mayank Agarwal has to take the long walk back to the dressing room. Great start for Punjab. Sandeep Sharma gets it to swing back into the right-hander and the stumps are all over the place.
16:01 IST: Rahane starts off with a single.
16:00 IST: We are all set for the first ball!
15:55 IST: Pune openers Mayank Agarwal and Ajinkya Rahane are making their way to the ground.
15:31 IST: Glenn Maxwell wins toss and Punjab will bowl first against Pune in Indore.
15:30 IST: Toss time!!
The @lionsdenkxip are warming up ahead of their season opener #IPL #KXIPvRPS pic.twitter.com/LQnrE8uN9z

— IndianPremierLeague (@IPL) April 8, 2017
15:10 IST: The toss is about to take place soon and our action will then start in earnest. You have some time to get your snacks and thirst quenchers in place and get ready for the battle of the Australians!
Introducing @lionsdenkxip #IPL #KXIP #LivePunjabiPlayPunjabi #KXIPvRPS pic.twitter.com/f5X0XnowjS

— IndianPremierLeague (@IPL) April 8, 2017
15:01 IST: And that's it from the opening ceremony. Let's all get ready for the real action on field. It's a big day for Maxwell and Kings XI and both will be looking to make a big impact this season.
14:59 IST: Harshdeep Kaur is back on stage with the song 'Mast Kalandar'.
14:57 IST: The Bollywood beauty is dancing to the classic of 'Laila Mein Laila'.
The #IPL Opening event at Holkar Cricket Stadium, Indore #KXIPvRPS #KXIP pic.twitter.com/vI1YpxvwJw

— IndianPremierLeague (@IPL) April 8, 2017
14:54 IST: Bollywood star Disha Patani makes a stunning entry. The moment we all have been waiting for. Indore acknowledges too with a loud roar.
14:42 IST: Glenn Maxwell and Steve Smith make their way to the field for the opening ceremony surrounded by Bhangra dancers.
Play Hard, Play Fair - Spirit of Cricket at #IPL - @Gmaxi_32 and @stevesmith49 pic.twitter.com/EsqkjpPH2O

— IndianPremierLeague (@IPL) April 8, 2017
14:40 IST: Some foot-tapping Punjabi numbers blaring on the loudspeaker.
14:32 IST: Playback singer Harshdeep Kaur is on stage and kicks off the proceedings in Indore.
14:20 IST: Hello and welcome to the live blog of the opening ceremony in Indore and the IPL clash between KXIP and RPS.
With the likes of Eoin Morgan, David Miller, Hashim Amla, Martin Guptill, Shaun Marsh and Marcus Stoinis in the team, Maxwell has the luxury to call on some of the best T20 batsmen in the world but it's anyone guess that will this season be a hit or a miss for them.
RPS also have a sensational batting line-up and South African leg-spinner Imran Tahir has really added to the bowling clout.
They should be in a great form of mind beginning their second match, while KXIP have no other option but to go up. That makes for quite a contest.