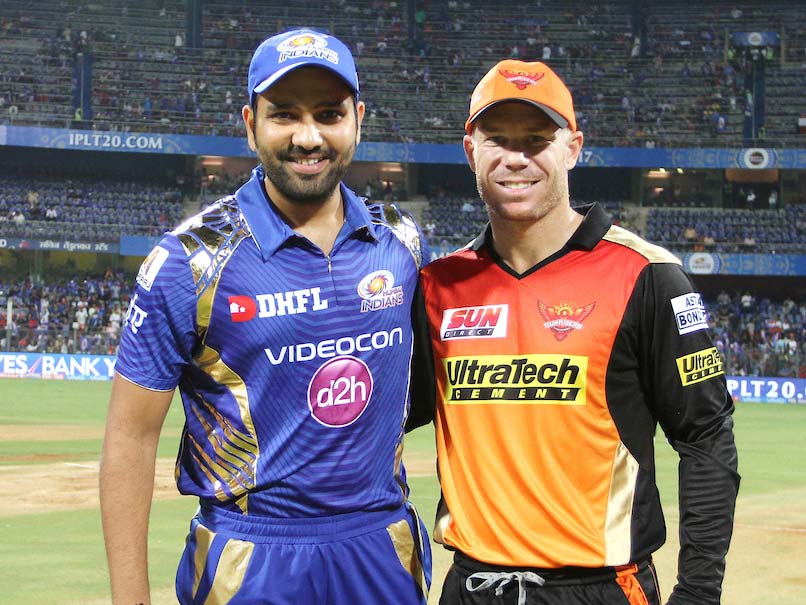 IPL Highlights: SRH vs MI - Hyderabad beat Mumbai by 7 wickets.
© BCCI
Sunrisers Hyderabad (SRH) beat table-toppers Mumbai Indians (MI) by 7 wickets in the 48th match of the Indian Premier League (IPL) in Hyderabad on Monday. After they restricted Mumbai to 138/7 in 20 overs, Shikhar Dhawan and Moises Henriques put up a brilliant partnership to chase down the modest target as Hyderabad won in 18.2 overs. After losing captain David Warner early, Dhawan and Henriques set the momentum before the Australian was dismissed for 44. Dhawan went on to score his 28th IPL half century in the match. Though this win doesn't guarantee Hyderabad a place in the Play-offs, it puts Delhi Daredevils out of the reckoning. Earlier Rohit Sharma hit his 32nd IPL half ton to steady Mumbai as they lost wickets at regular intervals to a disciplined Hyderabad bowling attack. (SCORECARD)
IPL Highlights and updates between SRH vs MI straight from Hyderabad, India
23:37 IST: Thank you so much for joining us this evening for the live blog. Tomorrow Kings XI Punjab take on Kolkata Knight Riders in Mohali. Good night. 
23:36 IST: Shikhar Dhawan is the deserving man of the match.
23:21 IST: FOUR!!! Shankar smashes a huge boundary to guide Hyderabad to a 7-wicket win!   
23:19 IST: Hyderabad keeping it simple. Taking singles to close in. They now need 5 off 14 balls.
23:16 IST:  Hyderabad need 10 runs in 18 balls. They are closing in on the win 
23:14 IST: That was close!! Pollard drops Dhawan! 
23:12 IST: Wide!! Mumbai thought they had a wicket! Parthiv's celebrations are put on hold! 
23:09 IST: Dhawan and Shankar taking singles and twos to inch closer to the target. 18 to win, 24 balls remain
23:06 IST: Bumrah back into the attack...
23:02 IST: OUT! Yuvraj is taken by Hardik Pandya. Malinga gets a wicket and an injured Yuvi departs for 9. Hyderabad 112/3 (14.4 ovs)
23:00 IST: And that's a 50 for Dhawan! Brings up his 28th IPL half century with a single. 
22:58 IST: Beautiful shot by Yuvi straight down the ground as they take two. Hyderabad need 30 to win from 36 balls 
22:57 IST: Four! Beautiful shot by Yuvraj off McClenaghan. 
22:56 IST: Yuvraj continues to bat but he's grimacing in pain.
22:51 IST: Yuvraj comes in but the pain continues. He had injured his finger while fielding in the first innings. Hyderabad are 99/2 after 13 overs. Time out called for
22:44 IST: Out!!! Henriques gone! Bumrah takes the important wicket. Henriques departs for 44 after being caught by Rohit. Hyderabad are 98/2 (12.1 ovs)  
22:42 IST: Hyderabad are 94/1 after 11 overs. Very much in control of the modest run chase
22:41 IST: Four!!! A full toss! Henriques is on a roll!
22:40 IST: Four!! Easy one to deep mid wicket by Henriques off a Malinga delivery. 
22:35 IST: Hyderabad need 56 runs from 60 balls to win. Can they do it after losing their last match at home against Pune? We have to wait and find out! 
22:34 IST: Four!!! Dhawan finds the narrowest of the gaps and goes for a boundary of a Bhajji delivery! 
22:31 IST: SIX!! Beautiful shot, timed so well by Dhawan! The home crowd goes crazy. Karn Sharma wondering what's happening. 
22:30 IST: Four! Dhawan gets down on one knee and smashes a boundary on the sweep. Karn Sharma just looks on helplessly
22:28 IST: Four! Another solid boundary by the Australian. Very expensive over from Hardik. He's given away 13 runs!!
22:27 IST: Four! Henriques smashes a boundary as Hardik Pandya looks on disappointed. Brings up a 50-stand. Very effective for the home team this partnership
22:24 IST: Hyderabad are 52/1 after 7 overs. 
22:22 IST: SIX!!! That's a massive maximum by Dhawan off a Karn Sharma delivery
22:17 IST: Hyderabad are 43/1 after 6 overs. Time out called for
22:15 IST: Four!! Beautifully timed by Henriques using McClenaghan's pace
22:13 IST: Four again!! This time from Dhawan. Expensive over from Bumrah!   
22:12 IST: Four!! Straight through the covers! Very well timed by Henriques off a Bumrah delivery
22:11 IST: Jasprit Bumrah comes into the attack. 
22:05 IST: Four!! Dhawan slams the ball through extra cover off a Malinga delivery. 
22:01 IST: Great over by McClenaghan, gives away only 3 runs and dismisses Warner. Hyderabad are 10/1 after 2 overs
21:56 IST: OUT!! Warner is out! LBW by Mitchell McClenaghan on his first delivery! The captain departs for 6. Hyderabad 7/1 (1.1 ovs) 
21:54 IST: Hyderabad are 7/0 at the end of the first over. Good start by the home team.
21:53 IST: Four!! Warner slams a boundary to get things going on the second ball
21:52 IST: And we are back. David Warner and Shikhar Dhawan to start for Hyderabad. Harbhajan has the ball... 
21:37 IST: That's it. Mumbai make 138/7 at the end of 20 overs.
21:36 IST: Out!! Karn Sharma departs for 5 caught by Naman Ojha. Bhuvneshwar is on a roll! Mumbai are 136/7 (19.5 ovs) 
21:31 IST: Out!!! Kieron Pollard goes for 5! Bhuvneshwar takes the key wicket as the West Indian is caught by Vijay Shankar. Mumbai are 132/6 (19.1 ovs)
21:30 IST: Four! Karn Sharma smashes a boundary to finishes the 19th over. Mumbai are 132/5 
21:24 IST: Out!!! Rohit Sharma is bowled! Siddarth Kaul at it again! He departs for 67 as Mumbai are 126/5 (18.1 ovs) 
21:20 IST: Six!! Rohit smashes a Bhuvneshwar delivery for a maximum. 
21:16 IST: Four! Beautiful placement by Rohit as the ball heads for a boundary. Mumbai are 110/4 at the end of 16 overs
21:12 IST: 50! Rohit brings up his half century with a single. It's his 32nd in the IPL
21:10 IST: Excellent bowling by Rashid. Concedes 4 runs and takes 1 wicket in the over! 
21:06 IST: Out!!!! Hardik Pandya is gone! Crucial wicket for Hyderabad as Rashid removes the younger of the Pandya brothers. Henriques takes the catch as Hardik departs for 15. Mumbai are 96/4 (14.2 ovs)  
21:04 IST: Mumbai are 95/3 at the end of 14 overs and another time-out is called for.
21:03 IST: And a four yet again! Back-to-back boundaries by Rohit!
21:02 IST: Four again! Rohit slams a boundary between extra cover and long off
21:00 IST: Four! Stupendous hitting from Rohit off Henriques delivery. Rohit has been the saviour for Mumbai in many earlier matches. Will he play the same role tonight?
20:58 IST: Four! Much needed boundary for Mumbai from Rohit
20:57 IST: Bhuvneshwar back into the attack. 
20:51 IST: Siddarth Kaul back into the attack. He has taken two wickets... Can he take a third?
20:48 IST: Six!! That's a massive boundary by Rohit to long on off a Rashid Khan delivery
20:44 IST: Great fielding by Hooda as he saves a boundary. But Hardik Pandya and Rohit manage 3 runs
20:41 IST: Mumbai are 53/3 at the end of 9 overs. Time out called for
20:38 IST: Four! Deft touch by Rohit as the ball goes for a boundary.. Rashid Khan is the bowler
20:35 IST: Excellent bowling by Nabi in his final over. Gives away only 3 runs. Mumbai are 45/3 at the end of 8 overs. Just look at Nabi's figures - 4-0-13-1! 
20:30 IST: Not out! Rohit Sharma was beaten for pace, the delivery lobbed off his helmet 
20:27 IST: OUT!!! Parthiv is out! Caught by David Warner off a Siddarth Kaul delivery! Departs for 23 as Mumbai are 36/3 (6.1 ovs) 
20:25 IST: Decent over by Nabi, gives away only 7 runs. Mumbai are 36/2 at the end of 6 overs
20:23 IST: Four!! Parthiv smashes a boundary down on one knee! 
20:20 IST: Oh no! Parthiv dropped! Shankar drops him. 
20:18 IST: Out!! Nitish Rana out!! Caught by Bhuvneshwar off a Siddarth Kaul delivery. Departs for 9. Mumbai are 22/2 (4.1 ovs)
20:17 IST: Nabi comes back into the attack and bowls another solid over. Gives away only 2 runs
20:14 IST: That's an expensive over by Siraj. 16 runs! Captain Warner won't be happy with that, Mumbai 20/1 at the end of 3 overs 
20:13 IST: Four! By Rana again. Boundary to long off 
20:12 IST: Four! Nitish Rana finds the gap and goes for a boundary
20:11 IST: Six! Parthiv smashes the first boundary of the match off a Mohammed Siraj delivery 
20:09 IST: 1 wicket and just 1 run in the second over. What a great over by Nabi
20:07 IST: Out!! Simmons is bowled by Nabi!! Mumbai are 4/1 (1.4 overs). He departs for 1
20:05 IST: Mohammad Nabi comes into the attack.
20:04 IST: Wonderful start by Bhuvneshwar. Gives away only 3 runs in the first over. Mumbai are 3/0 at the end of the first over.  
20:02 IST: Simmons on strike... takes a single
20:00 IST: And let's play! 
19:58 IST: Parthiv Patel and Lendl Simmons to start for Mumbai, Bhuvneshwar has the new ball...  
19:45 IST: As are Hyderabad. The home team needs to win both their remaining matches to secure a Play-off berth. 
The @SunRisers all set to take on the @mipaltan #SRHvMI pic.twitter.com/BSXCYY19aX

— IndianPremierLeague (@IPL) May 8, 2017
19:42 IST: Mumbai are getting ready for the match... 
The @mipaltan are gearing-up for their game against @SunRisers #SRHvMI pic.twitter.com/odHR8WsvNL

— IndianPremierLeague (@IPL) May 8, 2017
19:41 IST: Vijay Shankar is the third change for Hyderabad. He takes Bipul Sharma's spot.
19:33 IST: Mumbai keep the same side, Hyderabad make three changes. Nehra is out for Siraj. Williamson is out for Nabi. Captain David Warner can't seem to remember the third change.
19:30 IST: Mumbai Indians win the toss and choose to bat 
19:28 IST: There was a bit of rain here but it seems the match will start on time
19:26 IST: We are minutes away from the toss... stay tuned!
19:25 IST: Hello and welcome to the live blog of the match between Sunrisers Hyderabad and Mumbai Indians straight from Hyderabad!