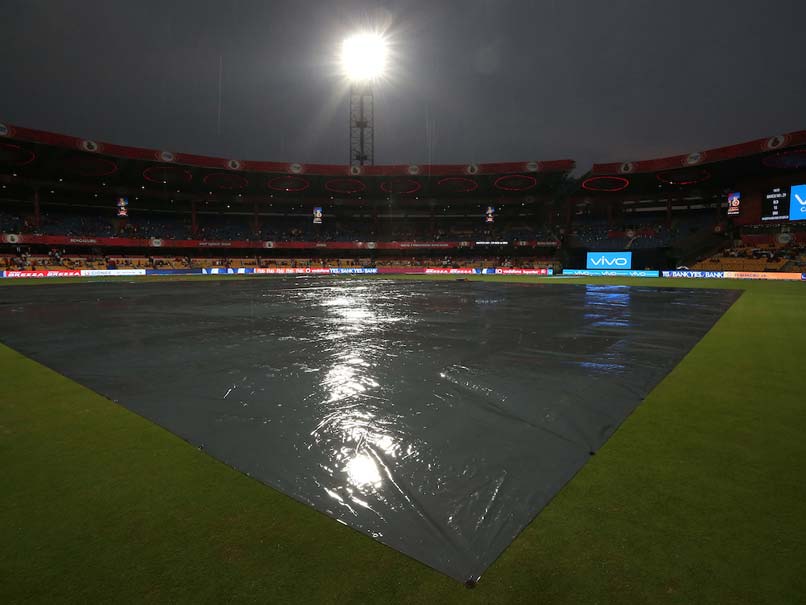 IPL Highlights, RCB Vs SRH: The match was abandoned due to rain.
© BCCI
Royal Challengers Bangalore, who were gunning to make a statement at their home ground on Tuesday after a horrendous display in the last game, must be gutted with rain gods. The match was called off without a ball being bowled due to heavy rain which meant that both the teams earned a point each. Now, it's getting difficult for the RCB as they languish at the seventh place in the points table with only two wins in 8 matches. Sunrisers Hyderabad, on the other hand, must be equally disappointed but they would still take a point with a wry smile on their face.(SCORECARD)
Catch the highlights of Royal Challengers Bangalore Vs Sunrisers Hyderabad in Bengaluru here:
11:25 IST: Hope you enjoyed our coverage. Adios! 
11:00 IST: So, it's official now. The match has been called off due to rain and both the teams get a point each.
22:30 IST: The rain is not willing to stop, accompanied by thunder this time. Both the teams will share the points if the game doesn't happen. 
22:18 IST: Former England batsman has tweeted about the rain delay and it's not good news.
22:10 IST: Rain refusing to relent in Bengaluru. The anxious wait continues.
21:25 IST: The rain gods have come to Delhi too. It's pouring in the national capital 
21:20 IST: It has gotten heavier again. Very bleak chance for the game to take place now, but the cut-off time is 11:20 pm. Every four minutes now, we will lose an over. Stay tuned for updates!
21:00 IST: The rain is little lighter now. The ground staff is out. On-field umpires Marais Erasmus and Shamshuddin are also out for an inspection. It's past 9 pm now, so we will definitely lose some overs.
20:40 IST: Cut-off time for a five-over per-side game is 23:20 local, and we will start losing overs after 21:00.
20:30 IST: It's raining cats and dogs now. 
20:20 IST: The rain seems to be getting heavier. Very frustrating for both the teams.
20:05 IST: The wait conitnues!! It is still raining in Bengaluru. No updates on when the match will start
19:45 IST: The drizzle has grown into a shower!
19:33 IST: Bad news again!! It has started raining again and the covers are coming back. Might be a further delay in the toss
19:31 IST: Update: The toss has been delayed by ten minutes due to rain. 
19:21 IST: On the flipside, Sunrisers Hyderabad are yet to win an away game this season. Can they do it today? 
19:20 IST: RCB skipper Virat Kohli is disappointed after his team's horrendous display against KKR. Virat will be gunning to make a statement here, and if he can get going, the crowd at the Chinnaswamy Stadium will be in for a treat.
19:12 IST: It had stopped but again the drizzle is back. Nothing official has come out yet, but what we can make out from here is that the delayed match is on the cards.
19:10 IST: Not so good news from the stadium. It rained for an hour till about 15 minutes ago in Bengaluru and the covers are still on.
19:05 IST: Hello and welcome to the live blog of Royal Challengers Bangalore and Sunrisers Hyderabad in Bengaluru
On the flipside, Sunrisers Hyderabad, will look to maintain their consistency as they had pulled off four wins on a trot before losing to Rising Pune Supergiant in their previous game --largely due to single-handed effort from one and only Mahendra Singh Dhoni. Openers David Warner (235 from 7 games) and Shikhar Dhawan (282 from 7 games), who have been scoring the bulk of runs, would look to maintain their prime form. Bowling has complemented Hyderabad's batsmen with seamer Bhuvneshwar Kumar (16 wickets) and young Afghanistan spinner Rashid Khan (10 wickets). Siddharth Kaul has also been decent during the death overs.