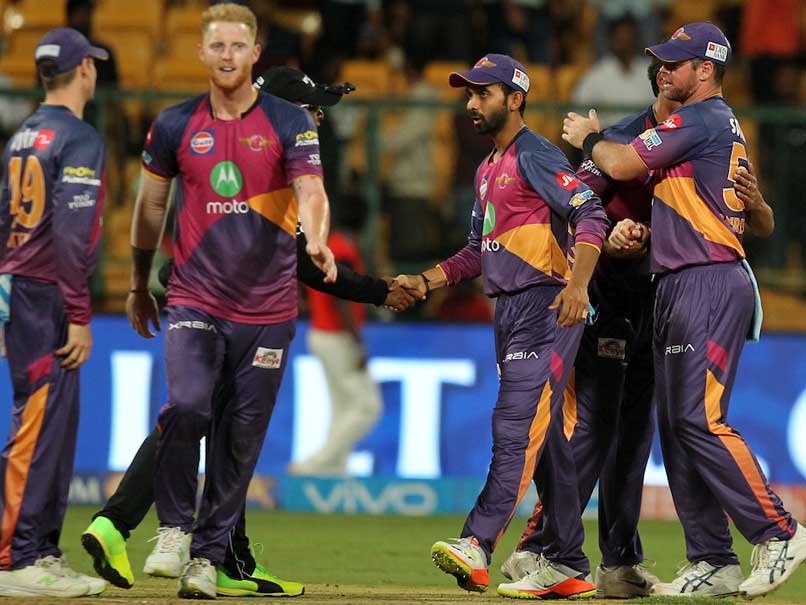 IPL Highlights: Disciplined bowling by Pune helped the visitors defeat Bangalore by 27 runs.
© BCCI
Rising Pune Supergiant (RPS) handed Royal Challengers Bangalore (RCB) an embarassing defeat 27-run defeat to clinch only their second win of IPL 2017. In reply to Pune's 161/8, Bangalore could only muster 134 for nine in 20 overs. Brilliant and discplined bowling from Pune did not allow the RCB batsmen to free their arms and kept them on a tight leash. After Mandeep Singh departed for a duck in the first over, Virat Kohli and AB de Villiers took the centre stage to get their team across the line. However, Kohli and De Villiers could only make 28 and 29 respectively before being sent back. Apart from these two no other batsman could cross the 20-run mark. For Pune Supergiant, Ben Stokes and Shardul Thakur shined with the ball. (SCORECARD)
Catch Highlights between RCB and RPS straight from Bengaluru.
23:45 IST: Thank you for following our live blog. Please come back for another double header tomorrow.
23:39 IST: Disciplined Pune bowlers did the trick as they helped halt the flow of runs.
23:38 IST: PUNE win by 27 runs and hand over an embarrassing defeat to Royal Challengers Bangalore.
23:35 IST: Out! Stokes gets the bail off, sends Adam Milne packing.
23:33 IST: RCB need 31 runs from the last over.
23:31 IST: Pune Supergiants looking to a big match against Bangalore in their home ground.
23:30 IST: Out! Unadkat get Samuel Badree, gets the middle stump out of the ground. RCB 126 for 8.
23:27 IST: Out! Binny shuffled around the wicket to chip the ball on the leg side, misses it and the stumps are all over the place.
23:26 IST: Brilliant effort from Ben Stokes as he catches the ball right on the boundary rope and pulls the ball right in.
23:25 IST: Out! Dragging the ball from off to the leg side, Negi couldn't make a proper connect. Tripathi completes the catch.
23:24 IST: Six! Negi fires Thakur over covers for a maximum.
23:22 IST: Four! Back-to-back boundaries for Binny. RCB need 47 runs off 18 balls.
23:20 IST: Six!! Stuart Binny dispatches the slower delivery from Christian over the square boundary.
23:16 IST: Out! Ben Stokes cleans Shane Watson with a slower delivery. RCB edging closer to defeat, 102/5.
23:14 IST: Four! Watson this time. Hammers the ball to the boundary. Two boundaries for RCB in three balls.
23:13 IST: Four! Stuart Binny gets one away to the rope.
23:10 IST: Out! Unadkat sends Jadhav back to pavilion. Trying to heave, gets an inside edge and drags the ball right into the stumps. RCB 91/4.
23:08 IST: The Rising Pune Supergiant are doing a brilliant job with their bowling as the required run rate has shot up to over 12.
23:06 IST: The last boundary hit by RCB was 6 overs ago. Pressure and runs building up on the team. Jadhav and Watson need to up their game.
23:05 IST: Just four runs off the Shardul Thakur over. RCB now need 75 runs from 36 balls.
22:59 IST: Royal Challengers have to really get going now. With the required rate above 11, the home team needs 79 runs from 42 balls.
22:51 IST: Dan Christian has been really good. Conceded just 7 runs from 2 overs.
22:47 IST: Shane Watson the new man in, needs to start hitting as the required run rate is over 9.51.
22:45 IST: Out! Brilliant stumping from MS Dhoni, takes the bail before AB could get his foot back in the crease.
22:44 IST: Royal Challengers Bangalore need 95 runs from 60 balls. Things seem a bit difficult for home team.
22:43 IST: AB shuffles around the wicket, misses the ball to hit Christian for a boundary.
22:38 IST: SIX!! That's AB special for you. Half-volley from Imran Tahir and it goes for a maximum. de Villiers is beginning to cut loose.
22:36 IST: AB de Villiers goes inside out but will only get a single. RCB are 53/2 in 8 overs, need 107 more runs to win.
22:24 IST: Breakthrough for Pune!
22:23 IST: Out! Stokes strikes! Kohli, trying to go big, sends the ball straight to Rahane.
22:20 IST: Virat Kohli has the most number of T20 runs at the Chinnaswamy stadium. More than 2100 runs.
This is paradise @imVkohli and @ABdeVilliers17 batting together for @RCBTweets pic.twitter.com/1S6NPdV0sX

— Daniel Smith (@13DSmith) April 16, 2017
22:17 IST: Four! Flick of the wrist from Kohli and the ball reaches the boundary rope with ease.
22:15 IST: Four! What an effort from Ben Stokes, went flying in the air to get Kohli, but the ball gets past him.
22:13 IST: Six! Slower delivery from Unadkat and AB de Villiers warms up with his first maximum off Unadkat.
22:08 IST: Four! First ball boundary from AB de Villiers, cuts Thakur handsomely past point.
22:07 IST: Out! Shardul Takur gets Mandeep Singh. Dhoni completes the catch behind the wicket.
22:05 IST: Kohli dropped! Trying the guide the ball towards point, gets an outside edge to Manoj Tiwary at first slip.
22:04 IST: Four! Kohli slams Shardul Thakur straight down the ground.
22:03 IST: Six!! Full from Unadkat and Kohli flicks it to the square boundary for his first maximum.
22:00 IST: Virat Kohli and Mandeep Singh walk out to bat.
​21:44 IST: Out! Tiwary just short of the crease. That's it for the first innings, Pune manage to score 161 for 8 in 20 overs. Royal Challengers to score 162 to win the competition.
21:43 IST: Six! Tiwary sends Milne for a maximum on the leg side.
21:39 IST: Six! Watson dispatched straight through the ground. Tiwary gets 18 valuable runs for his team.
21:38 IST: Four! Tiwary firing guns for Pune.
21:36 IST: Four! Tiwary gets his second as he dispatches Watson for a clean stroke.
21:35 IST: Four! Manoj Tiwary gets his first. Pune 126/7
21:34 IST: Pune has scored 4 runs and lost 3 wickets in last 10 balls.
21:30 IST: Out! Double strike by Adam Milne. Shardul Thakur goes for a duck.
21:28 IST: Out! Ben Stokes disappoints yet again. Bowled cheaply for just two runs.
21:27 IST: Brilliant over by Aravind. Two wickets and three runs.
21:25 IST: Out! Aravind gets his second. Sends Christian packing.
21:23 IST: Uphill task for Pune. Two new batsmen for the last three overs.
21:21 IST: Out! Double setback for Pune as Aravind cleans up Smith.
21:19 IST: Out! Dhoni trying to heave, plays himself down. Watson gets the breakthrough.
21:18 IST: Four! Outside edge from Dhoni and the ball goes for a boundary.
21:15 IST: Four! Short from Watson and Smith doesn't miss the ball. Smith, Dhoni bring up their 50-run partnership.
21:11 IST: After 15 overs, Rising Pune Supergiant stand at 117 for 2 wickets.
21:10 IST: Miss! The ball misses the off stump by whiskers as Smith tries to heave for a maximum.
21:09 IST: Four! Steve Smith swings Aravind for a boundary on the leg side.
21:08 IST: MS Dhoni completes his 24000 career runs!
21:04 IST: Out of the park! Dhoni dances down the wicket and smokes Chahal into the sky.
21:03 IST: Safe-landing! Dhoni heaves Chahal, the ball falls short of the deep mid-wicket.
21:02 IST: In search of more wickets, Kohli introduces Yuzvendra Chahal into the attack.
21:00 IST: Pune in their last 5 overs have just scored 30 runs for the loss of one wicket.
20:58 IST: Big relief for RPS. Dhoni gets a life line as the ball which he tried to pull took an inside edge and just missed the stumps.
20:54 IST: After 12 overs RPS stand at 92/2. The blistering start given by Rahane and Tripathi has been kept in check by the RCB bowlers.
20:51 IST: Four! Samuel Badree gives away a boundary to Steve Smith.
20:50 IST: Negi doing wonders with his bowling, concedes only 6 runs from his third over. Negi is surely keeping RPS in check.
20:47 IST: Four! Badree gives away another boundary as Dhoni slashes the ball.
20:45 IST: Four! Dhoni cuts Badree for his first boundary of the innings.
20:44 IST: Brilliant over from Pawan Negi, concedes just a single win and takes a wicket too.
20:43 IST: MS Dhoni comes out to join captain Steve Smith in the middle.
20:41 IST: Out! Negi sends Tripathi back to the pavilion, courtesy - brilliant catch from skipper Kohli at covers.
20:40 IST: Four! Tripathi slams Badree straight down the ground.
20:37 IST: OUT!! Rahane is clean bowled by Badree. He came down the track and completely missed it. First breakthrough for RCB.
20:35 IST: Again just six runs from the Negi over. Back-to-back good overs from RCB bowlers. Pune are 61/0 in 7 overs.
20:30 IST: Pawan Negi into the attack. Can he give RCB the first breakthrough?
20:28 IST: Very good over from Aravind. Just five runs from that over. RPS are 55/0 in 6 overs.
20:25 IST: Aravind has done well in the over so far. Just two runs from three balls. He needs to do more of the same.
20:22 IST: Rahane and Tripathi have given Pune a blazing start. They are looking good for a big score. RPS are 50/0 in 5 overs.
20:19 IST: Safe! Rahul Tripathi dropped by Adam Milne off Shane Watson.
20:17 IST: Ka-Boom start from the visitors against Bangalore!
20:16 IST: Four! Tripathi smashing Aravind all over the park. Cuts the ball handsomely.
20:15 IST: Six! Straight bat maximum from Tripathi over long on.
20:13 IST: Four! Back-to-back boundaries for Rahane as well. Milne taken to the cleaners.
20:11 IST: Four! Rahane plays a picture perfect shot to put the ball to the boundary.
20:10 IST: Four! Back to back boundaries for Triptahi. This one on the leg side.
20:09 IST: Four! Tripathi steps down the wicket and fires the ball through the covers. Cracking shot!
20:06 IST: Four! Rahane gets his first of the innings, puts the ball through deep mid wicket.
20:04 IST: Three runs off the first over from Adam Milne.
20:03 IST: Ajinkya Rahane plays his 100th IPL match
Today @ajinkyarahane88 plays his 100th @IPL match!
Congratulations Jinx! #RangWahyJungNayi #RCBvRPS #IPL pic.twitter.com/Nj3MmEPXo6

— RisingPuneSupergiant (@RPSupergiants) April 16, 2017
20:01 IST: Adam Milne is leading the bowling attack for RCB.
20:00 IST: Ajinkya Rahane and Rahul tripathi to get the proceedings started for RPS.
19:57 IST: Playing eleven for Royal Challengers Bangalore.
RCB XI: V Kohli, M Singh, AB de Villiers, K Jadhav, S Watson, S Binny, P Negi, A Milne, S Aravind, Y Chahal, S Badree

— IndianPremierLeague (@IPL) April 16, 2017
19:55 IST: Playing eleven for Rising Pune Supergiant.
RPS XI: A Rahane, R Tripathi, S Smith, B Stokes, M Tiwary, MS Dhoni, D Christian, R Chahar, I Tahir, S Thakur, J Unadkat

— IndianPremierLeague (@IPL) April 16, 2017
19:32 IST: RCB captain Virat Kohli has won the toss and elected to bowl. Both teams desperately need a win today.
19:30 IST: Toss time!!
19:25 IST: Hello and welcome to the live blog of the IPL 2017 encounter between RCB and RPS at the M. Chinnaswamy Stadium in Bengaluru.
While, RPS are bottom of the table, RCB are third from bottom. One of the two sides will return to winning ways after today's match. But who will it be is anyone's guess.
There is nothing the RCB skipper hates more than losing. He was left with little option but to grit his teeth and bear it when Mumbai Indians, in the shape of Kieron Pollard and the Pandya brothers, gave him no chance to reverse his team's slide. But he is determined if nothing else, and for sure he will come good soon.