Story Progress
Back to home
IPL Highlights: Sunrisers Hyderabad Beat Kings XI Punjab by 26 Runs
Punjab lost their way after losing Shaun Marsh in the run-chase as Hyderabad restricted the hosts to a score of 181 for 9 after posting a mammoth total of 207 for 3 in their 20 overs.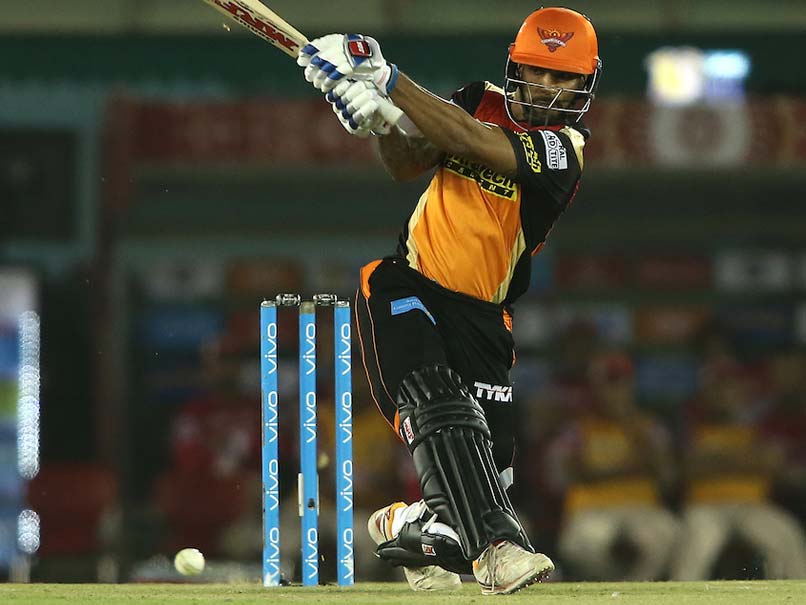 Shiikhar Dhawan took Hyderabad off to a great start by scoring 77 off 48 balls
© BCCI
After posting a mammoth total of 207 for 3 Sunrisers Hyderabad beat Kings XI Punjab comfortably by restricting them to 181 for 9. Shaun Marsh played a brilliant knock as he scored 84 off 50 that kept Punjab in the hunt till the 16th over. Earlier, Shikhar Dhawan and David Warner took their team off to a flier with Kane Williamson coming down the order and playing a brilliant cameo to take their team past the 200-run mark. For Hyderabad, Siddarth Kaul was the pick of the bowlers who returned with figures of 3 for 36 to dent Punjab in the run-chase.   (SCORECARD)
IPL Highlights and updates between KXIP vs SRH straight from Mohali, India.
23:30 IST:Thank You for joining us as we look forward to your company tomorrow.
23:28 IST: Punjab 181 for 9 at the end of 20 overs. Lose by 26 runs.
23:27 IST: Wicket:Nehra gets his third as he takes a wicket off the last ball. Anureet Singh was the last man to get out.
23:26 IST: Wicket:Nehra gets rid of Mohit Sharma. Punjab lose their eighth wicket.
23:19 IST: Four!Full toss around waist height and Anureet puts it away for a boundary.
23:17  IST: Wicket:Patel tries to clear the fence but only finds Warner in the deep. Kaul picks up his third wicket. Punjab lose their seventh wicket.
23:12 IST: Punjab need 50 off 18 balls.
23:11 IST:Two back to back boundaries for Axar Patel. Nehra once again too full.
23:03 IST: Wicket!That is the wicket Hyderabad needed. Marsh goes for another big hit but this time finds the man in the deep. Bhuvneshwar gets the all important breakthrough.
23:01 IST: Four! Little too full from Bhuvneshwar and Marsh is in ominous touch.
22:58 IST: Wicket!Wriddhiman Saha departs in trying to up the ante. Kaul picks up his second wicket.
22:54 IST: Six! Inside out over covers and it goes all the way. Marsh is keeping Punjab in the hunt.
22:53 IST: Four!Marsh is keeping Punjab alive.
22:52 IST: That ends a brilliant spell from Rashid Khan in a high scoring match. Ends with figures of 1 for 16.
22:51 IST: Four!Good hit from Marsh. Picks up another boundary through long on.
22:48 IST: Wicket!You can't keep Rashid Khan out of the game for too long. Morgan tries to clear the mid-wicket fence but only ends up hitting it straight up in the air. Hooda, who dropped Marsh in the last over, takes the catch.
22:46 IST: Four!Another one of Henriques. That went like a bullet. Marsh is looking to take this match away from Hyderabad.
22:45 IST: Four!This time Marsh gets into the act. Finds the gap between long on and mid-wicket. Brings up his 19th fifty in the IPL.
22:44 IST: Six!Morgan goes big and clears the long on fence easily.
22:40 IST: Four! Short from Rashid and Marsh gets it away through point.
22:38 IST:Two back to boundaries for Punjab. Morgan starting to open up.
22:37 IST: Four!Short and wide and Morgan quick to pounce on it.Henriques can't bowl there.
22:36 IST:Excellent over from Rashid Khan. Just one run coming from it. Punjab 76 for 3 in 10 overs.
22:34 IST:A couple of quiet overs for Punjab. This will not help them in their run-chase. Rashid Khan to continue.Morgan 6 off 10 deliveries. Not great going for Punjab.
22:26 IST: After 8 overs Punjab are 70 for 3.
22:19 IST: Four!Talk about timing and there you go. Just a little bit of room outside off-stump and Marsh cuts it through backward point.
22:18 IST:A six followed by a boundary. 16 runs coming of the over and still a ball is to be bowled. Hooda is turning out to be really expensive in his first over.
22:17 IST: Six!Marsh goes for the big one and gets it off the middle of the bat.
22:16 IST:Eoin Morgan is the new batsman. Deepak Hooda comes on to the attack.
22:14 IST: Wicket!Big wicket this for Hyderabad. Maxwell departs without troubling the scorers for a duck. Kaul picks up his first wicket.
22:12  IST: Four!Good short ball from Siddarth Kaul and Marsh gets a top edge. Will get a boundary. Unlucky for the bowler.
22:07 IST: Wicket!Vohra dismissed in trying to go over the top. Nehra strikes for Hyderabad.
22:04 IST: Four!Marsh splits the off-side field to perfection. Nehra again the bowler.
22:04 IST: Punjab 28 for 1 after 3 overs.
22:01 IST:Shaun Marsh is the new batsman.
22:00 IST: Wicket!Guptill has to take the long walk back. Slower ball from Bhuvneshwar and Guptill skies it up to Henriques at covers.
21:58 IST: Four!Second of the over. Guptill is dealing in boundaries at the moment. Nehra is going for plenty. The slower ball didn't work.
21:56 IST: Four!This time Guptill goes through mid-off. Hit extremely hard. Big over this for Punjab. Nehra is turning out to be expensive.
21:56 IST: Six!Short from Nehra and Guptill pulls it away for a maximum.
21:55 IST:Ashish Nehra to share the new ball. Manan Vohra off the mark with a single.
21:54 IST: Four!Straight down the ground and Guptill picks up his second boundary. Punjab 10 for 0 after first over.
21:52 IST: Four!Guptill goes over covers and picks up a boundary. First of the innings.
21:50 IST:Bhuvneshwar Kumar to start the proceedings. Martin Guptill to face the first ball. Manan Vohra is the other opener.
21:49 IST: We are back for the run-chase. Kings XI Punjab have a job in their hands.
21:30 IST: That's it. Hyderabad reach 207 for 3 at the end of 20 overs. This will require some chasing. Will join you guys shortly.
21:28 IST: Williamson brings his fifty in 26 balls.
21:24 IST: Four!Another boundary of the Ishant over. Williamson is playing a brilliant cameo here.
21:23 IST: A six followed by a four.Ishant bowls it wide and Williamson gets it off the toe end of the bat and it races away to the third man boundary.
21:22 IST: Six!Williamson gets down on one knee and smashes it over mid-wicket for a maximum. What a shot!
21:20 IST:Good spell from Maxwell. Ends with figures of 4 for 29.
21:18 IST:Moises Henriques is the next man in for Hyderabad.
21:15 IST: Wicket:Yuvraj looking for the big one, doesn't get it off the middle of the bat and a simple catch for Axar Patel at long on. Hyderabad lose their third wicket.
21:13 IST: Four!Help yourself ball from Cariappa. Full toss and Yuvraj doesn't need a second invitation. 11 coming of his last over.
21:11 IST: Four!Yuvraj drives it straight to the man at deep cover and it goes right through him. Poor fielding.
21:10 IST: Hyderabad 160 for 2 in 16 overs. Yuvraj Singh is the new man at the crease.
21:04 IST: Wicket!One too many for Dhawan. Once again goes for the big one but this time holes out to deep-wicket where Maxwell takes a good catch.
21:03 IST:Short from Mohit and gets the treatment from Dhawan. Add Four more to the total.
21:00 IST: Four!Dhawan goes for the big one and connects well. In the gap and into the fence. Cariappa is going for runs today.
20:54 IST: Six!Short from Axar and Williamson rocks back and smashes it over mid-wicket for a maximum.
20:51 IST: After 12 overs Hyderabad are 120 for 1.
20:49 IST:Kane Williamson is the new man in, replacing Warner.
20:44 IST: Wicket! Warner departs. Looking for the big hit but misses the ball completely. Clean Bowled! Maxwell strikes and Punjab get their first breakthrough.
20:43 IST: Dhawan pushes it for a single and brings up his 27th half-century.
20:42 IST: A missed opportunity. Warner hits it straight to point and sets off for a single. The fielder at point couldn't pick up the ball cleanly. With that single Warner reaches his 35th boundary.
20:41 IST: Four!Short from Anureet and Warner helps himself to a boundary.
20:40 IST: Four!Anureet comes back on and Dhawan brings out the good old Chinese cut into play. Gets a boundary.
20:38 IST: Runs coming thick and fast for the visitors. After 8 overs Hyderabad are 83 for 0.
20:36 IST:Maxwell comes on and Warner greets him by hitting him for a maximum.
20:34 IST: Six!Warner finishes the over in style. That has cleared the fence easily. Not a great start for Cariappa.
20:33 IST: Four!Cariappa drags it down the leg-side and Dhawan paddle sweeps it for a boundary.
20:32 IST:Cariappa to bowl his first over.
20:28 IST: Hyderabad 60 for 0 in 6 overs. Time for a strategic time-out.
20:27 IST:Full toss from Ishant and Dhawan fails to make full use of it. A rare dot ball in this format.
20:23 IST: Six!Two back to back sixes for David Warner. Axar Patel turning out to be expensive in his first over. Already a four and a couple of sixes from this over.
20:21 IST: Four!Axar Patel comes on and the second ball goes for a boundary. Warner is looking dangerous here.
20:19 IST: 11 coming of that Mohit over. Hyderabad 33 for 0 after 4 overs.
20:18 IST: Four!Dhawan gets into the act. Smashes it over mid-wicket.
20:16 IST: Four! Warner goes downtown and gets a boundary. Too full from Mohit Sharma that time.
20:15 IST:Mohit Sharma comes on to the attack.
20:10 IST: Six!Again on the pads and Dhawan quick to pounce on it. Ishant needs to get his line right here.
20:08 IST: Four!Anureet strays down the leg-side and Dhawan helps himself to a boundary.
20:07 IST:So Dhawan gets off the mark with a boundary. First of the match.
20:05 IST: End of the first over. Hyderabad 3 for 0.
19:58 IST: David Warner and Shikhar Dhawan come onto the field. Ishant Sharma will start the proceedings.
19:46 IST:Here is a look at both the teams.
#IPL Match 33: Here are the Playing XIs for @lionsdenkxip & @SunRisers #KXIPvSRH pic.twitter.com/MLi89hdokG

- IndianPremierLeague (@IPL) April 28, 2017
19:42 IST:Punjab win the toss and choose to field. There are 4 changes in their squad while there are two changes in the Sunrisers squad.
19:40 IST: Hello and welcome to the live blog of the match between Kings XI Punjab and Sunrisers Hyderabad from Mohali!
Promoted
Hyderabad have clashed with Punjab at their home ground on one occasion this season in which they secured a five-run win while defending a modest total of 159 runs.
KXIP will take solace in the fact that opener Hashim Amla is in good form and can take the attack to the opposition camp. KXIP scored a near 200 total (198) against the Mumbai Indians with Amla scoring a terrific hundred and skipper Glenn Maxwell also hitting some lusty blows. On the other side, openers David Warner (235 from 7 games) and Shikhar Dhawan (282 from 7 games) have been scoring the bulk of runs for SRH and would look to maintain their form.

Topics mentioned in this article