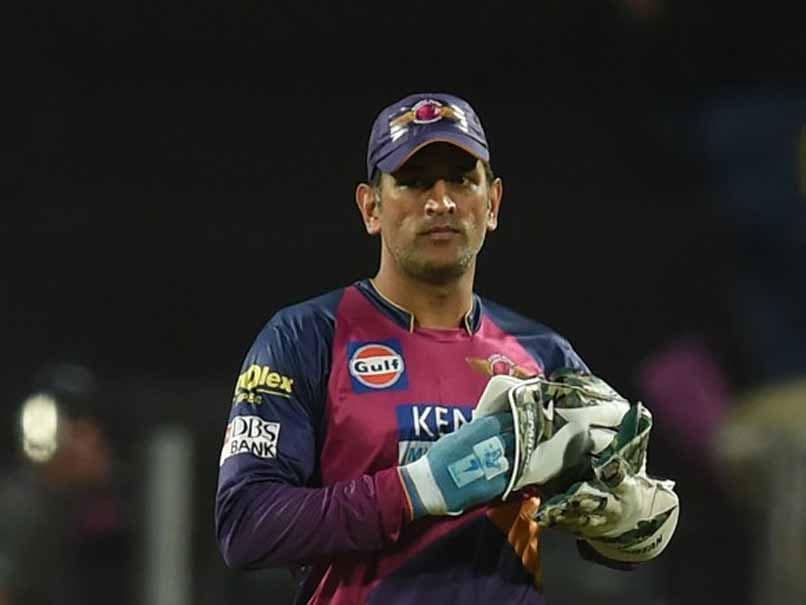 MS Dhoni's brilliance behind the stumps helped send Sunil Narine back in to the hut.
© AFP
Mahendra Singh Dhoni is not just an explosive batsman but also a street-smart wicketkeeper. While the wicketkeeper-batsman does not boast of an ideal technique, he makes up for it with his sheer presence of mind. Dhoni has affected numerous stumpings and run-outs in his unique style. His heroics in the T20 World Cup come to mind when there is a discussion about his role behind the stumps. On Wednesday, the former India captain displayed more brilliance as he ran out Sunil Narine.
In the third over of the Kolkata Knight Riders innings, Rising Pune Supergiant spinner Washington Sundar bowled a delivery on Gautam Gambhir's pads. The left-hander flicked the ball to the fine-leg area and attempted to complete a quick single. Narine, in his new role as an opener, responded to the call.
The fielder, Shardul Thakur, picked up the ball and fired in an underarm throw at the stumps. Dhoni, realizing that there was no time to collect the ball, decided to just deflect it on to the stumps.
The game awareness shown by Dhoni at that crucial moment made sure Narine didn't have enough time to make his ground. The umpire referred the decision to the TV umpires, who watched the replays and promptly sent Narine back to the pavilion.
There was no respite for Pune after Narine's wicket, as Gambhir and Robin Uthappa launched a fierce attack on the bowlers. However, Twitter could not stop talking about Dhoni's genius behind the stumps.
MS Dhoni shows his brilliance to run Sunil Narine out. #RPSvKKR #IPL #IPL2017 pic.twitter.com/mZ8Allz7c0

— CricTracker (@Cricketracker) April 26, 2017
Street Smart #Dhoni showed its class again with that run out... #BornGenuis#RPSvKKR

— harshad (@harshadsolanki) April 26, 2017
Dhoni Delay: The extra time saved by Dhoni when affecting a run out or stumping.

— Clive (@vanillawallah) April 26, 2017
Uthappa abt Dhoni during match presentation #RPSvKKR #SpiritOfCricket pic.twitter.com/cUJh68RpaI

— Samantha Ruth Prabhu (@sreevani95) April 26, 2017
MS Dhoni:

Stumping Specialist..

DRS Specialist..

Runout Specialist..

— Broken Cricket (@BrokenCricket) April 26, 2017
Run outs
Finishing
Stumpings#Dhoni has his own style@yaddymania @BeingKaNTRi @kostha_bidda @Vihu818 pic.twitter.com/LzziuQTkFf

— ???? ???? ????? (@4everNTRfan) April 26, 2017
Uthappa however made a mockery of Pune's bowling attack to anchor Kolkata closer towards a play-off berth with a convincing seven wicket win.
The India discard right-hander struck a match-winning 87 off just 47 balls balls and was ably supported by skipper Gambhir, who made 62 off 46 deliveries, as two-time champions KRR regained their spot in top of the standings with six wins from eight games.
While Uthappa decorated his knock with seven boundaries and six hits over the fence, Gambhir innings was laced with six fours and one six. The duo stitched 158 runs off just 85 balls for the second wicket to help KKR chase down the 183-run target with 11 balls to spare.
(With inputs from PTI)