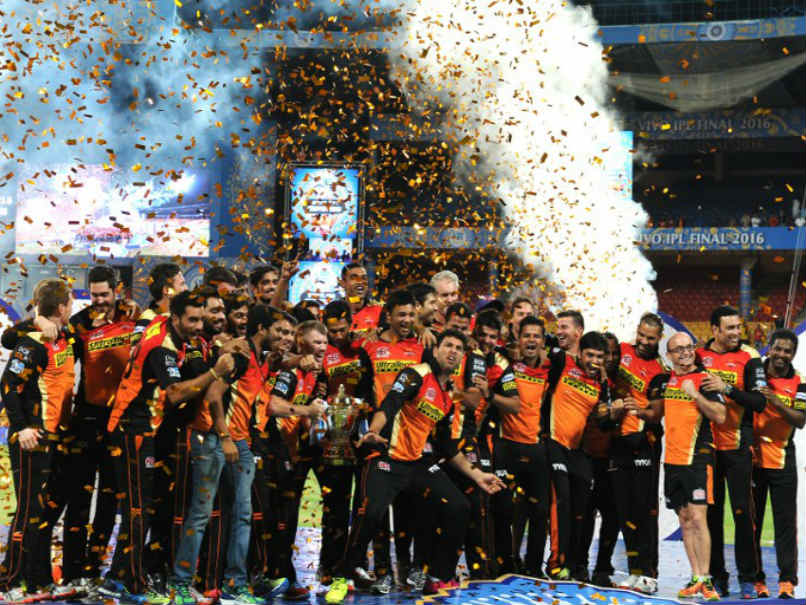 Sunrisers Hyderabad are the defending champions and will kick-off the IPL 2017 proceedings.
© AFP
The Indian Premier League 2017 is right around the corner with the opening match scheduled to be held at the Rajiv Gandhi International Cricket Stadium in Hyderabad on April 5, 2017. The first IPL 2017 match will see defending champions Sunrisers Hyderabad play last year's runners-up Royal Challengers Bangalore. The stadium will also play host to the final of the Twenty20 tournament, on May 21. The tournament will be played spread over 47 days across 10 venues. The schedule has been designed with each team playing 14 matches - seven of them at home venues. The season will also witness IPL returning to Indore for the first time since 2011, the release added.
Here is the full schedule list of IPL 2017 matches.
| | | | |
| --- | --- | --- | --- |
| Date | Matches | Venue | Time |
| 5. Apr. 2017 | Sunrisers Hyderabad VS Royal Challengers Bangalore | Hyderabad | 8:00 PM |
| 6. Apr. 2017 | Rising Pune Supergiant VS Mumbai Indians | Pune | 8:00 PM |
| 7. Apr. 2017 | Gujarat Lions VS Kolkata Knight Riders | Rajkot | 8:00 PM |
| 8. Apr. 2017 | Kings XI Punjab VS Rising Pune Supergiant | Indore | 4:00 PM |
| 8. Apr. 2017 | Royal Challengers Bangalore VS Delhi Daredevils | Bengaluru | 8:00 PM |
| 9. Apr. 2017 | Sunrisers Hyderabad VS Gujarat Lions | Hyderabad | 4:00 PM |
| 9. Apr. 2017 | Mumbai Indians VS Kolkata Knight Riders | Mumbai | 8:00 PM |
| 10. Apr. 2017 | Kings XI Punjab VS Royal Challengers Bangalore | Indore | 8:00 PM |
| 11. Apr. 2017 | Rising Pune Supergiant VS Delhi Daredevils | Pune | 8:00 PM |
| 12. Apr. 2017 | Mumbai Indians VS Sunrisers Hyderabad | Mumbai | 8:00 PM |
| 13. Apr. 2017 | Kolkata Knight Riders VS Kings XI Punjab | Kolkata | 8:00 PM |
| 14. Apr. 2017 | Royal Challengers Bangalore VS Mumbai Indians | Bengaluru | 4:00 PM |
| 14. Apr. 2017 | Gujarat Lions VS Rising Pune Supergiant | Rajkot | 8:00 PM |
| 15. Apr. 2017 | Kolkata Knight Riders VS Sunrisers Hyderabad | Kolkata | 4:00 PM |
| 15. Apr. 2017 | Delhi Daredevils VS Kings XI Punjab | Delhi | 8:00 PM |
| 16. Apr. 2017 | Mumbai Indians VS Gujarat Lions | Mumbai | 4:00 PM |
| 16. Apr. 2017 | Royal Challengers Bangalore VS Rising Pune Supergiant | Bengaluru | 8:00 PM |
| 17. Apr. 2017 | Delhi Daredevils VS Kolkata Knight Riders | Delhi | 4:00 PM |
| 17. Apr. 2017 | Sunrisers Hyderabad VS Kings XI Punjab | Hyderabad | 8:00 PM |
| 18. Apr. 2017 | Gujarat Lions VS Royal Challengers Bangalore | Rajkot | 8:00 PM |
| 19. Apr. 2017 | Sunrisers Hyderabad VS Delhi Daredevils | Hyderabad | 8:00 PM |
| 20. Apr. 2017 | Kings XI Punjab VS Mumbai Indians | Indore | 8:00 PM |
| 21. Apr. 2017 | Kolkata Knight Riders VS Gujarat Lions | Kolkata | 8:00 PM |
| 22. Apr. 2017 | Delhi Daredevils VS Mumbai Indians | Delhi | 4:00 PM |
| 22. Apr. 2017 | Rising Pune Supergiant VS Sunrisers Hyderabad | Pune | 8:00 PM |
| 23. Apr. 2017 | Gujarat Lions VS Kings XI Punjab | Rajkot | 4:00 PM |
| 23. Apr. 2017 | Kolkata Knight Riders VS Royal Challengers Bangalore | Kolkata | 8:00 PM |
| 24. Apr. 2017 | Mumbai Indians VS Rising Pune Supergiant | Mumbai | 8:00 PM |
| 25. Apr. 2017 | Royal Challengers Bangalore VS Sunrisers Hyderabad | Bengaluru | 8:00 PM |
| 26. Apr. 2017 | Rising Pune Supergiant VS Kolkata Knight Riders | Pune | 8:00 PM |
| 27. Apr. 2017 | Royal Challengers Bangalore VS Gujarat Lions | Bengaluru | 8:00 PM |
| 28. Apr. 2017 | Kolkata Knight Riders VS Delhi Daredevils | Kolkata | 4:00 PM |
| 28. Apr. 2017 | Kings XI Punjab VS Sunrisers Hyderabad | Mohali | 8:00 PM |
| 29. Apr. 2017 | Rising Pune Supergiant VS Royal Challengers Bangalore | Pune | 4:00 PM |
| 29. Apr. 2017 | Gujarat Lions VS Mumbai Indians | Rajkot | 8:00 PM |
| 30. Apr. 2017 | Kings XI Punjab VS Delhi Daredevils | Mohali | 4:00 PM |
| 30. Apr. 2017 | Sunrisers Hyderabad VS Kolkata Knight Riders | Hyderabad | 8:00 PM |
| 1. May. 2017 | Mumbai Indians VS Royal Challengers Bangalore | Mumbai | 4:00 PM |
| 1. May. 2017 | Rising Pune Supergiant VS Gujarat Lions | Pune | 8:00 PM |
| 2. May. 2017 | Delhi Daredevils VS Sunrisers Hyderabad | Delhi | 8:00 PM |
| 3. May. 2017 | Kolkata Knight Riders VS Rising Pune Supergiant | Kolkata | 8:00 PM |
| 4. May. 2017 | Delhi Daredevils VS Gujarat Lions | Delhi | 8:00 PM |
| 5. May. 2017 | Royal Challengers Bangalore VS Kings XI Punjab | Bengaluru | 8:00 PM |
| 6. May. 2017 | Sunrisers Hyderabad VS Rising Pune Supergiant | Hyderabad | 4:00 PM |
| 6. May. 2017 | Mumbai Indians VS Delhi Daredevils | Mumbai | 8:00 PM |
| 7. May. 2017 | Royal Challengers Bangalore VS Kolkata Knight Riders | Bengaluru | 4:00 PM |
| 7. May. 2017 | Kings XI Punjab VS Gujarat Lions | Mohali | 8:00 PM |
| 8. May. 2017 | Sunrisers Hyderabad VS Mumbai Indians | Hyderabad | 8:00 PM |
| 9. May. 2017 | Kings XI Punjab VS Kolkata Knight Riders | Mohali | 8:00 PM |
| 10. May. 2017 | Gujarat Lions VS Delhi Daredevils | Kanpur | 8:00 PM |
| 11. May. 2017 | Mumbai Indians VS Kings XI Punjab | Mumbai | 8:00 PM |
| 12. May. 2017 | Delhi Daredevils VS Rising Pune Supergiant | Delhi | 8:00 PM |
| 13. May. 2017 | Gujarat Lions VS Sunrisers Hyderabad | Kanpur | 4:00 PM |
| 13. May. 2017 | Kolkata Knight Riders VS Mumbai Indians | Kolkata | 8:00 PM |
| 14. May. 2017 | Rising Pune Supergiant VS Kings XI Punjab | Pune | 4:00 PM |
| 14. May. 2017 | Delhi Daredevils VS Royal Challengers Bangalore | Delhi | 8:00 PM |
| 16. May. 2017 | TBD | Mumbai | 8:00 PM |
| 17. May. 2017 | TBD | Bengaluru | 8:00 PM |
| 19. May. 2017 | TBD | Bengaluru | 8:00 PM |
| 21. May. 2017 | TBD | Hyderabad | 8:00 PM |