Story Progress
Back to home
India vs Sri Lanka Live Score, Over 16 to 20 Latest Cricket Score, Updates
Live Updates of Today Match between India vs Sri Lanka from Maharashtra Cricket Association Stadium, Pune. Check commentary and full scoreboard of the match.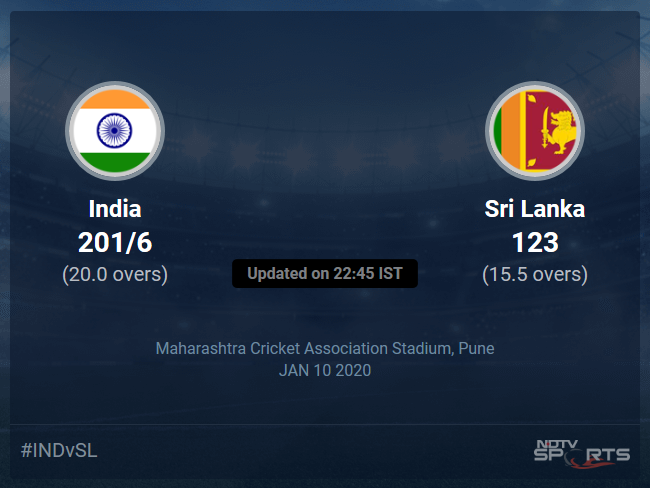 IND vs SL Latest Score
A dedicated team of experts bring you live score, live cricket score, live match update on Sports.NDTV.com. After 15.5 overs, Sri Lanka, chasing a target of 202, are 123. The live updates of India vs Sri Lanka scorecard is also available. It is the perfect platform to follow your favourite teams in India vs Sri Lanka, 2019/20. Keep a track on your favourite batsmen and bowlers through India vs Sri Lanka, 2019/20 today match, ball by ball commentary, India vs Sri Lanka, India vs Sri Lanka live score, India vs Sri Lanka scorecard. Follow the excitement of the India vs Sri Lanka, 2019/20 on Sports.NDTV.com as you can follow live match updates and live cricket score through our platform.
So that is it from this game and series. It was as one-sided as it could be. India have started the year and decade in a dominant fashion. Tougher test awaits the Men in Blue as they welcome Australia for 3 ODIs. Sri Lanka will look to put this tour behind them and now go to Zimbabwe for two Test series starting from 19th January. The first ODI between India and Australia starts on 14th January. That game begins at 1330 local (0800 GMT). Join us for that one till then, goodbye!
Man of the Series, Navdeep Saini, says he is getting better with every game he plays and the other bowlers also help him learn more. States he has always bowled fast and he works hard to keep that skill by gyming and maintaining a diet. Ends by saying he use to play with the tennis ball before and he recently started playing with the rubber ball.
Man of the Match, Shardul Thakur, says he believes he has the ability with the bat and his contribution could be crucial for the team. Mentions he is a better outswinger and he always looks to swing the ball. States his team has been really helpful and he does not feel left out and they all are united. Ends by saying he starts preparing himself even before he goes out to bat and that helps him not to play under pressure.
Sri Lankan skipper, Lasith Malinga, says they bowled fine till the 15th over but once the dew came into play, it got difficult. Further adds they did not start well with the bat but Angelo and Dhananjaya did well but it was too late by then. States they need to handle situations better and that is something they will learn. Mentions they do not have a lot of time to change the squad as the World Cup is not far away so they need to learn quickly. Ends by saying the world is using the wrist spinners as a wicket-taking options and they have a few and they want to finalize who will be their spinners in the World Cup.
One of the stars with the bat for India tonight, Manish Pandey, is caught down for a quick chat with Sanjay Manjerekar. Manish Pandey says a comeback was always on the back of his head, he got a chance today and he is happy he could forge a good stand with Shardul and he would continue to push hard and put in efforts. States that he has been batting well in the domestic circuit and that is what was in the back of his head and he had to deliver today and he did so. Ends by saying he keeps working on his skills and on different shots and such situations does arrive where you will need to execute those skills.
Earlier in the evening, after being put into bat, India posted a huge total of 201 which was too hot to handle for the tourists. Fifties from Dhawan and Rahul along with cameos from Manish Pandey and Shardul Thakur saw the hosts reach this giant total. Only Lakshan Sandakan had something to smile about as he picked up 3/35 from his 4.
India were commendable with the ball. They repeated their super showing with the bat, with the ball as well. The pace trio of Navdeep, Shardul and Bumrah was too hot to handle for the tourists. The trio picked up 3, 2 and 1 wicket respectively. Sundar and Chahal had a tough day but the former did manage to get two wickets and must see this as a one-off. All-in-all it was a very good effort from the bowlers.
If the match in Indore was one-sided then we don't know what to call this one. It has been a no-show from Sri Lanka. They have had a torrid time in India and they would look to forget this tour and game as quickly as possible. Chasing a huge target of 202, one needs contribution from majority of the batters but only two players got into double figures and that says enough about the chase. Nothing much to talk about, the only positive for the Lankan Lions was Angelo Mathews' solid batting on his comeback and a fifty from Dhananjaya de Silva. No other batter managed to even score 10 runs.
15.5 overs (0 Run) OUT! Saini picks the last wicket! INDIA WIN THE GAME AND THE SERIES! A short one and on middle, Malinga looks to flat-bat it over mid off but fails to get any timing on it. It lobs towards mid off where Kohli takes it. THE HOSTS WIN BY 78 RUNS!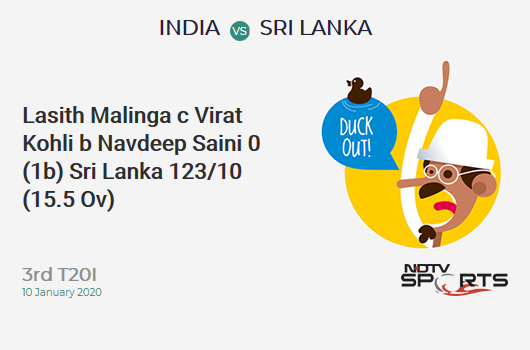 15.4 overs (1 Run) A full toss around off, Kumara opens the face of the bat and guides it down to third man for one.
The last man in is Lahiru Kumara!
15.3 overs (0 Run) OUT! TAKEN! Saini gets another and the last recognized batter is out of here. Shorter and outside off, Dhananjaya looks to cut but ends up hitting it uppishly towards third man where Bumrah takes a simple catch.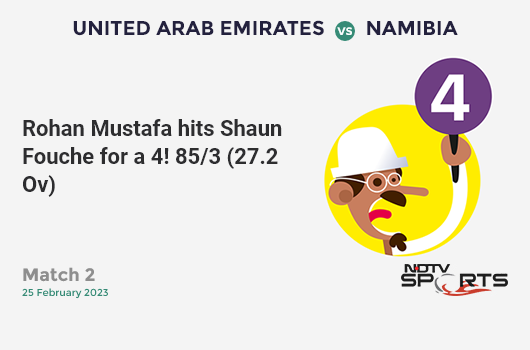 15.2 overs (4 Runs) FOUR! Dhananjaya de Silva shuffles right across and Saini bowls it full. He flicks it through square leg and bags a boundary.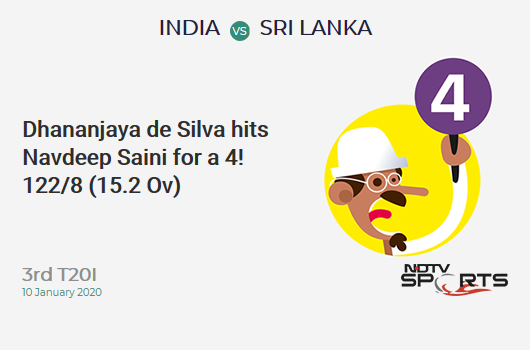 15.1 overs (0 Run) On the shorter side and around off, Dhananjaya pulls but to the fielder at mid-wicket.
Match Reports
Topics mentioned in this article