Story Progress
Back to home
India vs Sri Lanka Live Score, Over 1 to 5 Latest Cricket Score, Updates
Live Updates of Today Match between India vs Sri Lanka from Maharashtra Cricket Association Stadium, Pune. Check commentary and full scoreboard of the match.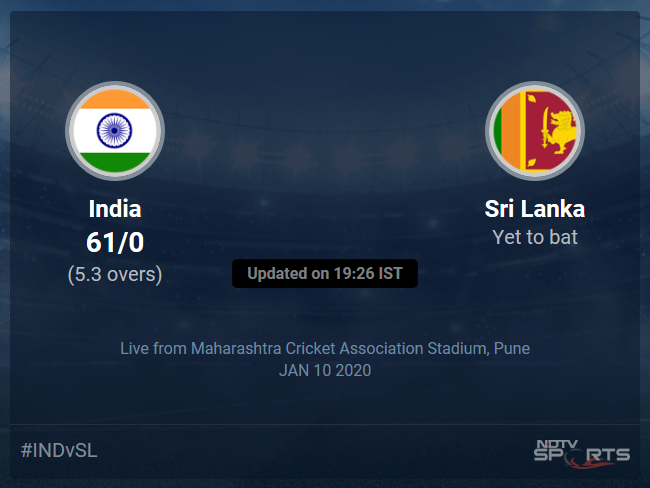 IND vs SL Latest Score
A dedicated team of experts bring you live score, live cricket score, live match update on Sports.NDTV.com. After 5.3 overs, India are 61/0. The live updates of India vs Sri Lanka scorecard is also available. It is the perfect platform to follow your favourite teams in India vs Sri Lanka, 2019/20. Keep a track on your favourite batsmen and bowlers through India vs Sri Lanka, 2019/20 today match, ball by ball commentary, India vs Sri Lanka, India vs Sri Lanka live score, India vs Sri Lanka scorecard. Follow the excitement of the India vs Sri Lanka, 2019/20 on Sports.NDTV.com as you can follow live match updates and live cricket score through our platform.
4.6 overs (4 Runs) FOUR! Dhawan knew it was a boundary the moment the ball went past the fielder. Brings the 50-run stand in style and quick time. Full on off, Dhawan whips it through wide of mid on, showing great wrist work. The fielder at mid on runs behind it but just to get the ball back in play.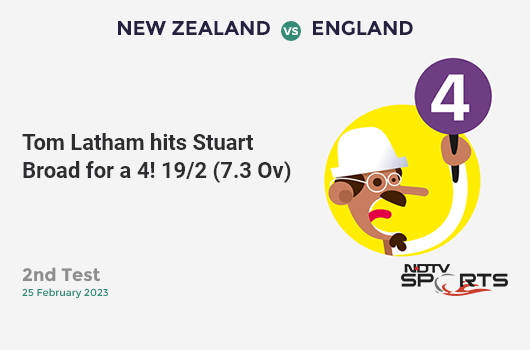 4.5 overs (1 Run) Comes around the wicket and hits the length hard outside off, Rahul punches it towards sweeper cover for one.
4.4 overs (1 Run) Follows the edgy boundary with a single towards point.
4.3 overs (4 Runs) EDGED AND FOUR! Malinga comes around the wicket and bowls it fuller outside off. It comes with the angle, Dhawan looks to drive it against it through covers but ends up getting a thick outside edge which flies through the vacant slip cordon for a boundary. Perera does not dive and maybe had he tried he could have had a chance.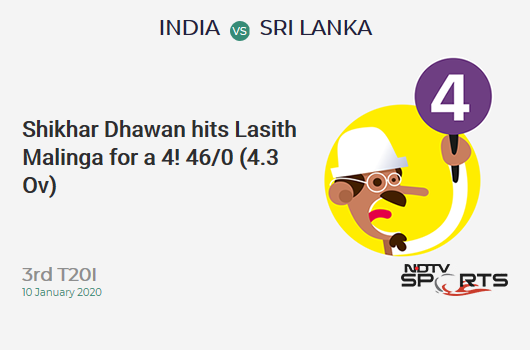 4.2 overs (1 Run) Once again Malinga strays it on his pads, Rahul glances it towards deep mid-wicket for a single this time.
4.1 overs (2 Runs) On the pads, Rahul turns it to the on side and gets a couple.
3.6 overs (1 Run) Very full and on off, Rahul james it out towards mid off for one. 13 from this over, India are off to a flier here.
3.5 overs (6 Runs) SIX! A gift to Rahul and he dispatches it! A full toss on the pads, Rahul slog sweeps it over the backward square leg fence and it goes all the way. First of the game.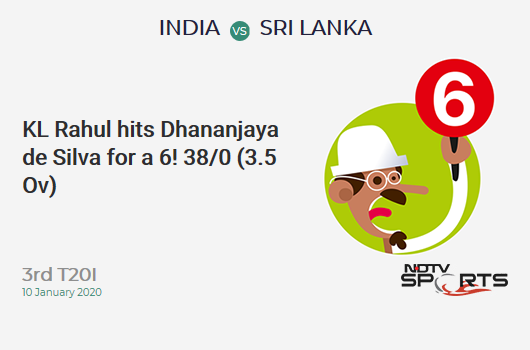 3.4 overs (0 Run) Flatter and on off, Rahul pushes it to covers.
3.3 overs (1 Run) Sensible batting! A boundary followed by a single down to long off.
3.2 overs (4 Runs) FOUR! One bounce over the fence! This is floated outside off, Dhawan stays leg side and manages to drag it over the mid on fielder and bags a boundary.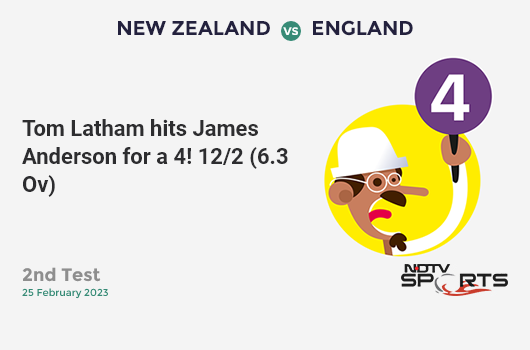 3.1 overs (1 Run) On middle, it is worked with the turn down to long on for one.
Dhananjaya de Silva is on!
2.6 overs (1 Run) One more good slower one on middle, it is worked through mid-wicket for one. Just the 4 runs in the over, a much-needed tight one by Malinga.
2.5 overs (1 Run) Another swing and a miss! It starts outside off and tails back in a long way. Dhawan comes down the track and looks to whip it but misses. It hits the pads and rolls towards third man. A single taken. Leg bye taken.
2.4 overs (0 Run) That is a lovely delivery! It is a yorker, it seams in from outside off. Dhawan does well to jam it out in the end towards mid on.
2.3 overs (1 Run) One more slower ball and on middle, Rahul works it through square leg and gets to the other end.
2.2 overs (1 Run) A slower one on middle, Dhawan works it with soft hands through square leg for one.
2.1 overs (0 Run) Dhawan misses out there! It is full and on the pads, SD looks to flick but misses.
1.6 overs (4 Runs) FOUR! Almost an action replay of the last ball! Similar delivery, fuller and around off, Rahul once again plants his front foot forward and strokes it through covers. The fielder there dives to his left and gets a hand to it but can't stop it. An expensive start by Mathews. He could have easily had a wicket but instead goes for 13.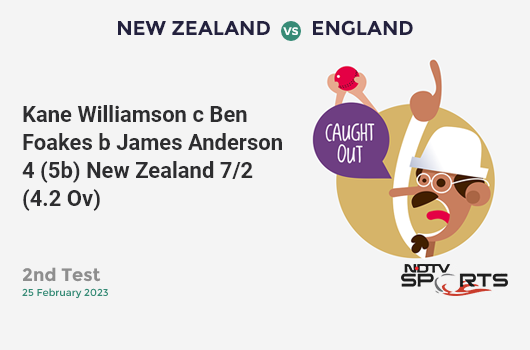 1.5 overs (4 Runs) FOUR! Stunning! Rahul playing the cover-drive is a sight to watch. It is fuller and around off, Rahul leans into the stroke, transfers his weight onto the front foot and creams it past the cover fielder for a boundary.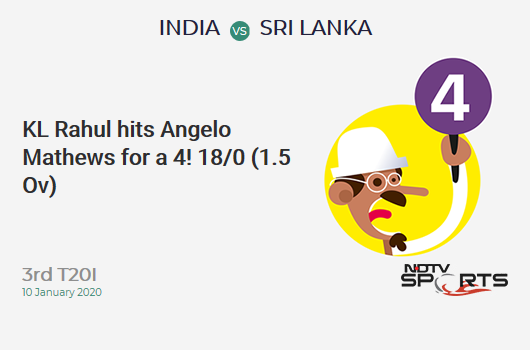 1.4 overs (1 Run) Length and outside off, this is guided down to third man for one.
1.3 overs (4 Runs) DROPPED AND FOUR! Through the hands of Dasun! He was well ahead of the ropes. Had he been behind, it would have been an easy catch. Full and on the pads, Dhawan flicks it uppishly towards square leg. Shanaka runs to his left, leaps and tries to catch but the ball bursts through his hands and goes behind for a boundary. Mathews is not happy and rightly so. This could be a big let off.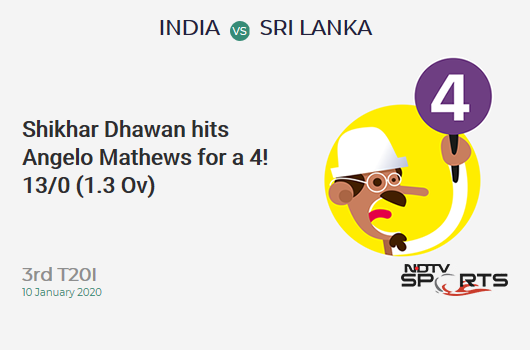 1.2 overs (0 Run) Good shot but for no runs! Dhawan uses his feet and creams it right off the middle but straight to mid off.
1.1 overs (0 Run) Right on the money to begin with! On a length and around off, Dhawan pushes it to mid off.
The returning Angelo Mathews to partner his skipper first up with the new ball. He has not played a T20I for a long time and it will be interesting to see how quickly he adapts to the pace of the game.
0.6 over (4 Runs) FOUR! A delightful shot to end the first over! A good one for India, 9 from it. It is slightly short and shaping away from Rahul. He goes back and just uses the pace of the bowler. Plays it nice and late and guides it past the diving point fielder and into the fence.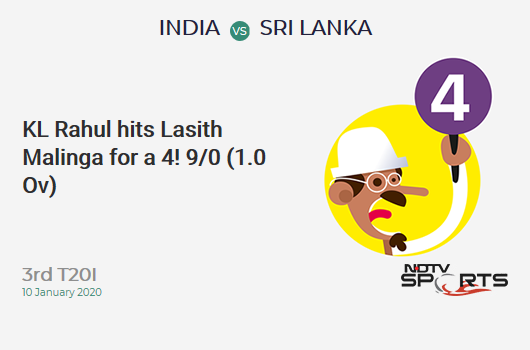 0.5 over (1 Run) Well bowled but good running! This starts outside off and then tails back in. Dhawan looks to defend but gets an inside edge onto the body. It rolls beside the pitch and a quick single is taken.
0.4 over (1 Run) One more single! Rahul works this through square leg and takes one.
0.3 over (0 Run) On the shorter side around off, Rahul hops and cuts it towards point. It is to the right of the fielder who dives and gets a hand to it. The fielder at cover-point picks the ball up and has a shy at the non-striker's end but misses.
0.3 over (2 Runs) Wide and a run! That is a wayward delivery by Malinga! Dhawan comes down the track to negotiate the swing Malinga is getting. He though starts this around leg, it swings away further. Dhawan misses the flick. Perera only gets a glove to it. It goes towards fine leg for one run.
0.2 over (1 Run) India are underway! This is shorter and on the body, Rahul flicks it by hopping. It goes uppishly but lands well short of Sandakan at short fine leg. He stops it awkwardly. A single is taken.
0.1 over (0 Run) Good movement first up for Malinga! It is on a length and it starts on middle, shapes away a touch. Rahul defends it towards point. Rahul played it nicely with the movement.
We are all set to begin! The Sri Lankan players walk out to the field and take their respective positions. Shikhar Dhawan and KL Rahul stride out to open the innings for India. Skipper, Lasith Malinga to start the proceedings with the new ball.
India Playing XI - KL Rahul, Shikhar Dhawan, Shreyas Iyer, Virat Kohli (C), Manish Pandey (IN FOR DUBE), Sanju Samson (WK) (IN FOR PANT), Washington Sundar, Shardul Thakur, Navdeep Saini, Jasprit Bumrah, Yuzvendra Chahal (IN FOR KULDEEP).
Sri Lanka Playing XI - Danushka Gunathilaka, Avishka Fernando, Kusal Perera (WK), Oshada Fernando, Angelo Mathews (IN FOR RAJAPAKSA), Dhananjaya de Silva, Dasun Shanaka, Lakshan Sandakan (IN FOR UDANA), Wanindu Hasaranga, Lasith Malinga (C), Lahiru Kumara.
Indian skipper, Virat Kohli, says they wanted to bat first as they wanted to do something different so the toss was irrelevant for them. States batting first is something they want to do a lot more as they want to be more balanced. States the trend is going towards that team wanting to chase and you can't go into the game thinking you will only play well if you get to chase so they need to be good batting first as well. Informs they have three changes, Kuldeep, Pant and Dube are replaced by Chahal, Samson and Pandey.
Sri Lankan skipper, Lasith Malinga, says there will be dew in the second half and that is why they want to bowl first. Further adds they will try and restrict India to a low total and then chase it down. States they need the top order to fire and play a long innings, they also need to build partnership and they need to do it today. Informs Angelo Mathews and Sandakan come in for Udana and Bhanuka Rajapaksa.
TOSS - We are all in readiness for the toss. Indian skipper, Virat Kohli has the coin in hand. Up it goes and Sri Lankan skipper, Lasith Malinga calls Tails and it comes down in his favour. SRI LANKA OPT TO BOWL!
PITCH REPORT - Murali Kartik and Sunil Gavaskar are down for the pitch report. Gavaskar says it is a 'vada' looking pitch. Explains there is a bit of grass but the ball will come onto the bat nicely. Adds that the pacers can trouble at the start if they hit the deck hard. Gavaskar says the trend to bowl first will continue but Sunil says that there is a possibility India can experiment by batting first as they cannot lose the series. Tells they are high on confidence and that can be a reason why they will be open to experiment.
Rain played spoilsport in the first T20I in Guwahati, India decimated Sri Lanka in Indore, will the Men in Blue seal the year's first series at Pune? The hosts look too good in all departments against their counterpart and are well on course to start the T20 World Cup year on a positive note. Sri Lanka have a nag of upsetting when the odds are stacked against them. Malinga will hope for a better showing from his troops and put out a big statement. Can the Lankan Lions roar back or will the Indian juggernaut steamroll the visitors?
Topics mentioned in this article