Story Progress
Back to home
India vs South Africa Live Score Ball by Ball, India vs South Africa 2022 Live Cricket Score Of Today's Match on NDTV Sports
Live Updates of Today Match between India vs South Africa from M.Chinnaswamy Stadium, Bengaluru. Check commentary and full scoreboard of the match.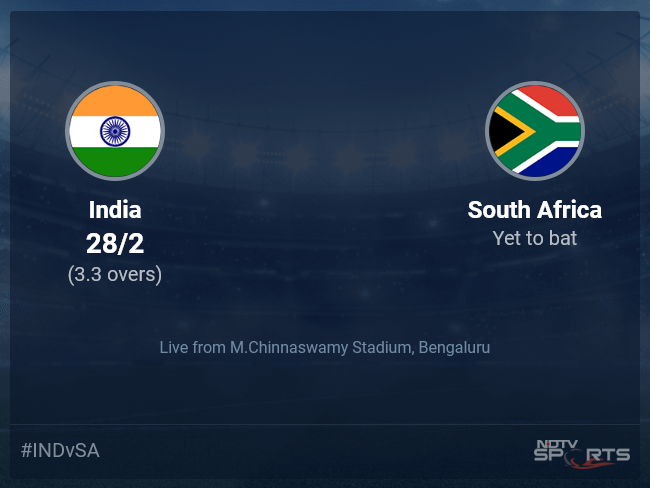 SA vs IND Latest Score
Follow the India vs South Africa 2022 live cricket score on Sports.NDTV.com. After 3.3 overs, India are 28/2. Get live score, ball by ball commentary and much more. Keep track of India vs South Africa 2022 today match between India and South Africa. Everything related to India and South Africa match will be available on Sports.NDTV.com. Stay updated with India vs South Africa live score. Do check for India vs South Africa scorecard. You can get scorecard updates, match related facts. Get quick live updates with ads, Sports.NDTV.com, which is the perfect destination for live cricket score.
Right then, the five-match T20I series between India and South Africa comes to an end and the trophy will be shared. Not much to talk about the deciding game as almost all of it was ruined by rain. Talking about the series though, South Africa started on a roll winning the first two games and the standout performers for them were David Miller, Rassie van der Dussen and Heinrich Klaasen. India then made a roaring comeback, winning the next couple of games with ease and Bhuvneshwar Kumar was someone who remained consistent throughout for the hosts. Apart from him, the likes of Hardik Pandya, Ishan Kishan, Dinesh Karthik, Yuzvendra Chahal and Avesh Khan all provided at least one strong performance. Both teams will now look forward to their next series with the T20 World Cup looming large on the horizon. India next travel to the United Kingdom to play Ireland in a couple of T20Is starting 26th June. South Africa, on the other hand, have a full-fledged tour of England coming up in mid-July. That is it from our coverage of this series but there's a lot of cricketing action going on across the globe. Until next time then. Cheers!
Bhuvneshwar Kumar has been adjudged as the PLAYER OF THE SERIES!
UPDATE - 9.44 pm IST (4.14 pm GMT) - The news from the ground is that the MATCH HAS BEEN ABANDONED DUE TO RAIN!!! A bit of an anti-climatic end to a really well-contested series that now ends in a 2-2 draw. Also, South Africa remain unbeaten in a white-ball series on Indian soil since 2011.
UPDATE - 9.28 pm IST (3.58 pm GMT) - The umpires are out in the middle to have a look at the conditions and there's still a light drizzle. They mention that the game cannot start with an ongoing drizzle and it will take about half an hour to get the outfield ready for play. The cut-off time for play to start is 10.02 pm IST (4.32 pm GMT). Stay tuned for an official word from the ground.
While the wait for the rain to stop continues, you can switch tabs to keep an eye on a couple of other international games going on. In the third ODI between Sri Lanka and Australia, Sri Lanka are currently cruising along in their quest to chase down 292 runs. Also, in the second ODI between Netherlands and England, England seem to be on course for another straightforward victory.
UPDATE 9 pm IST (3.30 pm GMT) - It continues to pour in Bengaluru. The covers are still out there. It's not a great sight for any cricket fans and the waiting game continues. The cut-off time for a 5-overs game is 10.12 pm IST (4.42 pm GMT).
UPDATE 2027 IST (1457 GMT) - The scenes from the ground depict that the rain is persistent. Overs are being lost every minute and we might have a highly-reduced game, if at all. Fingers crossed the rain will stop soon.
UPDATE 2007 IST (1437 GMT) - Well, the umpires don't continue for long. The covers are called onto the field as the players walk out off. Hopefully, it is just a passing shower and doesn't take long to get back in action. Stay tuned for further updates...
3.3 overs (1 Run) Off the mark straightaway. Length, around leg, Rishabh Pant tucks it away in front of square on the leg side for one. Oh, no! The drizzle has become stronger and the players might just come off here.
Who will walk out now? It is Rishabh Pant that comes in at number 4. Along with him, the rain gods make a visit yet again, although the umpires decide to continues with the game.
3.2 overs (0 Run) OUT! CAUGHT! Lungi Ngidi with the double strike and he is all pumped up. This is pitched up on off, Ruturaj Gaikwad tries to take it on but goes a bit too hard at it. The ball goes off the toe end of the bat and is lofted just over mid on. Dwaine Pretorius takes a few steps backwards and pouches it safely. Two down now India and the scoring rate starting to come down as well. With that wicket, the drizzle is back too.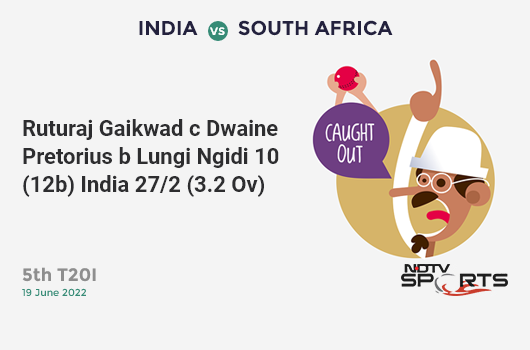 3.1 overs (2 Runs) In the air...but clears the infield. Length ball, outside off. Ruturaj Gaikwad steps out and carves it over the man at backward point for a couple of runs.
2.6 overs (0 Run) Pitches it up this time, around off. Shreyas Iyer drives it off the front foot but straight towards mid off.
2.5 overs (1 Run) Around the top of off, Gaikwad hangs back and steers it behind point for a single.
2.4 overs (4 Runs) FOUR! Just short of a length, on middle. Gaikwad picks up the length early and pulls it over mid-wicket for a boundary.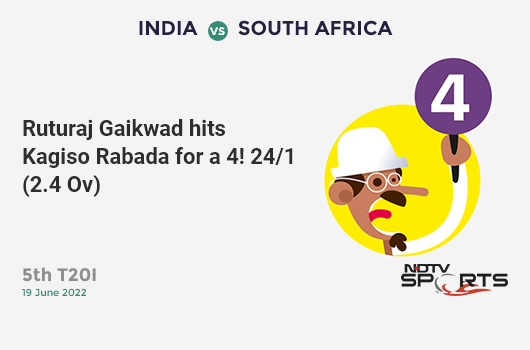 2.3 overs (0 Run) Oh, how close was that? Top delivery from Kagiso Rabada, on a perfect length, on off and just nipping back in off the surface. Gaikwad looks to loft it over mid on from deep inside the crease but gets beaten on the inside edge as the ball goes a couple of inches over the middle stump.
2.2 overs (0 Run) On a good length, over middle this time. Ruturaj Gaikwad stays inside the crease and works it towards square leg.
2.1 overs (0 Run) Rabada starts off with a good length ball around off. Gaikwad pushes it off the back foot towards mid on.
Shreyas Iyer comes to the crease now for India. Meanwhile, Kagiso Rabada gets ready for his first spell.
1.6 overs (0 Run) OUT! KNOCKED HIM OVER! Gem of a delivery from Lungi Ngidi and he has sent the dangerman back to the pavilion. Ngidi comes from around the wicket and serves it very full, angling into off. Ishan Kishan looks to drive but there is absolutely no pace on the ball. Kishan is beaten all ends up and plays all around it. The ball sneaks beneath the willow and crashes into off stump. South Africa have the early breakthrough!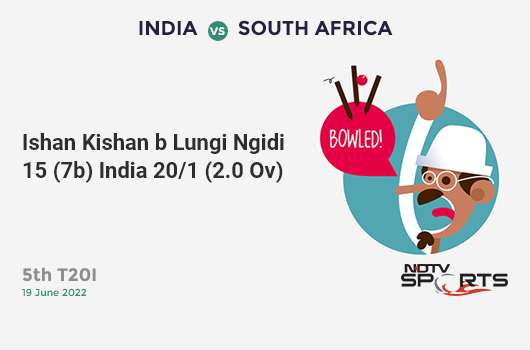 1.6 overs (1 Run) WIDE! Swing and a miss! Good length, down the leg side, Kishan looks to pull it behind square but misses. A wide is called.
1.5 overs (1 Run) Another slower delivery, around middle and leg. Gaikwad nudges it towards square leg and picks up an easy single.
1.4 overs (0 Run) Nice change up from Ngidi. Just rolls the fingers over the ball and delivers it full and wide. Gaikwad looks to cover drive but is undone by the lack of pace.
1.3 overs (1 Run) Leg bye! This is angled onto the pads, Kishan looks to tuck it away off his hips. Kishan misses and the ball goes off the thigh pad towards short fine leg. the batters get a leg bye.
1.2 overs (1 Run) Gets a hand on it and saves a boundary. Length ball, around off, Ruturaj Gaikwad gets a good stride forward and taps it to the right of cover-point where Rassie van der Dussen makes half a stop. Single taken.
1.1 overs (0 Run) Nice shape first up from Lungi Ngidi. This is fuller and on off, just shaping away from the right-hander. Gaikwad watchfully keeps it out.
Lungi Ngidi to share the new ball.
0.6 over (1 Run) A single to end and 16 runs come off the first over. Flatter and on middle, keeping a touch low. Ruturaj Gaikwad just eases it towards mid-wicket for a single.
0.5 over (1 Run) Keshav Maharaj gets away with that one. On a shorter length and on off. Kishan pulls it towards deep mid-wicket for just a single this time.
0.4 over (2 Runs) Maharaj goes quicker and flatter outside off, Kishan slaps it past point and picks up a couple of runs.
0.3 over (6 Runs) SIX! And again! This is pushed just a bit wider and Ishan Kishan fetches this one to muscle it over the mid-wicket fence for yet another maximum.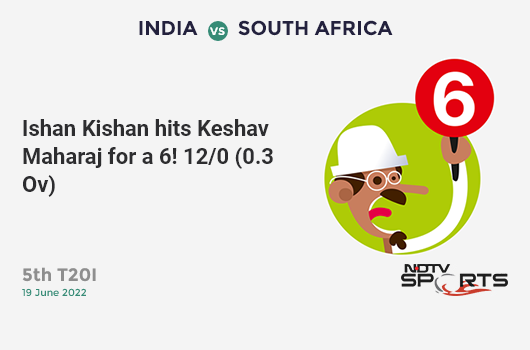 0.2 over (6 Runs) SIX! BANG! Ishan Kishan and India are underway in style. In the slot and on off, Kishan gets low and slogs it away over the cow corner fence for a biggie.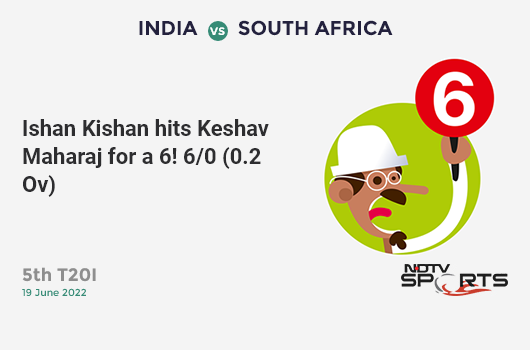 0.1 over (0 Run) Starts off with a flighted ball, on a length and around off. Ishan Kishan just eases it towards cover-point.
Well then, the rain has passed by and it is time for some action. The South African players stride out to the middle. Followed by Ishan Kishan and Ruturaj Gaikwad who will open for the hosts. It is Keshav Maharaj to start with the new ball.
UPDATE - The play will start at 1950 IST (1420 GMT). The atmosphere has cooled down and we have only lost a single over as the showers mark their exit. Stay tuned, not long before we get going.
UPDATE 7.17 pm IST (1.47 pm GMT) - Well, well, the rain seems to have completely stopped now and the covers are coming off. We are now waiting for an official update regarding the ground conditions. The start shouldn't be that far away now.
UPDATE 7.12 pm IST (1.42 pm GMT) - We are hearing that the rain has reduced considerably. The heavy showers though would have taken a huge toll on the ground but the drainage system at the stadium is one of the very best in the world. Stay tuned for further updates.
The game is set to begin although, some dark clouds are hovering around. Let's hope the rain gods show some mercy. Right then, the South African players take the field. Followed by Ruturaj Gaikwad and Ishan Kishan who walk out to open for India. Well, the rains start to come down and the ground staff sprints on the field. The covers are coming on. Well, we might've to wait a bit longer as the rain is coming down a lot more heavily...
Rahul Dravid, the Head Coach of India is in for a chat. He says his journey has been quite exciting. Mentions that he had to work with six captains over the past which was not his plan at all. It has been challennging but great fun as well. Adds as a group they are working really well and been able to try out different combinations. Adds, a lot of more youngsters got to showcase their skills and lot of them made goods. Ends by saying these are absolutely good signs for India Cricket.
Rishabh Pant, the captain of India is in for a chat. He says he has tried practicing the toss but it is certainly not helping him at all. Mentions it looks like a good wicket and the team would aim to score anywhere near 180. Adds that the team seems to be confident. Ends by saying they are coming in with the same side.
Keshav Maharaj, the skipper of South Africa, says they will have a bowl first. Mentions that the conditions might help the seamers early on and it might get easier for batting later on. Informs that Temba is missing out but there are a few other changes, so they have an extra batter tonight. Adds that they would like to bowl on a good line and length and hope to restrict the opposition to a decent score.
India (Unchanged Playing XI) - Ruturaj Gaikwad, Ishan Kishan, Shreyas Iyer, Rishabh Pant (C) (WK), Hardik Pandya, Dinesh Karthik, Axar Patel, Harshal Patel, Bhuvneshwar Kumar, Avesh Khan, Yuzvendra Chahal.
South Africa (Playing XI) - Quinton de Kock (WK), Reeza Hendricks (In for Temba Bavuma), Rassie van der Dussen, Heinrich Klaasen, David Miller, Tristan Stubbs (In for Marco Jansen), Dwaine Pretorius, Keshav Maharaj (C), Anrich Nortje, Kagiso Rabada (In for Tabraiz Shamsi), Lungi Ngidi.
TOSS - The coin goes up and lands in favour of South Africa. They have opted to FIELD first.
PITCH REPORT - Deep Dasgupta is pitchside to take us through the wicket. He says that the venue has been a nightmare for the bowlers and the dimensions play a huge role in that. Adds that the pitch is nice and firm with good carry but currently there are a few cracks and the smaller cracks are a bit wobbly which might help the spinners as well. Mentions that it has been mostly overcast over the last few days and hence chances of dew are very less. The sides have generally opted to chase here and the same should follow tonight as well.
Topics mentioned in this article