Story Progress
Back to home
India vs South Africa: India vs South Africa 2022 Live Cricket Score, Live Score Of Today's Match on NDTV Sports
Live Updates of Today Match between India vs South Africa from Saurashtra Cricket Association Stadium, Rajkot. Check commentary and full scoreboard of the match.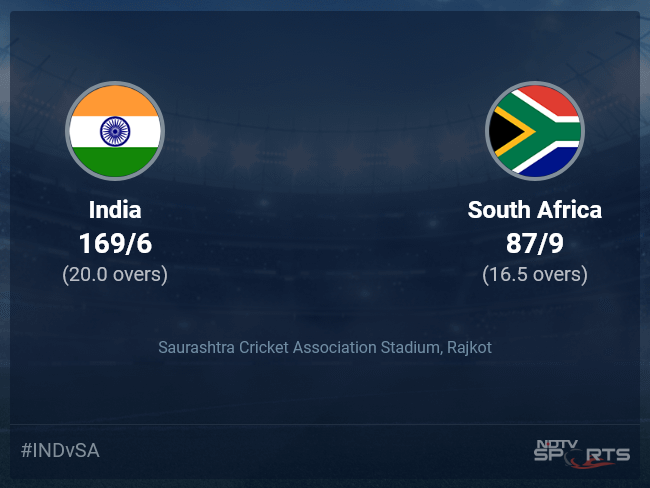 IND vs SA Latest Score
A dedicated team of experts bring you live score, live cricket score, live match update on Sports.NDTV.com. After 16.5 overs, South Africa, chasing a target of 170, are 87/9. The live updates of India vs South Africa scorecard is also available. It is the perfect platform to follow your favourite teams in India vs South Africa 2022. Keep a track on your favourite batsmen and bowlers through India vs South Africa 2022 today match, ball by ball commentary, India vs South Africa, India vs South Africa live score, India vs South Africa scorecard. Follow the excitement of the India vs South Africa 2022 on Sports.NDTV.com as you can follow live match updates and live cricket score through our platform.
Right then, this series has been a roller-coaster of a ride so far. The scoreline is now 2-2 and all roads will now head to Bengaluru on Sunday, 19th of June. It promises to be one cracker of a decider. The game will begin at 7 pm IST (1.30 pm GMT). However, as you know our build-up will begin well in advance. So do join us for the same. Till then, goodbye and cheers!
Dinesh Karthik is the PLAYER OF THE MATCH for his brilliant knock of 55 from just 27 balls. He says it feels good, he is playing for a long time. Adds that he feels secure in this set up but there is comfort in the dressing room. There are a few goals and he wants to achieve it. Shares that he is thinking and assessing much better now, there is a lot of hard work behind the scenes. Tells that South Africa bowled brilliantly up front, they were finding it hard to bat and when he went in, Pandya told him to take time before hitting big. Tells that he feels like a local boy at Bangalore as he has played in the domestic team and hopes to perform well in the final match. Says it is good to see a bilateral series going down to the final match. To see the pressure being absorbed in the third and fourth games is what they will relish. Credits Rahul Dravid and says, he has clarity and calmness even when they don't do well and feels they need to embrace pressure.
Rishabh Pant, the skipper of India, says that they talked about execution and playing good cricket and here are the results. Tells that they can talk about toss but it is the team that plays well that wins the game. Tells that he is very happy with how Hardik played and Dinesh Karthik going for a kill from the start and that partnership was great for them. Mentions that he can improve as an individual on various fronts but he is not thinking too much of it and is just trying to improve, Signs off by saying that he is looking forward to the final game in Bengaluru.
The South African skipper is injured and Keshav Maharaj comes in for a chat in place of Temba Bavuma. He says it didn't go according to the plan as they leaked too many runs in the last five overs. Adds that they have to adapt better and have to be proactive in this kind of pitch and situation. Tells they lost wickets at regular intervals. Dinesh Karthik was exceptional in the back end and he hopes to come back stronger in the last match. Ends by saying, it is always hard to bowl on the Indian pitch. Tells that there will be a lot of buzz at the ground in Bangalore and expects it to be a cracker.
Stay tuned for the Presentation.
Avesh Khan is down for a chat. He says it is his dad's birthday so he dedicates this win to him. The plan was to bowl stump to stump as the pitch was two-paced, so he was bowling on a length. Adds that Pant said to him to bowl a leg-cutter after bowling a bouncer and bowled to Jansen and a slower one to Maharaj. Tells that as a team, they need to back themselves and will now focus on the next match. Shares that they will give 100% in the next match.
The difference though as mentioned earlier was the innings of a man who is on a comeback mission in the Indian team, Dinesh Karthik. We saw in the Indian T20 League what he did for Bangalore in those death overs and now he has done that again in the Indian blue, he smashed 55 from 27 balls and Hardik also gave him good company with a well-paced innings of 46. South African bowlers were good till the 15th over but that onslaught by India in the final five overs where they scored 73 runs took the game away from them on a tricky Rajkot pitch. South Africa need to regroup and come out with better plans and execution in the decider now, it will be more of a mental battle for them.
Indian bowlers came out with a plan as they assessed the nature of the pitch after that first innings and bowled hard lengths. South African batters struggled to get going and Bavuma got injured early in his innings. However, the turning point was the run out of Quinton de Kock and the wickets kept tumbling at regular intervals after that. Pant also used his bowlers quite well in the middle and Chahal was exceptional with his crafty leg spin again. Harshal Patel knocked over Miller in the 11th over and South Africa were always struggling from thereon. The 14th over by Avesh Khan in which he took three wickets made sure that India seal the deal with a big win. A brilliant bowling performance from India and it has been a show of great character by this young Indian team.
India level the series here at Rajkot and we are going into Bengaluru now for an all-important decider. Has to say, India have momentum on their side now, it has been another convincing victory for them. This pitch was quite tricky and South Africa had no answers in front of a disciplined bowling performance from the Indian side. However, one man stands out above all here, Dinesh Karthik, his knock was a game-changer on a pitch where every other batter struggled to get going and after two back-to-back losses in the first two games, India have roared back in style in this series.
16.5 overs (0 Run) OUT! TAKEN! Hand shakes all-around as that will be the end of South Africa's innings as Temba Bavuma won't be able to play! Tossed up on middle. Lungi Ngidi lofts it to long on where Ruturaj Gaikwad takes it. India level the series 2-2 as they win by 82 runs.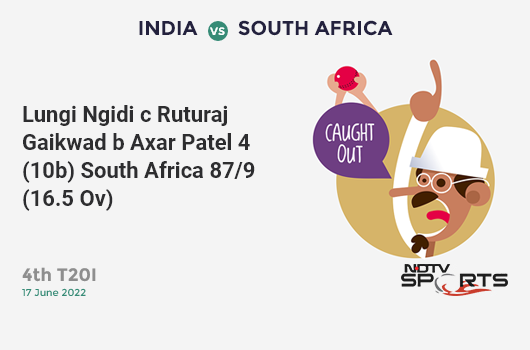 16.4 overs (0 Run) On middle, blocked out.
16.3 overs (0 Run) Slightly shorter and just outside off. Ngidi looks to pull but misses. Was very near to the off pole.
16.2 overs (1 Run) Angles again on middle, tucked to square leg for a single.
16.1 overs (0 Run) Slants a length ball, around off. Shamsi hits it to point.
15.6 overs (2 Runs) Length ball, outside off. Ngidi strokes it to sweeper cover for a brace.
15.5 overs (0 Run) Another bumper and Ngidi leaves it out. Khan should go for a fuller ball.
15.4 overs (0 Run) A length ball, around off. Ngidi mistimes his punch to covers.
15.3 overs (0 Run) A bouncer on the slower side, on middle. Ngidi sits under it.
15.2 overs (3 Runs) Three runs! A length ball, way outside off. Shamsi frees his arms and places it over covers. The batters take three runs.
15.1 overs (1 Run) On a length and outside off. Ngidi dabs it to third man for a single.
Match Reports
Topics mentioned in this article