Story Progress
Back to home
India vs New Zealand: India vs New Zealand 2021 Live Cricket Score, Live Score Of Today's Match on NDTV Sports
Live Updates of Today Match between India vs New Zealand from JSCA International Stadium Complex, Ranchi. Check commentary and full scoreboard of the match.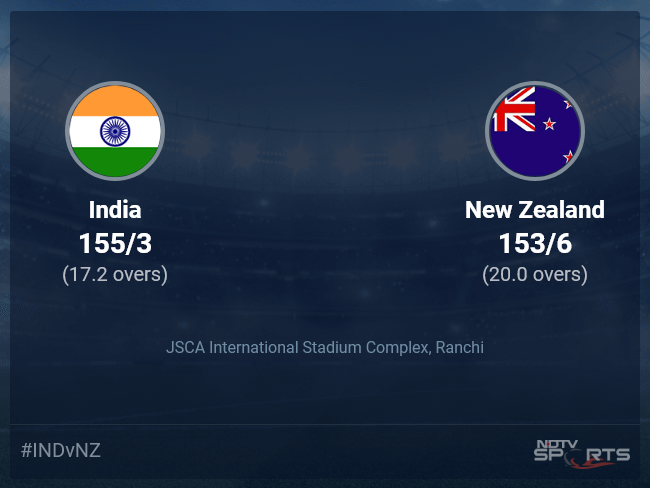 IND vs NZ Latest Score
A dedicated team of experts bring you live score, live cricket score, live match update on Sports.NDTV.com. After 17.2 overs, India, chasing a target of 154, are 155/3. The live updates of India vs New Zealand scorecard is also available. It is the perfect platform to follow your favourite teams in India vs New Zealand 2021. Keep a track on your favourite batsmen and bowlers through India vs New Zealand 2021 today match, ball by ball commentary, India vs New Zealand, India vs New Zealand live score, India vs New Zealand scorecard. Follow the excitement of the India vs New Zealand 2021 on Sports.NDTV.com as you can follow live match updates and live cricket score through our platform.
That's a wrap to this game. We look forward to your company on Sunday for the last T20I in Kolkata. The action will begin at 7 pm local (1.30 pm GMT) but you can join us in advance for the build-up. Cheers!
HARSHAL PATEL (4-0-25-2) IS THE PLAYER OF THE MATCH! The debutant says that he was so engrossed in the process that he forgot to enjoy what's happening around but it will sink in soon. Says that progress is gradual and slow and he had to build his game a lot as he was not exceptionally talented. Adds that with time, he found what works for him and built his own game. Feels that one does not need a lot of variations but one needs to execute the plans well. Mentions that he could not bowl those loopy slower balls in these conditions and that he would like to better his yorkers. Shares that he wants to do his processes right and enjoy all the success that comes his way.
Rohit Sharma, the Indian skipper, says that it has been a great effort from the entire unit. He adds that these were not easy conditions and credits his boys for their application and temperament out there in the middle. He says that they were under pressure at the start but they wanted just one wicket to put the brakes on and he had full faith in the quality of the spin bowlers in the team. Adds that playing for India, there is always pressure but says that his job on the field is to make the players comfortable. Mentions that everyone will get the opportunity but it is important to give the players who are now in the team some game time. He finally applauds Harshal Patel and says that he is happy for him that he has got the opportunity and has performed well in his debut game.
Tim Southee, the skipper of New Zealand, says that they got off to a great start but credits India by saying that they pulled back things nicely in the end. Adds that they had practised with the wet ball, they tried hard but says that India were too good. Tells us that they now will go to Kolkata and try to assess the conditions.
KL Rahul, the top scorer for India, comes up for a chat. Says that they did well with the ball in the backend and pulled things back. Shares that they decided that the change in pace was the way to go. Adds that they played around with the field and were brave with the ball to restrict New Zealand to a below-par score. Mentions that he and Rohit Sharma give themselves a few overs to see what the pitch is doing and then decide the shot selection. States that they try to enjoy their batting and after the 10th over, they decided to cut loose and attack the bowlers. Further says that they try and see what is working best for them as a batting unit. Feels that they have a lot of firepower in the middle order and that gives the openers an extra cushion. On his partnership with Rohit and their key to success together, KL says that he enjoys batting with Rohit and is a big admirer of his batting. Tells us that they try to take the pressure off each other and he hopes to keep doing the same.
New Zealand fought well but again ended on the wrong side of the result. With the bat, they threw away the advantage after a fantastic Powerplay and only managed a below-par total. They only fetched 28 runs from the last 5 overs and this is something that cost them the most. Their bowling was decent, nothing extraordinary, as they failed to pick early wickets. The Kiwis did manage to gain some control in the first half of the chase with the ball but soon India attacked and everything went haywire for the tourists. Tim Southee was the only bowler who impressed with a 3-wicket haul as the rest struggled for control.
A clinical chase from India. They didn't go hammer and tongs at the start and concentrated on preserving the wickets. After the Powerplay, the Black Caps applied the choke and the required rate started to mount. But, Rohit Sharma decided to cut loose and soon, India were in full control of the chase. Both Rohit and KL Rahul played superbly and were once again involved in a century stand. Their knocks nearly put the chase to bed and despite losing a few quick wickets, the job done by the openers meant that the middle order could finish the game with plenty of balls to spare.
The Reign of Rohit Sharma and Rahul Dravid kicks off with a series win! The Indian openers looked so elegant with the bat as they continued their sublime form to seal not just the game but also this T20I series. The Kiwi skipper, Tim Southee, was the only bowler who bowled as the conditions demanded and was rewarded with 3 wickets, but it was all too late for them. India won the match very comfortably with Pant finishing things off in style.
17.2 overs (6 Runs) SIX! There comes Rishabh Pant's one-handed biggie and he seals the game as well as the series for India in his trademark style! A slower ball, on a length, around middle. Pant skips down and lofts it back over the bowler's head for a maximum! INDIA WIN THE MATCH BY 7 WICKETS and they take an unassailable lead of 2-0 in this three-match T20I series.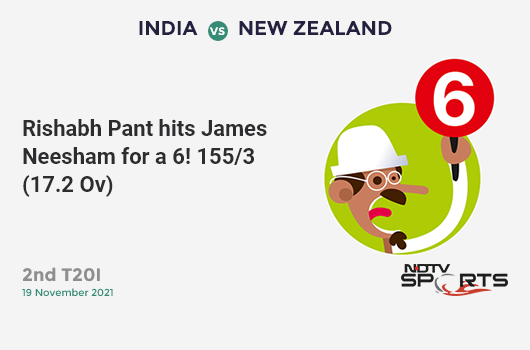 17.1 overs (6 Runs) SIX! CRUNCHED! Full ball, outside off. Rishabh Pant reaches out and smacks it over deep mid-wicket for a maximum! He clears the ropes by a very small margin! India are only a hit away from victory now!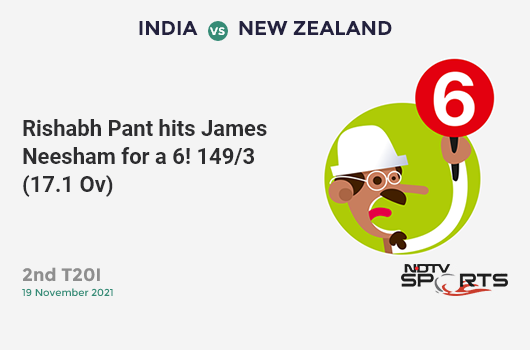 16.6 overs (4 Runs) FOUR! Shortish outside off, Venkatesh Iyer looks to push it off the back foot towards covers but he gets a thick outside edge and the ball races away to the fence at third man. 11 runs needed off 18 balls.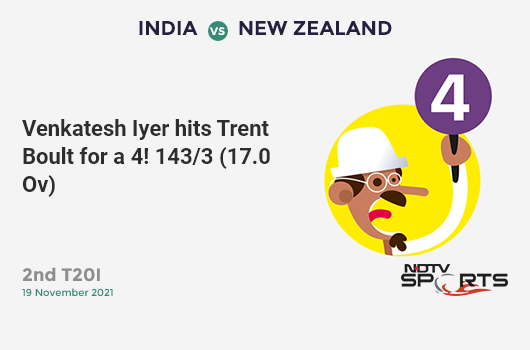 16.5 overs (1 Run) Leg bye! Good-length ball, down the leg side. Rishabh Pant misses his flick and the ball clips his thigh pad. The ball rolls away to the leg side for a leg bye.
16.4 overs (0 Run) Back of a length, around middle. Rishabh Pant looks to tuck it to the leg side but he misses and gets hit on the body. Pant is clearly struggling to find his timing.
16.3 overs (0 Run) Good-length ball, around off. Rishabh Pant skips down a bit and looks to defend but gets hit high on his thumb as the ball shoots off from the deck. That would have hurt but he is not showing much pain.
Review time! New Zealand have reviewed this for caught behind. No bat on that. They now check for LBW. But the impact is outside off.
16.2 overs (0 Run) NOT OUT! Fractionally short and around off, Rishabh Pant looks to heave it across the line but he fails to middle his shot properly. There is some sound as it goes to the keeper. The Kiwis appeal for caught behind but the umpire says no. Tim Southee opts for a review but the UltraEdge clearly shows that the ball had brushed the thigh pad and not the bat. The third umpire quickly checks for the lbw as well but the impact is well outside off.
16.1 overs (1 Run) Length ball, around middle. Venkatesh Iyer eases it to long on for a run.
Rishabh Pant walks out to bat.
15.6 overs (0 Run) OUT! Chopped on! Back of a length, outside off. Suryakumar Yadav looks to cut it away from his body but gets a thick inside edge which rattles the off stump. A top outing for Southee, 4-0-16-3.
15.5 overs (1 Run) Full ball, outside off. Venkatesh Iyer works it towards long off for a single.
15.4 overs (1 Run) Length ball, around leg. Suryakumar Yadav clips it to fine leg and gets off the mark with a run.
Suryakumar Yadav will bat now.
15.3 overs (0 Run) OUT! TAKEN! Soft dismissal and Rohit Sharma is absolutely distraught with himself! A touch short in length around off, sticking into the surface and Sharma gets deceived by it. He pushes it uppishly towards Martin Guptill at extra cover who takes a dolly there. End of a fine knock by the Indian skipper but he would have loved to finish the chase. 19 needed more off 27 balls.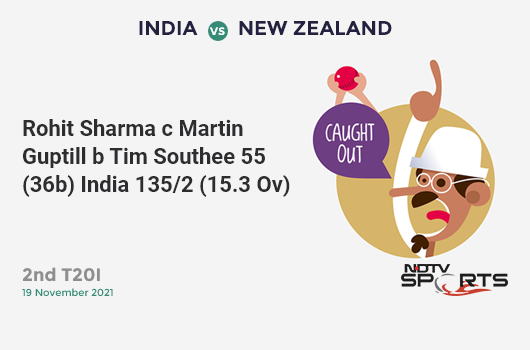 15.2 overs (1 Run) Short of a length, outside off. Venkatesh Iyer stays back and punches it towards deep cover for a single.
15.1 overs (0 Run) Length ball, around off. Venkatesh Iyer pushes it to mid off.
Match Reports
Topics mentioned in this article