Story Progress
Back to home
India vs Bangladesh Live Score, Over 16 to 20 Latest Cricket Score, Updates
Live Updates of Today Match between India vs Bangladesh from Saurashtra Cricket Association Stadium, Rajkot. Check commentary and full scoreboard of the match.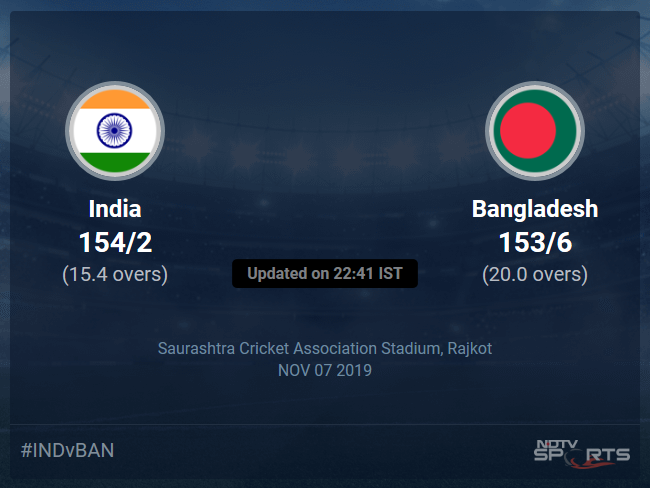 IND vs BAN Latest Score
A dedicated team of experts bring you live score, live cricket score, live match update on Sports.NDTV.com. After 15.4 overs, India, chasing a target of 154, are 154/2. The live updates of India vs Bangladesh scorecard is also available. It is the perfect platform to follow your favourite teams in India vs Bangladesh, 2019/20. Keep a track on your favourite batsmen and bowlers through India vs Bangladesh, 2019/20 today match, ball by ball commentary, India vs Bangladesh, India vs Bangladesh live score, India vs Bangladesh scorecard. Follow the excitement of the India vs Bangladesh, 2019/20 on Sports.NDTV.com as you can follow live match updates and live cricket score through our platform.
That is all from the second T20I. Bangladesh won a close game in Delhi, but have been thumped here. How will Nagpur pan out? Join us on Sunday, November 10, 2019 at 7 pm local (1330 GMT).
VICTORIOUS INDIAN CAPTAIN ROHIT SHARMA IS NAMED THE MAN OF THE MATCH. First, his interview is as a captain. On being asked about Sundar and Chahal, Rohit says that they are very smart, having played lot of domestic cricket and adds that they analyze well, asking the bowling coach how to improve. Praises Sundar for adjusting to be bowling outside the Powerplay. On his changing emotions, Sharma says that he is an emotional guy and some of the moments in the field were scrappy, which need to be accepted and corrected. Now, his interview as a batsman. Rohit says that Rajkot is always a good track to bat on, with dew coming at the end. So, he says that it was all about doing well at the start, in the Powerplay and then carrying it through. Stresses that he only tries to do his best with the bat in hand and does not take any opposition for granted. Adds further that with the ball not swinging, he just focussed on staying still. Believes that 2019 has been a wonderful year and wants to finish it off well.
Bangladesh captain, Mahmudullah, admits that it was a very good wicket to bat upon and Bangladesh fell short by 20-30 runs. Praises Rohit Sharma and Shikhar Dhawan for the blistering start they gave. On Bangladesh's problems against leg spin, Mahmudullah just says that the wicket suited leggies and Chahal bowled well. Praises Aminul Islam for bowling well and hopes he continues doing well. On the positives from this game, the captain says that if they get a similar wicket in Nagpur, the batsmen need to be more positive.
Yuzvendra Chahal says that when he bowled his first ball, he realized that the wicket was spinning, so the variation of pace was the only thing which had to be taken. On the dew coming making life difficult, Chahal says that they knew when dew would come, so they were well prepared. On the catches going down, Chahal says that he himself has dropped a few catches, so he is aware how the fielder would be feeling at the moment. On the trap to get batsman out, Yuzi says that his bowling depends on how the batsmen will be playing Chahal. On being given to bowl in the Powerplay, Chahal says that bowling at the death or in the Powerplay gives a bowler immense confidence.
Earlier in the game, it was the spinners who choked Bangladesh. Sundar and Chahal did not give the visitors much to work with and they fell well short of what would have been a competitive score. Here is Chahal talking to Harsha Bhogle.
The 118-run stand for the opening wicket coming in 65 balls was just the tone India needed. This is what they missed in the previous game. Here, they got the start and hammered the bowlers. None of the bowlers were spared with the exception of Aminul Islam who got both the batsmen. With the dew around, Bangladesh could not do much and they just caved in.
As expected, an easy win for the hosts. Rohit Sharma's 85 just made it very easy. Chasing 154, with dew around, Sharma made sure that there were no second thoughts on how to approach the chase as he just attacked from the word go.
15.4 overs (1 Run) Short delivery outside off, Iyer looks to pull but gets a bottom edge on this one. It goes towards the keeper in bounce. The batsmen take a single. INDIA WIN BY 8 WICKETS AND LEVEL THE SERIES 1-1!
15.3 overs (1 Run) The scores are level! Full delivery on leg, Rahul flicks it through square leg. The batsmen cross ends.
15.2 overs (0 Run) Full toss on off, Rahul plays it towards mid off.
15.1 overs (1 Run) Full toss on leg, Iyer flicks it through mid-wicket for a single. India need just 2 runs now to win the match.
Match Reports
Topics mentioned in this article