Story Progress
Back to home
India vs Australia: India vs Australia, 2022 Live Cricket Score, Live Score Of Today's Match on NDTV Sports
Live Updates of Today Match between India vs Australia from Vidarbha Cricket Association Ground, Nagpur. Check commentary and full scoreboard of the match.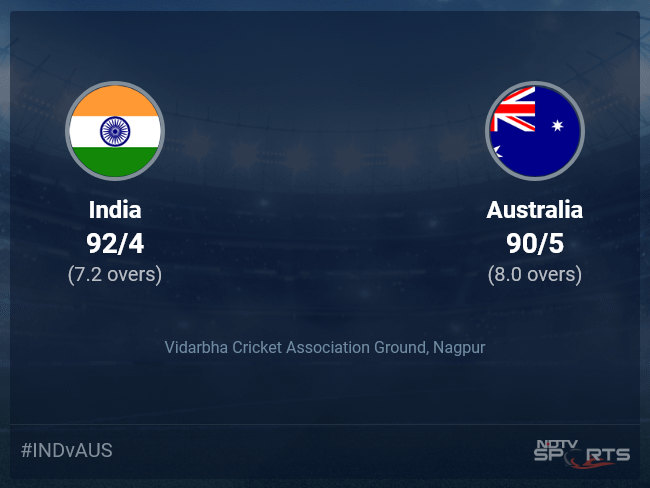 IND vs AUS Latest Score
A dedicated team of experts bring you live score, live cricket score, live match update on Sports.NDTV.com. After 7.2 overs, India, chasing a target of 91, are 92/4. The live updates of India vs Australia scorecard is also available. It is the perfect platform to follow your favourite teams in India vs Australia, 2022. Keep a track on your favourite batsmen and bowlers through India vs Australia, 2022 today match, ball by ball commentary, India vs Australia, India vs Australia live score, India vs Australia scorecard. Follow the excitement of the India vs Australia, 2022 on Sports.NDTV.com as you can follow live match updates and live cricket score through our platform.
That is it from Nagpur where we have had a short but exciting encounter. India have leveled the series 1-1 and now the focus shifts to the decider in the third and final T20I which is going to be played at Hyderabad on Sunday, 25th September. The match will start at 7 pm IST (1.30 pm GMT) but as always do join us early for the build-up. Until then, goodbye and cheers!
Rohit Sharma the skipper of India is the Player of the Match as well for his 46 runs in 20 balls. He says he was quite surprised with the way the ball was hitting the bat and he is glad about the way it went. Claims that in the last few games he has been playing in the same way and they can't plan too much in such a game, just use the conditions to their advantage. Tells that the bowlers did well initially but with dew coming in they were not able to grip the ball but feels they will learn from these tough conditions. He Mentions Jasprit Bumrah coming back after months and that back injuries are tricky but does not want to analyze much. He adds that he is happy he got a crucial wicket and is slowly getting into his rhythm. About Axar Patel, he says that he has fulfilled the role of Jadeja well and can bowl in any phase of the game bringing a lot to the table. About Dinesh Karthik he claims that he is glad he could play and got time in the middle and they hope he can continue to play the finishing role. Credits the ground staff who have been there since afternoon and praises them for getting the game going for the crowd.
Aaron Finch the captain of Australia says that they just went out and executed their plans. Informs that he is enjoying his time with the bat up top. Praises Rohit Sharma for his brisk innings and also Axar Patel with the ball. Says that they proved to be the difference. Adds that Matthew Wade has really grown in the finishing role. Says that when Adam Zampa took consecutive wickets, they had an outside chance and should've picked up more wickets at regular intervals to take the game away from India.
Time for the presentations...
Dinesh Karthik is up for a chat. He says that there wasn't too much chat. He made his plan on the spot and is glad he executed it really well. Mentions it feels good to get the winning runs. Adds Rohit Sharma stood out with the blade and Axar Patel with the ball. He says they have a solid squad and it is all about making the most of the momentum. Says that he is really happy they can put out a show in front of an amazing crowd in Nagpur.
India began the game well claiming Australian wickets early courtesy of Axar Patel who bowled an outstanding spell but cameos from Aaron Finch and Matthew Wade pushed them to a reasonable total. However, the run chase was all about Rohit Sharma who played through the inning and sealed a comprehensive win.
India got off to a flier courtesy of Rohit Sharma who looked to be dealing only in sixes and along with KL Rahul put on 30 runs in the two overs of the Powerplay. Adam Zampa was brought into the attack and claimed the wicket of KL Rahul in his first over. He turned the game on its head when he dismissed Virat Kohli and Suryakumar Yadav in quick succession in his second over but India were still ahead of the required rate. It gave Hardik Pandya and Rohit Sharma time to consolidate the inning but the former departed in the penultimate over. Rohit Sharma stayed unbeaten on 46 in just 20 deliveries to take his team home along with Dinesh Karthik. Adam Zampa was by far the pick of the bowlers claiming three wickets and conceding just 16 runs in his 2 overs.
This is why Dinesh Karthik is known as India's finisher! He needed just 2 deliveries to close out this game. However, the credit goes to Rohit Sharma who has powered India to a 6-wicket win with 4 balls to spare (D/L method) and they have now leveled the series going into the third and final game. Australia did not start well in the Powerplay and despite picking wickets in quick succession found themselves behind in the game. They will not make much of this result though with the game being shortened and will be glad they were able to have a close contest out there.
7.2 overs (4 Runs) FOUR! That's it Dinesh Karthik needed only two shots to finish things off. It is a short ball, on off. Dinesh Karthik stands tall and pulls it to deep mid-wicket. He pierces the gap in the deep and finds the boundary. India win the game by 6 wickets.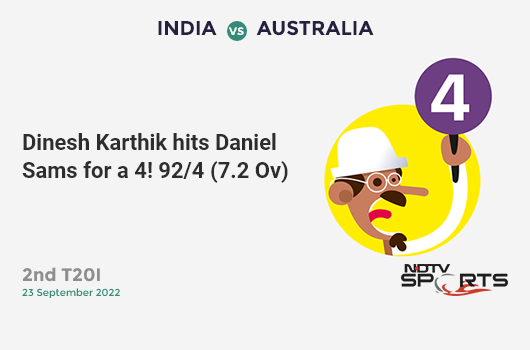 7.1 overs (6 Runs) SIX! Dinesh Karthik doing what he does best. It is full, on leg stump. Dinesh Karthik gets low and slogs it over the fine leg fence for a maximum.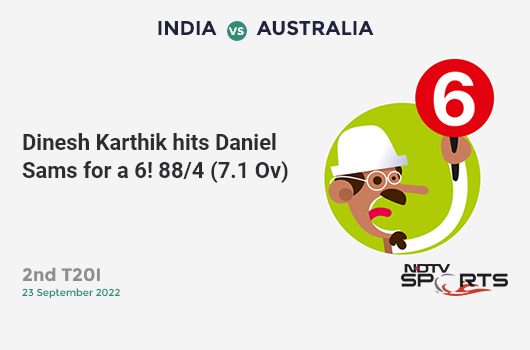 6.6 overs (4 Runs) FOUR! Beautiful shot! A boundary to end the over. Rohit Sharma is certainly leading from the front here. It is a good-length ball, outside off. Rohit Sharma steers it through point. It goes through the gap and races away. 9 needed in the final over.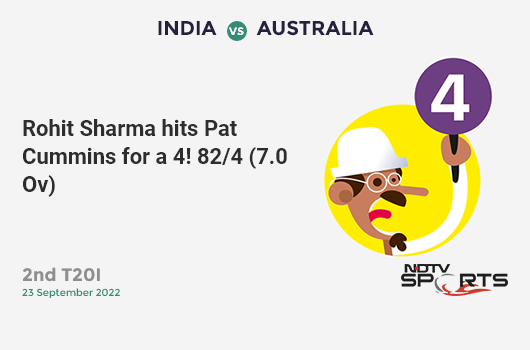 6.6 overs (1 Run) WIDE! Cummins serves it full, wide outside off, shaping away. This one moves past the tramline. Wide called.
6.5 overs (0 Run) OUT! CAUGHT! Hardik Pandya tries to break his shackles but holes out instead. It is a short ball, on off. Hardik Pandya moves back and looks to heave it across the line. It takes the top-edge and goes towards extra cover. Aaron Finch there settles under it and takes a dolly. Australia are still in the game. 14 runs now needed in 7 balls. Dinesh Karthik is the new man in.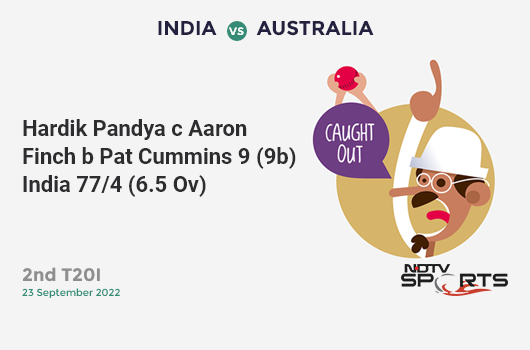 6.4 overs (0 Run) A dot this time! Pace on, Cummins goes full, outside off. Pandya looks to chase it but connects with thin air.
6.3 overs (2 Runs) Great running! It is full, wide outside off. Pandya shuffles across and slices it to deep point. It lands safely and they take a brace.
6.2 overs (4 Runs) FOUR! Hardik Pandya now shifting gears! A full-length ball, wide outside off. Hardik Pandya stands tall and smacks it over covers. One bounce and over the ropes.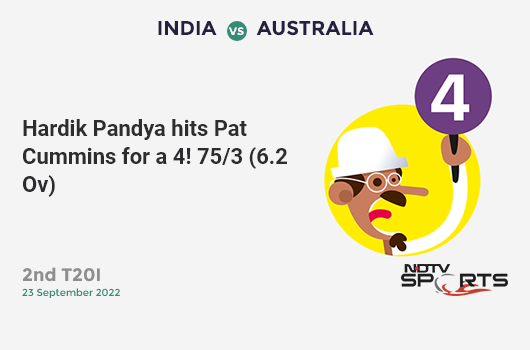 6.1 overs (1 Run) A short ball, outside off. Sharma pulls it to deep mid-wicket for one. Does not hit it cleanly though.
6.1 overs (1 Run) WIDE! Pat Cummins has to reload this delivery. It is a length ball, outside the tramline. Rohit Sharma lets it be. Wided.
5.6 overs (0 Run) A dot to end the over! Hardik Pandya is still finding his feet it. A wide yorker this time. Hardik Pandya fails to dig it out. A good finish to the over, although the damage was already done. 11 runs off it.
5.5 overs (1 Run) Back of a length, outside off. Rohit Sharma punches it to deep point for one.
5.5 overs (1 Run) WIDE! Abbott errs in his line this time. It is full, wide outside off, moving away. It goes past the tramline. Sharma tries to reach out but misses. Wide called by the umpire.
5.4 overs (4 Runs) FOUR! Sharma finds the gap yet again. It is a slower ball, on the body. Rohit Sharma pulls it past the man at short fine leg. It races away to the boundary. 23 runs now needed in 14 balls.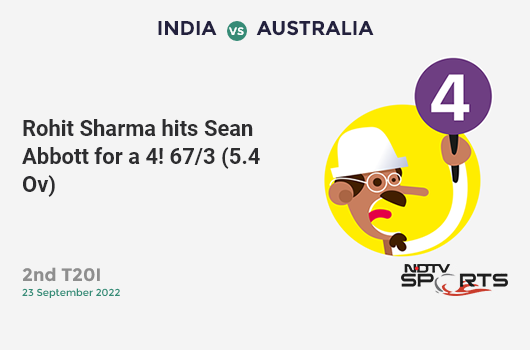 5.3 overs (4 Runs) FOUR! This should release some pressure. It is a half voller, around off. Rohit Sharma lofts it inside-out over covers. It is in the gap and into the boundary.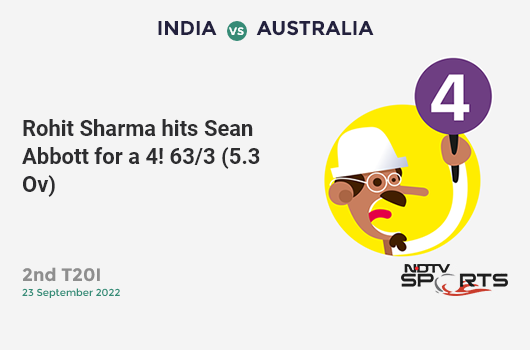 5.2 overs (1 Run) Full length, wide outside off. Hardik Pandya hits it through the gap at point for a single.
5.1 overs (0 Run) Swing and a miss! Good-length ball, outside off. Hardik Pandya looks to chase it but misses.
Match Reports
Topics mentioned in this article