Story Progress
Back to home
India vs Australia: India vs Australia, 2022 Live Cricket Score, Live Score Of Today's Match on NDTV Sports
Live Updates of Today Match between India vs Australia from Vidarbha Cricket Association Ground, Nagpur. Check commentary and full scoreboard of the match.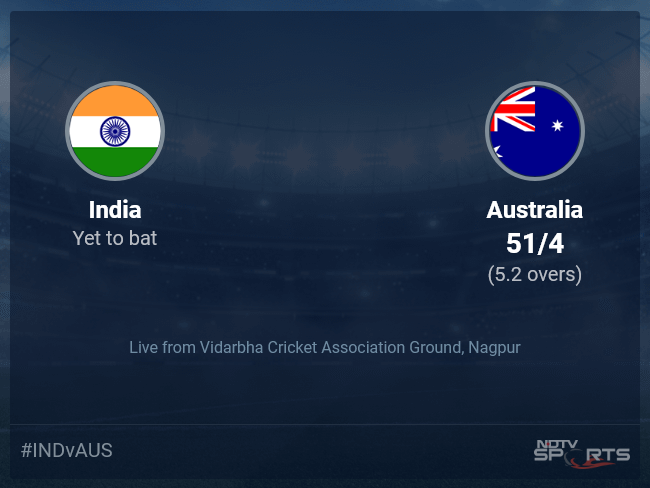 IND vs AUS Latest Score
A dedicated team of experts bring you live score, live cricket score, live match update on Sports.NDTV.com. After 5.2 overs, Australia are 51/4. The live updates of India vs Australia scorecard is also available. It is the perfect platform to follow your favourite teams in India vs Australia, 2022. Keep a track on your favourite batsmen and bowlers through India vs Australia, 2022 today match, ball by ball commentary, India vs Australia, India vs Australia live score, India vs Australia scorecard. Follow the excitement of the India vs Australia, 2022 on Sports.NDTV.com as you can follow live match updates and live cricket score through our platform.
4.6 overs (0 Run) OUT! Sound of the wood! Jasprit Bumrah finds the breakthrough and sends the big man, Aaron Finch back to the dressing room. Jasprit Bumrah fires in a yorker, in the blockhole, it angled in. Aaron Finch fails to dig it out and sees the ball crash into the leg stump. The crowd is on its feet here and Jasprit Bumrah celebrates his wicket.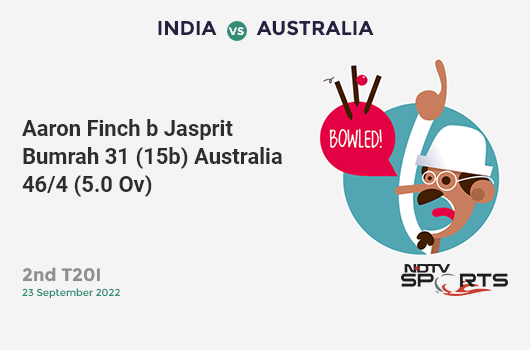 4.5 overs (2 Runs) Fuller, angled in on off. Finch clips it through mid-wicket. The batters take two.
4.4 overs (1 Run) A slower ball now, low full toss, on the pads. Wade tucks it to mid-wicket and crosses.
4.3 overs (2 Runs) Bumrah goes full and outside off. Wade drives it towards point. KL Rahul there misfields and the batters take a couple.
4.2 overs (1 Run) Much fuller, on off. Finch flicks it aerially towards square leg but it lands safely. They take a single.
4.1 overs (4 Runs) FOUR! Jasprit Bumrah still finding his feet here. It is short, wide outside off. Finch rides the bounce really well and cuts it over backward point for a boundary.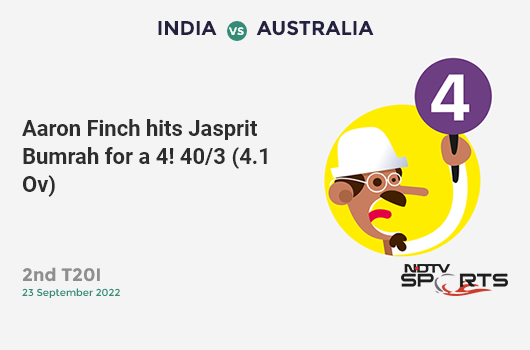 4.1 overs (1 Run) WIDE! Jasprit Bumrah starts his spell with a loosener. It is full, drifting down leg. Finch fails to flick it away. Wide called.
3.6 overs (4 Runs) FOUR! Finally, Wade manages to get a solid connection and gets a positive result It is full and on outside off. Wade reverse hits it past backward point for four.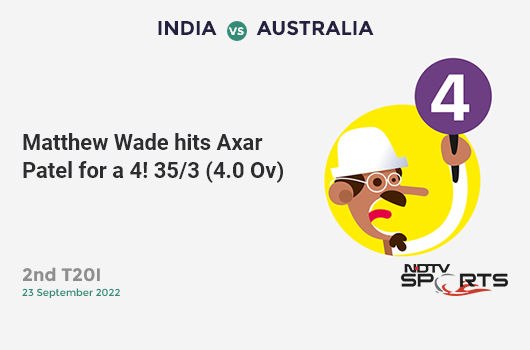 3.5 overs (0 Run) Five dots on the trot now! This is absolute gold. Tossed up, full and on off. Wade looks to reverse sweep but does not connect it cleanly.
3.4 overs (0 Run) Pushed through quicker, on off. Wade blocks it back to the bowler.
3.3 overs (0 Run) Fuller, outside off. Wade looks to go for the reverse sweep but gets an inside edge on his pads.
3.2 overs (0 Run) Floated, on leg. Wade flicks it to short fine, not in the gap though.
Matthew Wade is the new batter at the crease.
3.1 overs (0 Run) OUT! CLEANED UP! Axar Patel strikes yet again. Once again the arm ball from Patel does the trick. Comes 'round the wicket and goes full, around off, this one angles in with the arm. Tim David looks to knock it down the ground but misses it completely. The ball goes through to disturb the furniture behind him.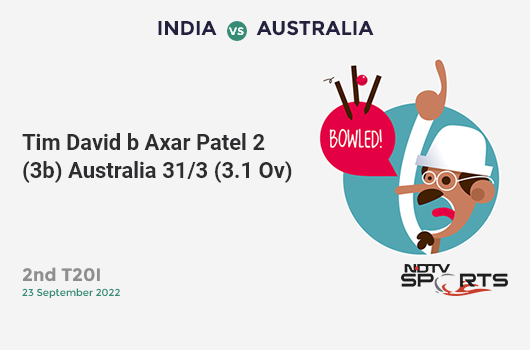 2.6 overs (1 Run) Looped up, around off. David pushes it into covers and takes one. A decent recovery by Chahal after going for a six but still as expensive over as 12 runs come off it.
2.5 overs (1 Run) Quicker, around middle. Finch eases it past mid on and takes a single.
2.4 overs (2 Runs) On middle and leg. Finch flicks it to deep mid-wicket for two runs now.
2.3 overs (6 Runs) SIX! BANG! Aaron Finch is only dealing in boundaries here. It is floated and full, outside off. Finch gets low and dispatches it over the bowler's head for a biggie.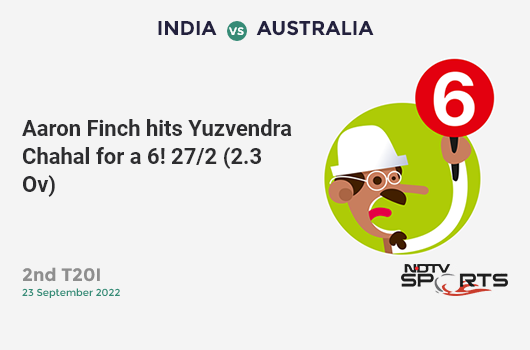 2.2 overs (1 Run) Straighter and at the stumps. David whips it to deep mid-wicket for one.
2.1 overs (1 Run) Pushed through quicker, on off. Finch hits it to long on and crosses for one.
Tim David is the new man in. Also, Yuzvendra Chahal comes into the attack now.
1.6 overs (0 Run) OUT! TIMBER! Axar Patel strikes on his very last delivery and Glenn Maxwell has to walk back on a golden duck. Patel comes 'round the wicket. This one comes in with the arm, around middle. Glenn Maxwell gives himself room and looks to heave it away but misses it completely. The ball goes through to shatter the stumps. Also, Australia are 19/2 at the end of Powerplay.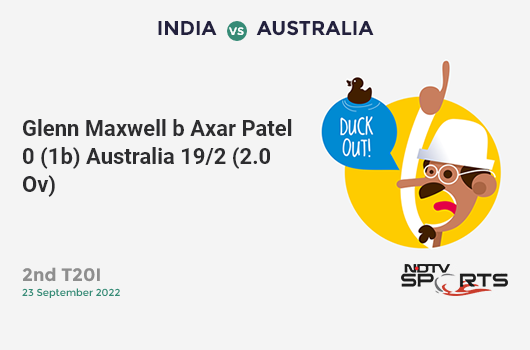 1.5 overs (1 Run) It is fuller, on off. Finch now switch hits it and takes a single.
1.4 overs (4 Runs) FOUR! Aaron Finch is on fire! It is touch short, outside off. Finch gives himself room and smacks it through covers for a fine boundary.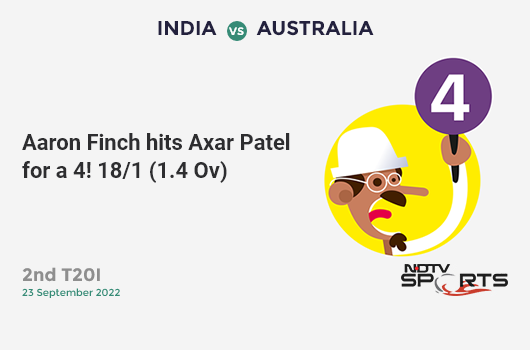 Glenn Maxwell is the new man in.
1.3 overs (0 Run) OUT! RUN OUT! That is some brilliant piece of fielding from Virat Kohli! Axar Patel fires this one short and angles this into the stumps, Cameron Green rocks back and pulls this towards mid on before taking off for a quick single. Virat Kohli is on to the ball in a flash as he picks it up and throws is at the bowler's end. Axar Patel is well placed behind the stumps and the ball is straight into his hands. He knocks the bails off and runs off celebrating. They go upstairs to check and replays confirm that Cameron Green is just short. India draw first blood and the dangerous Cameron Green has to walk back to the shed.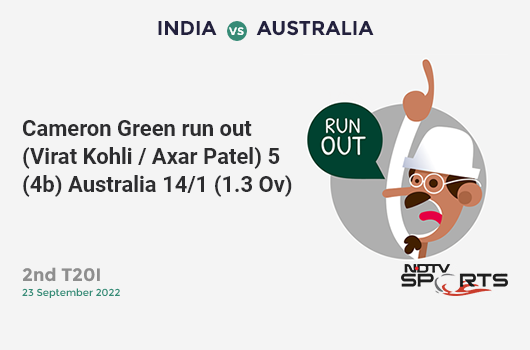 Is that a run out? The umpire takes it upstairs to confirm. The replays confirm that Cameron Green is short of the crease when the bails were coming off. The big screen shows OUT.
1.2 overs (0 Run) Flights this one full as well and outside off, Cameron Green mistimes his slog straight to mid-wicket.
1.1 overs (4 Runs) FOUR! Axar Patel has been welcomed with a boundary! Bowls this one full and outside off, Cameron Green lifts this over mid off high into the air. Virat Kohli runs from mid on towards the ball and dives for it. He is not able to reach it and the ball runs away for a boundary.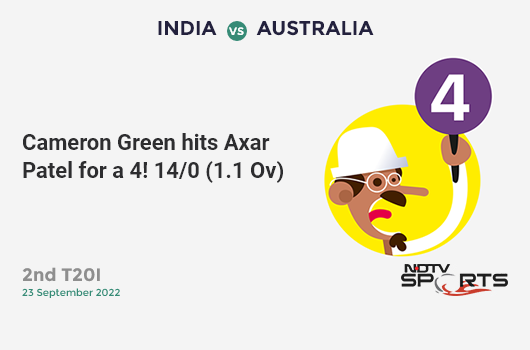 Axar Patel to share the new ball.
0.6 over (0 Run) Another beauty from Hardik Pandya to end the over! This is on a good length and pitching in line with the stumps, Aaron Finch looks to pull but the ball is not short enough. The ball goes just over the stumps.
0.5 over (4 Runs) FOUR! This has been squeezed out into the gap! Hardik Pandya bowls under full delivery just outside the off pole, Aaron Finch moves his front foot out of the way and carves this to deep point for four more runs.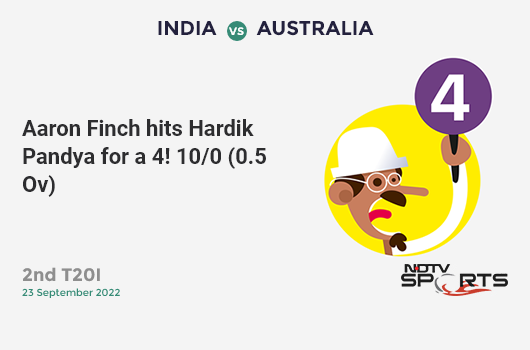 0.4 over (1 Run) Goes full this time and strays on to the pads, Cameron Green flicks this straight to the deep square leg fielder for a run.
0.3 over (1 Run) Delivers a waist-high full toss angled into leg, Aaron Finch clips this to deep square leg and takes a single.
0.2 over (4 Runs) FOUR! What a response from Aaron Finch! Hardik Pandya bowls this on a good length and outside the off pole, Aaron Finch gets across the stumps and paddles this over the keeper's head for four runs.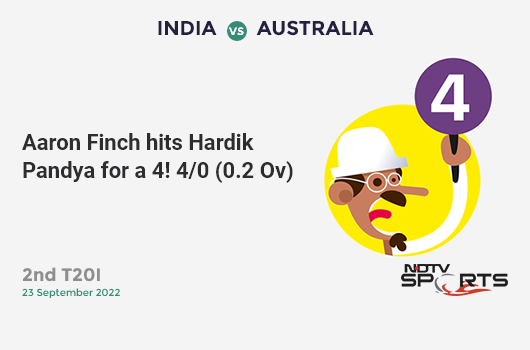 0.1 over (0 Run) Hardik Pandya begins with a jaffa! Bowls this really full and just outside off, gets the ball to move away. Aaron Finch is beaten all ends up.
The game is set to begin. The Indian players stride out to the middle. Followed by Aaron Finch and Cameron Green who walk out to open for the visitors. It looks like Hardik Pandya is getting the new ball. He will be starting the proceedings here.
Aaron Finch, the skipper of Australia says they were going to bowl first as well. It would have been perfect to get some early wickets and chase down a target. Claims they want to be agressive and they are comfortable with the way they play. Informs there are two changes and ends by saying that the crowd has showed them a lot of love and it is an amazing atmosphere.
Rohit Sharma, the captain of India is in for a chat. He says that they will field first. Mentions that he doesn't know what to expect with the game but it is really nice to put something in front of this great crowd. Adds he can see it is a full capacity and hopes they can perform well. Mentions there are two changes with Bumrah and Pant coming in.
India (Playing XI) - KL Rahul, Rohit Sharma (C), Virat Kohli, Suryakumar Yadav, Hardik Pandya, Dinesh Karthik (WK), Rishabh Pant (In place of Bhuvneshwar Kumar), Axar Patel, Harshal Patel, Jasprit Bumrah (In place of Umesh Yadav), Yuzvendra Chahal.
Australia (Playing XI) - Aaron Finch (C), Cameron Green, Steven Smith, Glenn Maxwell, Tim David, Matthew Wade (WK), Daniel Sams (In place of Nathan Ellis), Sean Abbott (In place of Josh Inglis), Pat Cummins, Adam Zampa, Josh Hazlewood.
TOSS - The captains are out in the middle. The coin is flipped into the air by Rohit Sharma and lands in favor of India. They have elected to BOWL first.
UPDATE 8.49 pm IST (3.19 pm GMT) - The officials are out on the field yet again. The groundsmen are still seen working on the wet patches. The two umpires walk towards the dressing room and hand a sheet of paper to both the skippers. Hopefully, we have some good news coming our way. Well to give us a clear picture, the two umpires say that the conditions have improved. Informs us that there will be a 8-over match with the toss being at 9.15 pm IST (3.45 pm GMT). The first ball will be bowled at 9.30 pm IST (4 pm GMT). So get ready for some enthralling action.
Topics mentioned in this article