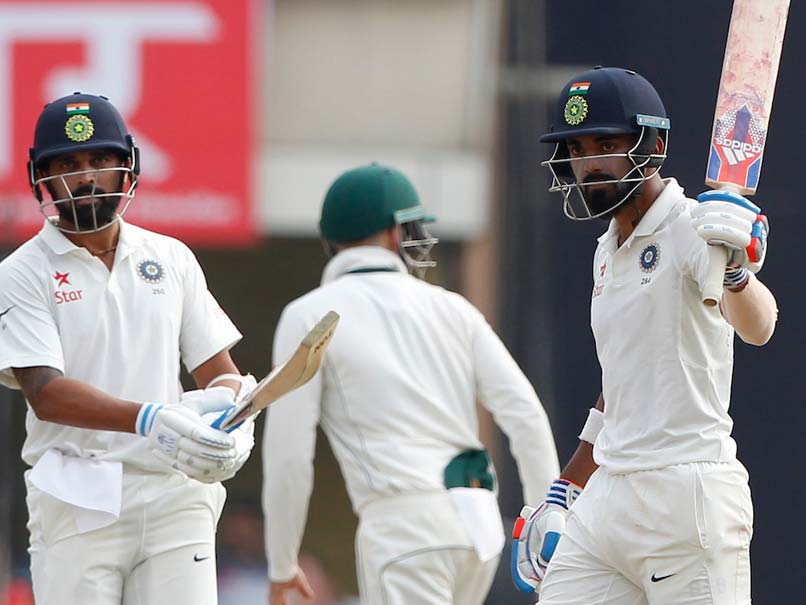 Vijay, Rahul got India off to a great start
© BCCI
After bowling out Australia for 451, India came back strongly as both the openers got the hosts off to a very good start. KL Rahul was dismissed for 67 by Patt Cummins but Murali Vijay (42*) is looking solid at the other end. The final session saw India dominate the Aussies as runs came at a healthy pace before the visitors pulled it back a bit by not conceding easy runs. The third day promises to be great one with the hosts still trailing by 331 runs. (SCORECARD)
Get Highlights of India vs Australia, Day 2 in Ranchi here.
#TeamIndia finish Day 2 on 120/1 (Vijay 42*, Pujara 10*), trail Australia (451) by 331 runs #INDvAUS pic.twitter.com/PT5z3wUBTr

— BCCI (@BCCI) March 17, 2017
16:40 IST: Thanks for joining in as we look forward to your company on the third day of the third Test match.
16:36 IST: That is it for Day 2. India 120 for 1 at stumps, still trail by 331 runs.
16:34 IST: So the last over of the day coming up.
16:31 IST: Huge appeal for caught behind. Lyon gets it to bounce and Vijay was trying to work it towards the on-side region. Umpire rules it in favour of the batsman. Smith goes for the review but replays suggest it missed everything. Vijay survives.
16: 29: Great use of the feet by Vijay. Hits it straight past mid-off for a boundary.
16:27 IST: Full toss on the leg-stump and Pujara puts it away in style. Four runs! Rare bad delivery from Hazlewood.
16:23 IST: With a couple of overs to go, India would look to go to stumps without losing any more wickets.
16:19 IST: Hazlewood getting it to reverse a bit. Pujara so far so good with his defence.
16:12 IST: India are 107/1 after 34 overs, trail Australia by 344 runs. Murali Vijay 35*, Cheteshwar Pujara 4*
16:06 IST: FOUR!! Murali Vijay laps it away to the fine-leg for a boundary
16:05 IST: Cheteshwar Pujara is the new batsman in
It's been a long, long time between Test wickets for Pat Cummins and didn't he enjoy this one! #INDvAUS pic.twitter.com/yicpXB0OtE

— cricket.com.au (@CricketAus) March 17, 2017
16:00 IST: Wicket! Great Delivery by Patt Cummins. Gets it to rise from short of length and all Rahul could do is to glove it.
15:49 IST: Cummins bending his back, gets it to bounce and at the end it got big on Rahul. Luckily did not take the edge.
15:42 IST: Pat Cummins is working up good pace here. India still trail by 368 runs.
15:31 IST: Hazlewood gets it down the leg-side and Rahul helps himself to a boundary. Beautiful leg-glance. India 80 for 0 (Murali Vijay 21*, KL Rahul 59*)
15:28 IST: So India going along nicely here. But Australia have just pulled it back a bit in the last 15 minutes or so by not giving away easy runs.
So Lokesh Rahul has got to a little landmark. Big opportunity for him to make it big and announce himself. He's good enough!

— Harsha Bhogle (@bhogleharsha) March 17, 2017
50! A quality half-century from @klrahul11. His fourth in this series so far. #INDvAUS pic.twitter.com/mhWOOf64Bz

— BCCI (@BCCI) March 17, 2017
15:16 IST: Rahul sweeps and sweeps well. Gets to his fifth Test fifty with a boundary. India 73 for 0 in 22 overs.
15:11 IST: Excellent bowling from Hazlewood. That ball held its line and all Rahul could do was to edge it. Luckily it went between the slip fielders. Four runs!
India's opening stands - last 14 inns
0, 6, 16, 39, 7, 39
152
2, 12, 26, 10, 11, 39
55*#IndvAus

— Mohandas Menon (@mohanstatsman) March 17, 2017
15:07 IST: Four! Quicker delivery from Lyon and Vijay steers it down the third man region.
15:03 IST: Nice juicy half volley from Hazlewood and Murali Vijay leans into the drive. No need to run for that. Four runs!
15:01 IST: Rahul whips it away for a single and that brings up the fifty-run opening stand for India
15:00 IST: So Lyon coming round the wicket to Rahul. The off-spinner has a leg-side field with two fielders protecting the boundary. Also has a forward short-leg in place.
14:50 IST: Played it fine and Rahul will get a boundary for that. O'Keefe straying down the leg-side.
14:44 IST: India 35 for 0 after 13 overs.
14:37 IST: O'Keefe finds the outside edge but well away from first slip. Rahul poking at a ball he should have left.
14:31 IST: Welcome back after tea. India off to a steady start here. O'Keefe to start things off for Australia.
14:11 IST: So that's about it in this session as players go for tea. India 20 for 0 after 8 overs. KL Rahul is batting on 18 while Murali Vijay is unbeaten on 2.
14:07 IST: Short outside off-stump and Rahul stands up tall and punches it of the back foot for a boundary. Great Shot.
14: 03 IST: So first change in bowling for Australia. Steve O'Keefe comes on in place of Josh Hazlewood.
13:58 IST: First boundary of the Indian innings. KL Rahul flicks it off his legs. Pat Cummins is bowling at good pace here but he needs to be more accurate with his line and length.
Pat Cummins is bowling in a Test Match. Since his last over in Tests Australia has had four different Prime Ministers.

— Jarrod Kimber (@ajarrodkimber) March 17, 2017
13:48 IST: Good short ball from Pat Cummins. Making Rahul hop on that occasion. That was 148 km/hr.
13:45 IST: Big appeal for LBW but clearly going over the top of the stumps. Murali Vijay looking a bit tentative here. Hazlewood has the knack of picking up wickets.
13:38 IST: KL Rahul off the mark of the very first ball of the innings. Scampers through for a single.
13: 35 IST: So both Indian openers are out there in the middle. KL Rahul to take first strike. Josh Hazlewood with the new ball.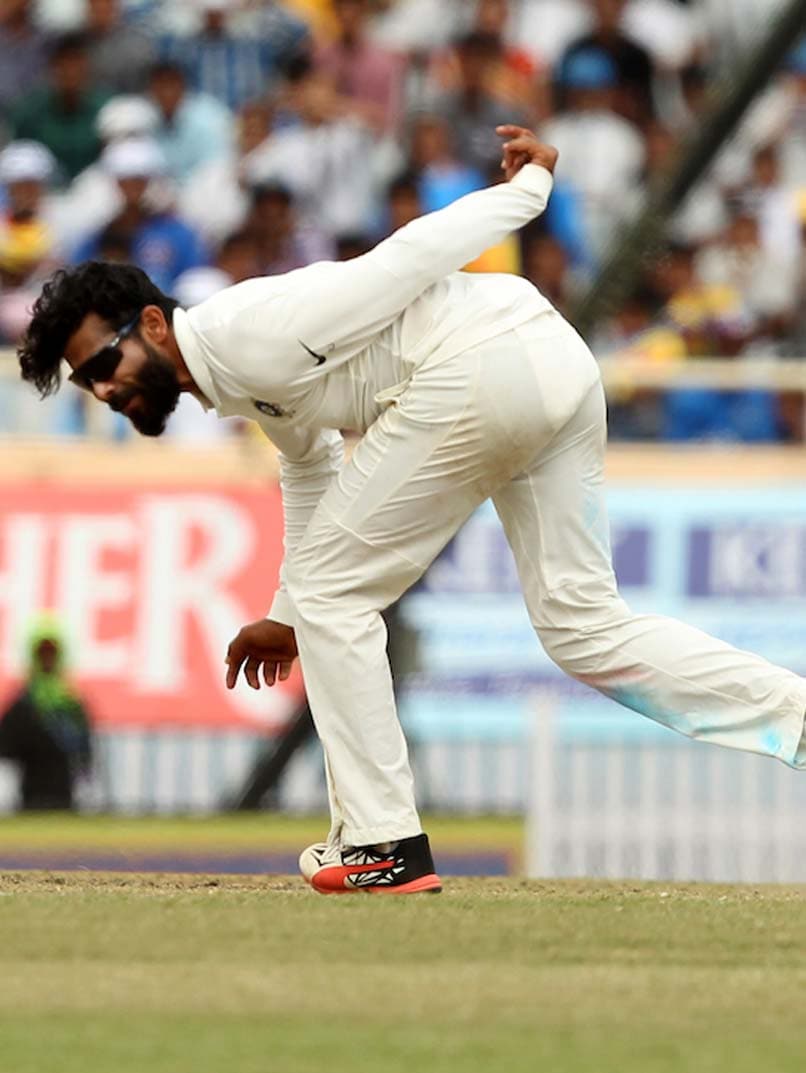 13:23 IST: Brilliant piece of fielding by Jadeja. Wicket! Smith looking for the second run calls Hazlewood and Jadeja picks up the throw from the deep and back flicks it to the stumps. Hazlewood was short of his crease. Australia all out for 451. Steve Smith remained unbeaten on 178.
He's ecstatic! @imjadeja with another five-wicket haul @Paytm Test Cricket #INDvAUS pic.twitter.com/2U12d5gCnu

— BCCI (@BCCI) March 17, 2017
Another fifer for Jadeja. More important, fewer irritating late order runs. India's batsmen would like that!

— Harsha Bhogle (@bhogleharsha) March 17, 2017
Given placid pitch and quality of Aussie batting, outstanding effort from @imjadeja

— Cricketwallah (@cricketwallah) March 17, 2017

13:13 IST: Wicket! Jadeja gets another one. Picks up a five-for. Nathan Lyon picks up the man at silly point and takes the long walk back. Australia 449 for 9. Josh Hazlewood is the last man out there in the middle for Australia.
13:03 IST: Wicket! Yadav has broken through here. Bowls a short ball and O'Keefe helps it on its way to the fine-leg fielder. Australia 446 for 8. Nathan Lyon is the new man in.
13:00 IST: Nothing much happening for Ashwin with the ball. The pitch is still a very good batting wicket. If India can bat well in their first innings, it will put the pressure right back on the Aussies.
This Australian total is now reaching 'can't lose' levels. I know India won having conceded 477 against England but doesn't happen everyday.

— Harsha Bhogle (@bhogleharsha) March 17, 2017
Good day for a hit #INDvAUS pic.twitter.com/ckI1VXWLTP

— cricket.com.au (@CricketAus) March 17, 2017
12:45 IST: Australia 440 for 7 after 131 overs. O'Keefe helps himself to one more boundary.
12:35 IST: Runs coming thick and fast for Australia after lunch. O'Keefe picks up another boundary. His fourth of the innings so far.
12:33 IST: Four! O'Keefe gets an inside edge and that has missed everything. Ashwin looks on as Australia inch closer to the 450-run mark.
SHOT! SOK goes down the ground, back over Ashwin's head to collect a boundary. He's now 10* with Australia 7-420 #INDvAUS

— cricket.com.au (@CricketAus) March 17, 2017
12:27 IST: O'Keefe goes downtown and with mid on and mid off up in the circle, it was always on the cards. Picks up a boundary. Nothing mch happening for Ashwin here.
12:21 IST: O'Keefe flashes and flashes hard at the ball. No chance for Rahane at first slip. It flew of the bat. Four!
12:20 IST: Jadeja finds the edge but just wide of Rahane at first slip. O'Keefe lives to fight another day.
12:15 IST: Australia 403 for 7. Both the spinners Ashwin and Jadeja are bowling in tandem after lunch.
12:10 IST: Welcome back after lunch. Australia would look to bat as much as possible and get as close as possible to the 500-run mark.
That's lunch on Day 2 of the 3rd @Paytm Test. Australia are 401/7 (Smith 153*, Maxwell 104). Follow the game here - https://t.co/d3NMQQCro5 pic.twitter.com/Z64rrNZVKQ

— BCCI (@BCCI) March 17, 2017
11:31 IST: So that is lunch as Australia went along at a healthy pace in the first session of the second day's play. The session saw Maxwell bring up his first hundred and Steve Smith notching up his 150. India came back strongly at the stroke of lunch by removing Wade and Cummins in quick succession. Australia 401 for 7 at lunch.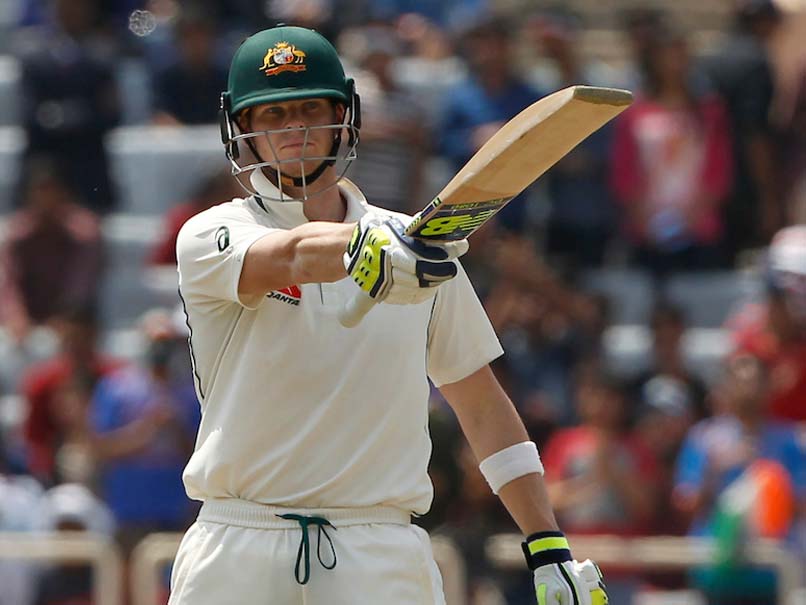 11: 28 IST: Steve Smith on the other hand is going along nicely. Doesn't look in any trouble whatsoever. Brings up his 150.
Jadeja's unplayable delivery gives India hope: https://t.co/LPxlNEJjZF #INDvAUS pic.twitter.com/a0m1FTTL72

— cricket.com.au Video (@CricketVideo) March 17, 2017
11: 25 IST: Wicket: Cummins doesn't trouble the scorers much. Jadeja cleans him up with a beauty. Australia lose their seventh wicket. India are still alive in this Test match.
11:23 IST: Wicket! Jadeja gets the better of Mathew Wade here. Beautifully bowled. The ball went straight on after pitching. And Wade got the edge.
11:13 IST: Wade sweeps and sweeps well. Gets it infront of square and picks up his sixth boundary. Another 15 minutes to go before lunch.
11:10 IST: Once again very good use of the feet. Wade has looked busy this morning. Made that into a full toss and Ashwin concedes one more boundary.
11:03 IST: Wade comes down the track and gets it over the top of the in field. Great shot. Gets a boundary.
11:02 IST: So Ashwin comes into the attack. For the first time in the morning session.
India will be hoping to bat as much as possible while the pitch plays like this. At the moment, wonderful batting track.

— Harsha Bhogle (@bhogleharsha) March 16, 2017
10:54 IST: Australia going along nicely here. Runs coming at a rapid pace. Wade gets another boundary. Indians are looking flat in the field.
10:45 IST: Wade continues to grow in confidence. Foot to the pitch of the ball and drives it through covers for a boundary. Umesh needs to bring back his length a bit.
10:35 IST: Jadeja continues to trouble Mathew Wade. This is a important period of play. India need to pick up a couple of wickets to restrict Australia below 450.
10:25 IST: This time Ishant finds the edge. Smith has nicked that one but Saha reckons it has not carried. The Australian captain survives a scare.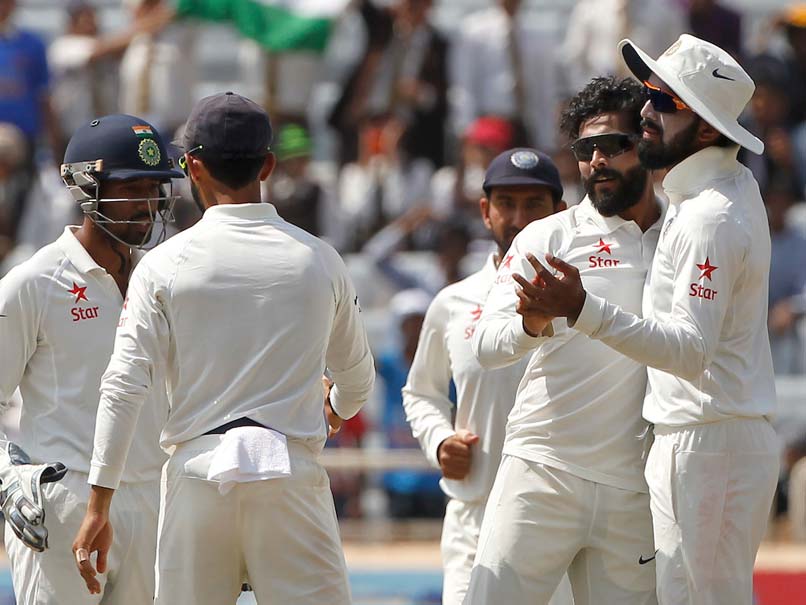 10:21 IST: Wicket! Atlast the partnership between Maxwell and Smith is broken. Jadeja coming round the wicket, gets it to spin and finds the edge. Saha behind the stumps makes no mistake. Maxwell departs after his maiden ton.
CENTURY! He's done it! What a moment for @Gmaxi_32! A maiden Test ton coming off 180 balls.

What a guy: https://t.co/EgbDSOUWdB #INDvAUS pic.twitter.com/OlIAOc3HhF

— cricket.com.au (@CricketAus) March 17, 2017
10:11 IST: Maxwell throws his bat at that and gets it away through the gap between first slip and third slip. Gets to his first hundred in Test cricket. Australia 328 for 4 in 99 overs.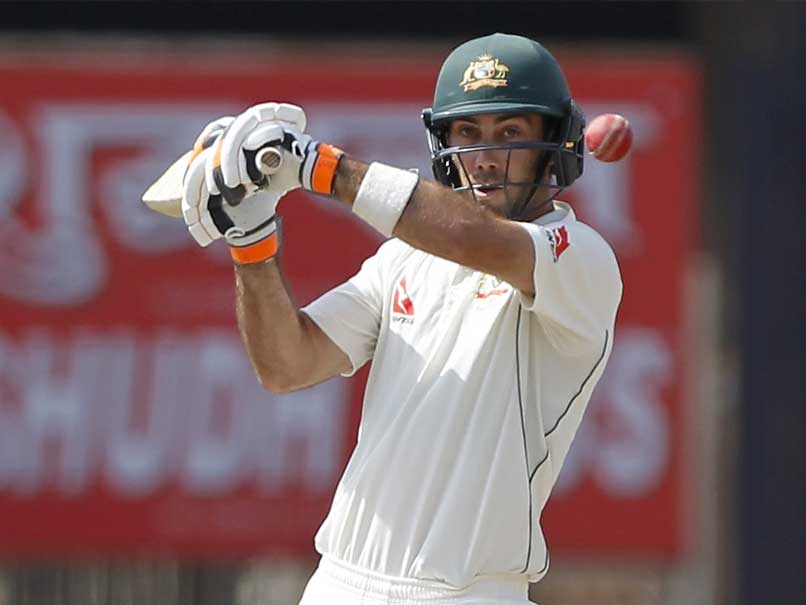 10:06 IST: That was beautifully bowled by Jadeja. Beats the bat. That is the closest India got of picking up a wicket in the first session.
9: 58 IST: First change of the morning. Jadeja comes into the attack in place of Ishant.
9: 57 IST: Short again from Yadav but this time Maxwell waits for it and cuts it over gully for a boundary. There is no third man. So easy pickings for Maxwell. Moves to 98.
9: 55 iST: Yadav bowls it short and wide with a round arm action and Maxwell pokes at it outside off-stump. No damage down,
9:47 IST: Runs coming thick and fast for Australia. Another boundary for Maxwell.
9:40 IST: So Indians trying something different. Already a couple of bouncers from Ishant and Umesh.
9:38 IST: Ishant Sharma will keep things rolling from the other end. Smith is away with a boundary.
9:36 IST: So the first runs of the bat. Maxwell leans forward and gets it away through backward point for a boundary.
It will be missed #INDvAUS pic.twitter.com/caSJupocbV

— cricket.com.au (@CricketAus) March 17, 2017
Maxi loves it #INDvAUS pic.twitter.com/RcRaCmaNxw

— cricket.com.au (@CricketAus) March 17, 2017
First ball of the day and Maxi has snapped his bat in half.

Classic! #INDvAUS

— cricket.com.au (@CricketAus) March 17, 2017
9: 31 IST: So the first ball of the day and Umesh Yadav has broken Maxwell's bat. The ball was bowled at 137km/hr. The bat goes for a spin as Yadav shows his muscles to Maxwell.
9:26 IST: We are about to get underway. Glenn Maxwell to face the first ball on Day 2. Umesh Yadav to start proceedings for India.
Day thoughts? #INDvAUS @Paytm Test Cricket pic.twitter.com/wqPcwl22oO

— BCCI (@BCCI) March 17, 2017
9:14 IST: Brett Lee reckons India bowled well on the first day. Ravi Shastri thinks Day 2 would be the best day for batting. Not much there for the spinners, reckons Shastri.
Captain returns. Game on! #INDvAUS #TeamIndia @Paytm Test cricket pic.twitter.com/rVvAXK9Hnt

— BCCI (@BCCI) March 17, 2017
NEWS ALERT - Captain Virat Kohli recuperating from shoulder strain. Relevant investigations have revealed that there are no serious concerns pic.twitter.com/v5tgdZlKHx

— BCCI (@BCCI) March 16, 2017
9:12 IST: So the news from the Indian dressing room is no serious concerns on Virat Kohli's injury. Hopefully Kohli will take the field today.
9:11 IST: Welcome to the cricket coverage on Day 2 of the third Test match between India and Australia.
The Indian captain had to walk off the field on Thursday when he injured his right shoulder while fielding the post-lunch session on Day 1 in Ranchi. The injury, as it turns out, was bad enough to keep him off the field for the entire post-lunch session and he did not take the field even after the tea break, with vice-captain Ajinkya Rahane doing the captain's job.
More importantly for India will be Kohli's exploits with the bat. If the Indian skipper is ruled out it will be a body blow to the hosts and give the visitors further impetus to strengthen their grip on the game.
India will also need to remove Smith and Maxwell quickly. The duo shared an unbeaten 159-run stand and with the latter nearing a maiden Test hundred, India need to be wary of his hitting prowess once he gets to the three-figure mark.