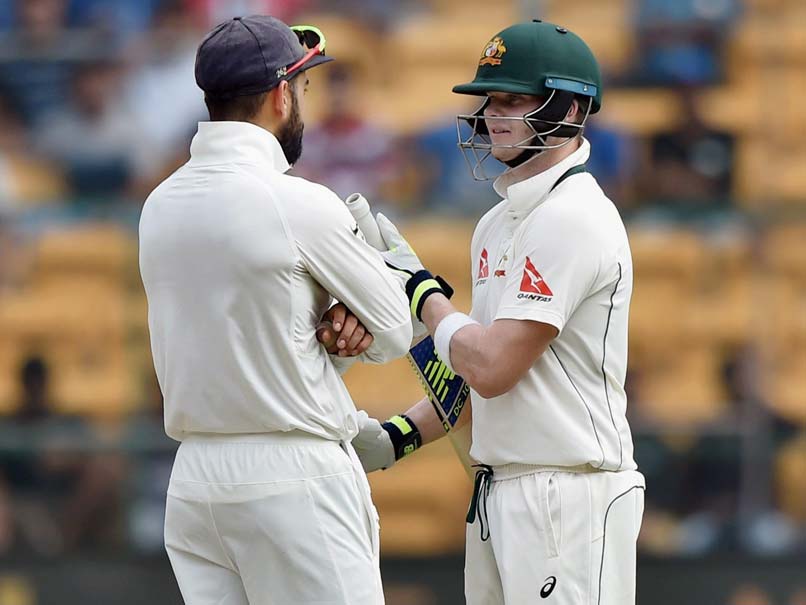 BCCI has given its backing to Virat Kohli over allegations against Steve Smith.
© PTI
The BCCI on Wednesday came out in strong defence of team captain Virat Kohli and the team on the issue of Steve Smith seeking advice from the Australian dressing room after being adjudged LBW on the fourth day of the 2nd Test in Bengaluru. The Board of Control for Cricket in India, in a statement, stressed that Kohli was right and it stood 'steadfastly' behind the Indian cricket team and its captain.
"The Board of Control for Cricket in India (BCCI) after due deliberation and seeing the video replays of the episode steadfastly stands with the Indian Cricket Team and its Captain Mr. Virat Kohli," the statement said.
"Mr. Virat Kohli is a mature and seasoned cricketer and his conduct on the field has been exemplary. Mr. Kohli's action was supported by ICC Elite Panel Umpire Mr. Nigel Llong who rushed in to dissuade Mr. Steve Smith from taking recourse to inappropriate assistance," the release further added.
"BCCI has requested the ICC to take cognizance of the fact that the Australian skipper Mr. Steve Smith in his press conference admitted to a 'brain fade' at that moment.
"BCCI sincerely hopes that the rest of the matches are played in the true spirit of cricket," the statement concluded.