Story Progress
Back to home
ICC U-19 World Cup Final: Prithvi Shaw And Team Will Enter Man's World Now, Says Unmukt Chand
Unmukt Chand had led India to their 3rd ICC Under-19 World Cup title in 2012.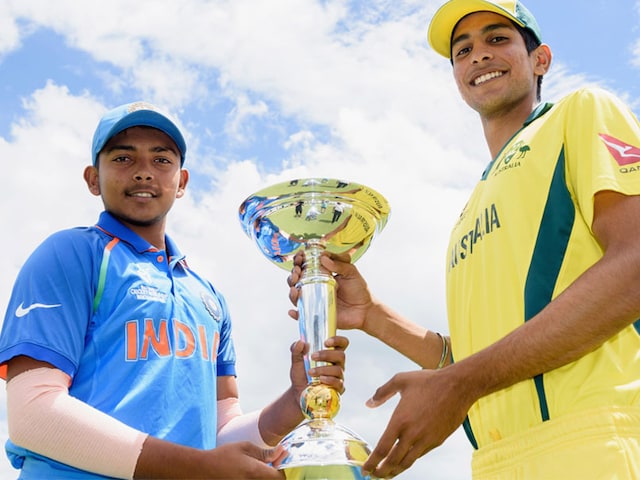 Captains Prithvi Shaw of India and Jason Sangha of Australia pose with the trophy
© ICC
Highlights
Prithvi Shaw & Co will enter man's world now, says Unmukt Chand

In 2012, Unmukt led the India under-19 team to World Cup triumph

Unmukt had scored a hundred in that final
Unmukt Chand is well aware of the expectations that come when you are leading a team. An Under-19 World Cup winning captain, Unmukt has a message for Prithvi Shaw and the current U-19 team - "the real journey for all the boys will begin after tomorrow's (Saturday) final." The Indian team, led by Shaw, is set to fight it out with Australia in the U-19 World Cup summit clash. In 2012, Unmukt led the India under-19 team to Cup triumph with a hundred in the final. He became the toast of the nation, led India A and his career was dissected threadbare with none other than Ian Chappell, wanting him to be fast-tracked into senior team.
The 24-year-old remembers all that and can relate to what a Shaw, a Shubman Gill or a Kamlesh Nagarkoti may be going through right now.
Time to get the World cup back. You guys deserve it. Here's wishing the #IndiaU19 team the very best for the finals of the #U19WorldCup Embrace the occasion as it will stay in your memories forever. Stay together and i will see you down the road. Toast to all #ICCU19WorldCup

— Unmukt Chand (@UnmuktChand9) February 2, 2018
"After tomorrow, they will enter the man's world. A beautiful phase of their life will end and a new journey with full of challenges await them. Prithvi's team tomorrow (Saturday) are favourites. They should just play freely forgetting everything else. Win or lose, it will only be significant but just a part of their bigger journey," Unmukt was quoted as telling PTI in sections of the media.
Having experienced both sides of being a successful U-19 captain, Unmukt urged the current batch to treat success and failure as two imposters.
"The boys need to be practical. I know what happens after every U-19 World Cup. But every U-19 cricketer's story is not Virat Kohli's. There is a story of Shikhar Dhawan (who made Test debut nine years after U-19 WC) and there is a story of Unmukt Chand (trying to work his way back to national reckoning)," Unmukt said in a pragmatic tone.
Like a protective elder brother, Unmukt wants these boys to be shielded from unfair expectations. "Obviously they will have their own set of expectations and they would want to play for India. But let's get one thing straight. Among them a few may quickly be drafted in the senior team, a few will take time to blossom and some for all practical reasons might never wear senior national colours," the Delhi opener put it straight.
"That is life and that's where one needs to be realistic. It shouldn't be like after U-19 people should tell them that now you are just one or two performances away from a national team," he said.
Six years back, he had written a book on U19 team's triumph, did a famous television commercial for a soft drink major with none other than MS Dhoni and Kohli.
Had Unmukt Chand been a captain in 2018, would he do things differently? "Not at all. I would exactly do what I did back then. I believe it was planned that my journey will be like that. I am extremely proud of my journey," he replied.
Promoted
So is there any one piece of advice that he would like to give Prithvi and company, Unmukt said, "Don't get distracted by external pressures. Do exactly what has worked for you. And enjoy each other's company as tomorrow is a special day."
(With PTI inputs)
Topics mentioned in this article