Story Progress
Back to home
Sultan Azlan Shah Cup 2017: India Lose To Malaysia, Fail To Enter Final
India's 0-1 loss to Malaysia ended their hopes of qualifying for the Sultan Azlan Shah Cup final.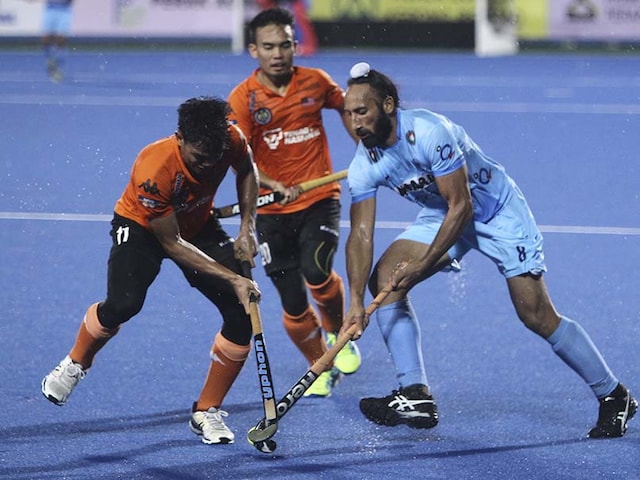 India went down 0-1 to hosts Malaysia.
© Hockey India
Highlights
India will play New Zealand in the bronze medal play-off match

The final will be played between Australia and Great Britain

Shahril Saabah scored to give Malaysia a 1-0 win over India
India lost 0-1 to Malaysia in their last Sultan Azlan Shah Cup hockey tournament league match in Ipoh on Friday. Needing to win by a two-goal margin after Great Britain beat New Zealand 3-2 earlier in the day, India failed to produce a cohesive game and lost to the hosts, thereby ending their hopes of making the final. With seven points from five matches, India will take on the Kiwis in the bronze-medal play-off match on Saturday. The final will be played between defending champions Australia and Great Britain.
This was India's second loss in the league stage, having lost to Australia earlier in the week. They had drawn with Great Britain in the opener and had beaten New Zealand and Japan.
An Indian victory by two goals would have pushed the British team to the bronze medal game, but Malaysia turned the tables on India who gave a disjointed exhibition of hockey.
In the day of the underdogs, World No. 16 Japan pulled off a most stunning upset with a 3-2 victory over reigning world champions Australia, who still remained on course to defend their title by topping the standings roster due to their superior goal difference. Australia have won the Sultan Azlan Shah Cup nine times, while Great Britain are in the final after 23 years. The Britons won the title in their lone entry into the final in 1994.
India failed to make an impression on the Malaysian defenders. After a listless first quarter, India earned three penalty corners in the next 15 minutes but Malaysian goalkeeper Subramaniam Kumar didn't let the ball go past him.
India showed more purpose in the second half, but their attack was not cohesive and the strikers turned out to be error-prone after reaching the top of the circle.
India's desperation was evident at the start of the last quarter when they took off the goalkeeper and made Harmanpreet Singh the kicker-back. The goalkeeper was back within a minute when Manpreet Singh was sent off with a green card. Malaysia opened the scoring in the 50th minute with a penalty corner conversion through Shahril Saabah's measured drag-flick to the right of the goalkeeper.
Promoted
Going all out in search of goals, India made three forays into the rival circle in the last four minutes and even earned two penalty corners, but the Malaysians stoutly defended their citadel.
(With PTI inputs)
(Except for the headline, this story has not been edited by NDTV staff and is published from a syndicated feed.)