Story Progress
Back to home
Sultan Azlan Shah Cup 2017: India Held To a 2-2 Draw By Great Britain
India failed to capitalise on their chances to be held to a draw by Great Britain in their first match of the Sultan Azlan Shah Cup hockey tournament in Ipoh.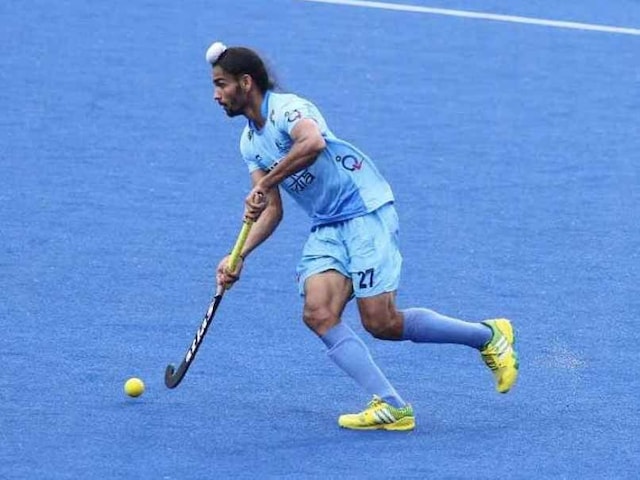 Akashdeep Singh scored the first goal for India.
© Hockey India
Highlights
India have won the Sultan Azlan Shah Cup tournament five times

India was held to draw by Great Britain

Akashdeep and Mandeep scored for India
India drew 2-2 against Great Britain in their first match at the 26th Sultan Azlan Shah Cup hockey tournament in Ipoh, Malaysia, on Saturday. Akashdeep Singh (19th minute) and Mandeep Singh (48th minute) scored field goals to give India the lead twice in the rain-delayed match but only to see the Britons hit back through Tom Carson (25th) and Alan Forsyth (52nd). India survived a last-minute penalty corner that was awarded against them for an obstruction outside the circle. The penalty corner was confirmed after the video referral by India, but British captain Phil Roper sent his drag flick wide to the right.
In the last encounter between these two teams, India had defeated Great Britain 2-1 in the Champions Trophy in London last year. India are scheduled to play four of their five round-robin league matches in the afternoon, exactly when dark clouds tend to drench the pitch at the Ipoh hockey stadium.
India were awarded their first penalty corner when Pradeep Mor's diagonal ball landed on a defender's foot in the circle. The penalty corner shot could not be taken as the push was not stopped, but Manpreet Singh, captain for this match, picked up the ball on the 25m line and sent a firm drive into the circle. Manpreet's shot was padded by the British goalkeeper and the rebound went straight to Akashdeep, who capitalised on the chance by beating the custodian with his flick that put India in the lead in the 19th minute.
Great Britain were not to be denied the equaliser in the 25th minute when a fine foray by Ollie Willars split open the Indian defence. Dribbling parallel to the goal-line from the right flank, Willars sent a pass to Carlson, who made the most of his fine positioning by shooting into the goal.
Promoted
India reclaimed the lead in the 48th minute when Sunil relayed a narrow-angle pass from Manpreet on the left flank for Mandeep Singh, who deflected the ball past goalkeeper Gibson. India's lead was short-lived as the determined British made the most of their 52nd minute attack even in a crowded circle.
(With PTI inputs)