Story Progress
Back to home
Sebastian Vettel Escapes Sanctions For Mexico Grand Prix Rant
Ferrari driver Sebastian Vettel eventually finished fifth in the Mexico Grand Prix after being handed a penalty for collision with Red Bull's Daniel Ricciardo.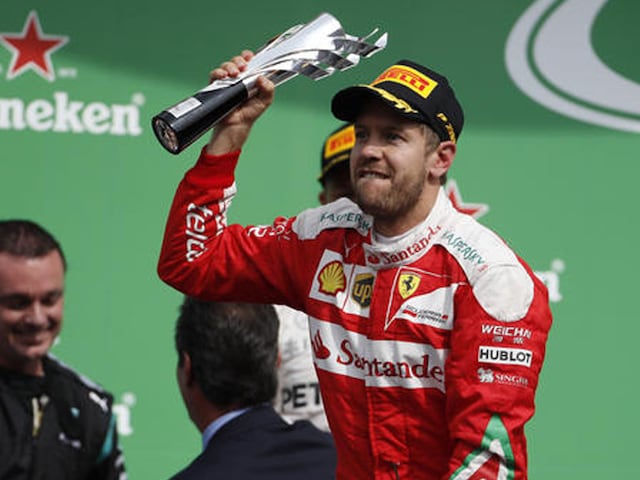 Sebastian Vettel could not hold on to his podium spot after he was penalised in the Mexico GP
© AP
Highlights
Sebastian Vettel was penalised for using foul language

He is a four-time World Champion

He currently drives for Italian team Ferrari
Paris:
The FIA Formula One governing body on Tuesday let off Ferrari star Sebastian Vettel with a warning for an expletive-filled rant against the race director at the Mexico Grand Prix.
FIA president Jean Todt decided "on an exceptional basis" not to charge Vettel after he made an apology to race director Charlie Whiting and wrote contrite letters to Todt and Whiting, said a statement.
The German four time world champion, furious over the driving of Red Bull's Max Verstappen, repeatedly swore at Whiting during the closing stages of Sunday's race.
The tirade was captured on the team radio and broadcast around the world on live television.
Todt ordered a special report on the incident into what the FIA statement called "foul language" directed at Whiting and Verstappen.
But it added: "Immediately following this incident, Sebastian Vettel spontaneously sought out Charlie Whiting to express his regrets for his behaviour in person.
"He then, again on his own initiative, sent letters to each of the FIA president Jean Todt and Charlie Whiting, in which he apologised profusely for his actions.
"He also indicated that he would likewise be contacting Max Verstappen and vowed that such an incident would never occur again.
"In the light of this sincere apology and strong commitment, the FIA president has decided, on an exceptional basis, not to take disciplinary action against Mr Vettel by bringing this matter before the FIA international tribunal."
But it added that "in the event of any future incident similar to the one that occurred in Mexico" Vettel would go before the tribunal.
The FIA said it would always "condemn the use of offensive language" especially directed at race officials and other competitors.
Vettel was reminded that the governing body "expects all participants in its championships to be respectful and mindful of the example they set for the public and the younger generation in particular.
The driver said after the race that his F-word outburst had been a heat-of-the-moment explosion at the end of a fraught race.
FIA decides not to take action against Sebastian Vettel for using 'repeated foul language' during #MexicoGP >> https://t.co/LoTJjsPvyK

— Formula 1 (@F1) November 1, 2016
The ex-champion was already penalised 10 seconds for blocking Red Bull's Daniel Ricciardo, dropping him from third to fifth in the final race standings.
Vettel had been promoted to third provisionally, replacing Verstappen, immediately after the Dutch teenager was given a five seconds penalty.
Promoted
Vettel was penalised for moving under braking as he defended fourth place at a turn against Ricciardo in the penultimate lap of the race at the Autodromo Hermanos Rodriguez.
The pair banged wheels and Vettel retained his position.