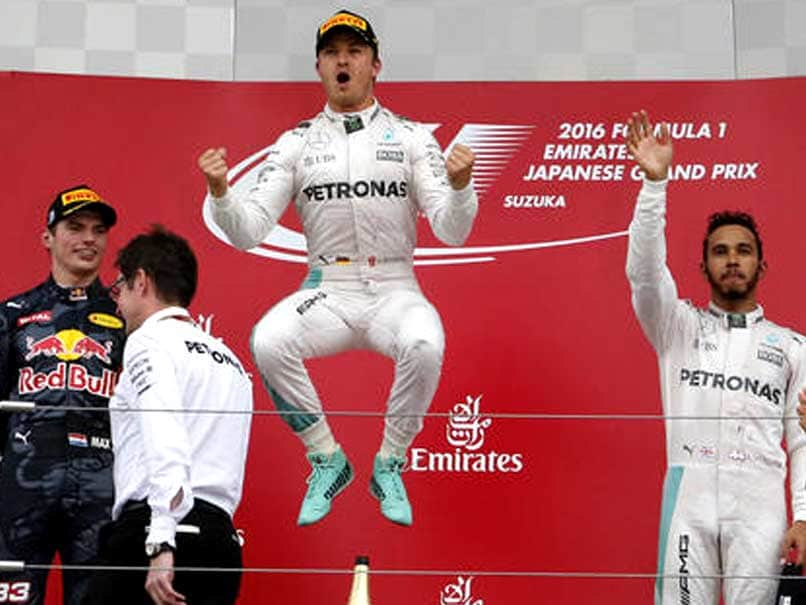 Mercedes driver Nico Rosberg won the Japanese Grand Prix from pole.
© AP
Suzuka:
Nico Rosberg romped to victory at the Japanese Grand Prix on Sunday to extend his lead over world champion Lewis Hamilton in the Formula One title race.
The German claimed his first Suzuka win from pole as Hamilton took third after a dreadful start, Rosberg stretching his lead over his Mercedes rival to 33 points with just four races left this season.
"Woooooooh!" cried Rosberg over team radio after a fourth triumph in five races since the summer break and his ninth of 2016.
"Thanks a lot, guys. An Amazing weekend and congrats on winning the constructors (championship)," he added after he and Hamilton secured a third successive team title.
"It's 33 points, but I'm not focused on that. There's still a long way to go so I'm just keeping my head down."
Red Bull's Max Verstappen held off a furious challenge from Hamilton in the final few laps to take second after also finishing runner-up in Malaysia last weekend.
The Ferraris of Sebastian Vettel and Kimi Raikkonen finished fourth and fifth after both turned the air blue over radio, complaining about back markers.
Red Bull's Daniel Ricciardo, who inherited victory in Malaysia after Hamilton's engine caught fire, took sixth ahead of the Force Indias of Sergio Perez and Nico Hulkenberg.
ROS: "Harooo!"
Topics mentioned in this article
Mercedes , 1900-01-01 , Germany
Ferrari , 1900-01-01 , Italy
Nico Rosberg , 1985-06-27 , Germany
Lewis Hamilton , 1985-01-07 , Great Britain
Max Verstappen , 1900-01-01 , Netherlands
Japanese Grand Prix , 1900-01-01 , Japan
Suzuka , 1900-01-01 , Japan