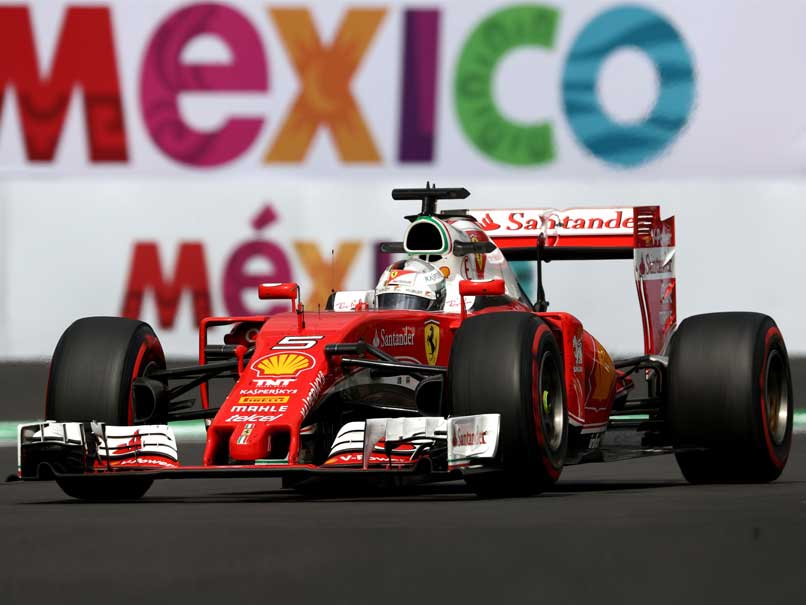 Sebastian Vettel could influence the title race between Lewis Hamilton and Nico Rosberg.
© AFP
Sebastian Vettel added the prospect of another unexpected dimension to the drivers' title battle on Friday when he put his Ferrari on top of the times in second free practice for this weekend's Mexican Grand Prix.
The four-time champion was fastest with a best lap in one minute and 19.790 seconds -- just 0.004 seconds quicker than Hamilton who, in turn, was three-tenths of a second ahead of his championship leading Mercedes team-mate Nico Rosberg.
If he can maintain that speed and form, Vettel could not only influence the result of Sunday's race at the Autodromo Hermanos Rodriguez, but also play a key part in the outcome of the championship duel between the Briton and the German.
"Yes, of course, I am happy, but it is Friday and maybe too early to talk like that," said Vettel.
"I think we need to be realistic. I don't think Lewis had the best of laps today. It didn't look particularly good so I think he has a little bit more in his pocket so let's be realistic.
"But if we can do this again and be here again, at the front, I will take that. It has been a good day for us. We had the pace and we had no problems."
Vettel's unexpected revivial in the thin air of the high-altitude circuit created the prospect of Ferrari playing a role in the outcome of the race and, possibly, splitting the two Mercedes drivers.
Rosberg goes into the race with a lead of 26 points with three races remaining knowing that if he wins on Sunday he can take his maiden title if Hamilton fails to score more than a single point.
Defending three-time world champion Hamilton made three attempts to beat Vettel's time without success, but did a steady job throughout the day.
Both Mercedes drivers were locked in intense race preparations with their race teams as they concentrated on set-up and tyres in particular.
Kimi Raikkonen endorsed the improvement by the Italian team by clocking the fourth best time in the second Ferrari, 0.469 seconds down, ahead of fifth-placed Australian Daniel Ricciardo in the leading Red Bull.
Ricciardo conceded that he felt it may be more difficult for Red Bull to impress at the Mexican circuit than they have at other recent events.
"It may not be easy, but we know from previous races that anything can happen and if we can get the best from the tyres we can be thereabouts. I am sure we are going to be quick in race trim."
Asked about his possible role as 'king-maker', he said he had no intention of thinking about it and would concentrate on racing hard as usual.
"I will treat it the same as always and race hard," he said. "The championship will be settled over the 21 races and that's what will happen. Let's see."
Nico Hulkenberg was sixth for Force India ahead of Max Verstappen in the second Red Bull, the Dutch teenager setting his best laps on the medium tyres while most of his rivals were running on super-softs.
Valtteri Bottas was eighth for Williams, ahead of the two Spaniards, Carlos Sainz of Toro Rosso and two-time champion Ferando Alonso of McLaren-Honda.
Williams team boss Frank Williams was not in Mexico as he remained in hospital in England where he was reported to be recovering from pneumonia. His daughter Claire Williams, the team's deputy chief, was also absent having decided to stay with him.